Our CrossFit Alexandria VA Classes
CrossFit classes feature of blend of strength training and conditioning (weight loss) exercises. Our CrossFit class is perfect for beginners and intermediate level members. We will teach the techniques of CrossFit's nine basic movements, and help you progress with increasing intensity. View our Class Schedule.

How Much Does CrossFit Cost in Alexandria VA?
Let's start with the big question, right off the bat.  How much does it cost?  All CrossFits in Alexandria VA, Arlington VA, Fairfax VA, National Landing, and Washington DC set their own prices.  At our Sand and Steel CrossFit Gym, we think that it's very important to transparent with our prices.  You can view all of our gym prices on our Prices page and our scheduling software.  You can do all your own research in advance, compare our reputation against other personal training studios and CrossFits in Alexandria VA.  We want you to compare, because there is no gym in Northern Virginia that delivers more value in personal training and CrossFit than us.  Try us a CrossFit Class on us for free.
Why is CrossFit So Expensive?
First off, I don't think CrossFit is expensive.  But I get asked this question all the time, so I wanted to address it.  And to be fair, I thought CrossFit was expensive back when I knew nothing about fitness.  Why pay $200/month, when I can train at Planet Fitness for $10/month?  The short answer is, you get what you pay for.
What is the Average Pricing for CrossFit in Northern Virginia?
Most CrossFits in Alexandria VA, Fairfax VA, and Arlington VA charge around $220-$250/month.
How Long is the Contract for a CrossFit Membership?
Many CrossFits in Virginia and DC require you buy 6 months or 12 months upfront in order to qualify for the lowest pricing.
Do I have to Pay Extra for Other Classes?
Most CrossFits in Virginia and DC charge you extra for yoga and olympic lifting classes.
Is there an Enrollment Fee?
Additionally, some CrossFit boxes charge $200-$500 for a foundations class to teach you the basics of how to safely perform the Nine Foundational CrossFit Exercises.
Pricing Thoughts on CrossFit Costs
CrossFit is more expensive than gyms like Gold's gym or Planet Fitness, because you have more space as a member (barbells take up more space per person than treadmills).  CrossFit gyms also have train and pay their instructors.  CrossFit gyms have to pay rents that costs $5,000-$15,000 per month.  Buildout costs are generally $100,000-$200,000, which are generally financed.  Long story short, CrossFit gyms charge more, because they cost more to operate.  And while you might think that $200/month is a lot for a gym, most group fitness classes (like Orange Theory, F45, CorePower Yoga) charge similar prices.
With CrossFit, you are getting a time-proven system followed by more than 16,000 gyms.
CrossFit is a proven system and its only getting better
CrossFit is a system that will help get you in the best shape of your life.  If you annualize the cost, CrossFit costs about $2500/ year.  Personally, I think being in the best shape of your life is worth that.  At Sand and Steel, you'll pay closer to $1000 for the whole year.  It's all about priorities — I always find room in my budget to get some Starbucks once a week.  Yeah, they have gotten expensive (they now charge about $5.50 for a Mocha I used to pay $4.75 for), but rents are expensive in Alexandria, VA.
What is CrossFit?
CrossFit is a culture of teamwork and community.  CrossFit provides the standard of safe and effective movement.  CrossFit's specialty courses and certifications provide the Gold Standard for certifications in the fitness industry.
Why Join our CrossFit Classes in Alexandria VA?
We believe in following CrossFit's powerful "main site" programming, because it works.  With CrossFit's constantly varied, high-intensity functional movements, CrossFit's method of training provides a unique opportunity to truly improve fitness.  With our extensive knowledge and experience in personal training, mobility, and fitness classes, we are able to provide a safe and consistent CrossFit class experience.
What is CrossFit According to CrossFit Headquarters?
"CrossFit is the principal strength and conditioning program for many police academies and tactical operations teams, military special operations units, champion martial artists, and hundreds of other elite and professional athletes worldwide.  CrossFit is a program that delivers a fitness that is, by design, broad, general, and inclusive. Our specialty is not specializing." 1
"The needs of our Olympic athletes and grandparents differ by degree, not kind." That is to say, everyone needs to perform an intelligently selected variety of functional movements at a level of intensity appropriate for that individual. Everyone needs to eat food that sustains, rather than harms, the body. This is the pursuit of fitness, and the ability to maintain that fitness throughout your life is a defining measure of health." 2
The CrossFit Definition of Fitness
CrossFit's defines fitness as the improvement of ten physical skills: "cardiovascular/respiratory endurance, stamina, strength, flexibility, power, speed, agility, balance, coordination, and accuracy."  We would definitely add mobility to the list, because flexibility, balance, and mobility are different things.  But, of course, it's CrossFit really that made mobility training popular in the first place.  For an in-depth discussion on the difference between flexibility and mobility, see the following article.
The Sand & Steel CrossFit Gym in Alexandria VA
Sand and Steel CrossFit in Alexandria VA has everything from barbells, TRX Suspension Trainers, Powerlifting cages, Olympic lifting platforms, and rowing machines.  Sand & Steel Fitness's gym provides Personal Training customized to the individual member, open gym for its members, CrossFit classes, TRX classes, Yoga, Powerlifting Classes, Olympic Lifting Classes, and Mobility Classes.  Don't worry if you don't the know the differences between these services, our coaches will explain them to you in a free consultation.  We'll determine which classes are best for you.  And if you are a Get Steel Strong member, all of these services are included in one package.
Are CrossFit Classes in Alexandria VA Right for Me?
The million dollar question … and probably the reason you are reading this article.  So let's step through the pros and cons of CrossFit Classes at your local CrossFit Box in Alexandria VA, Fairfax VA, Arlington VA, or Washington DC.
CrossFit is Designed to Improve Fitness
In our CrossFit Classes in Alexandria VA, we run, we row, we powerlift, we swing kettlebells, we do wall balls, and we do pullups (sometimes with assistance).  We scale these exercises so that they are safe for you.  If you only want to get good a single activity (like Olympic lifting) or a single purpose (running faster), CrossFit isn't for you.  But if you want to improve your general physical preparedness in all activities (from hiking, deadlifting, to handstands), CrossFit is the key to better movement and faster results.  If you want to get faster and stronger at all things fitness, CrossFit is for you.
CrossFit.  Friendship, Teamwork, Community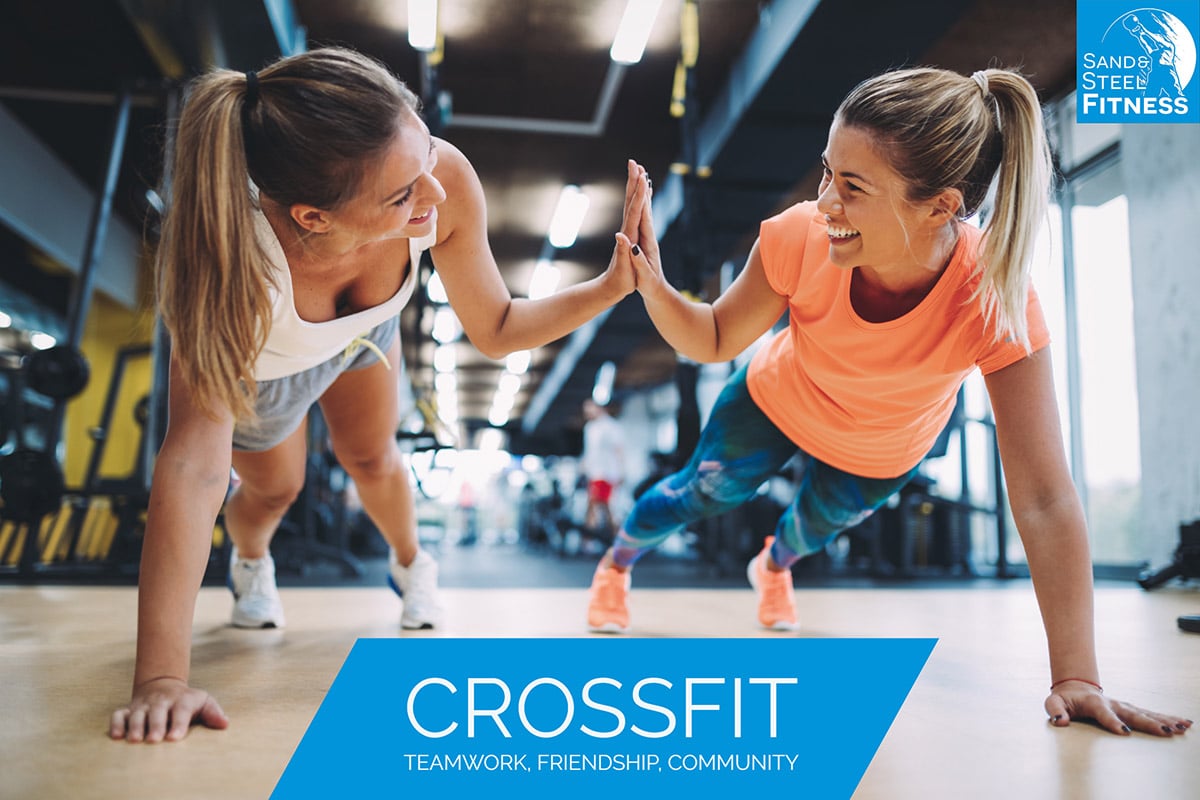 CrossFit Gyms (in Alexandria Virginia, Arlington VA, Fairfax VA, Washington DC, etc.) are known for their amazing community.  But what does community mean?  Your community is your friendships with other members and your relationship with your coaches.  Unlike big box gyms, your membership is important to the functioning of the gym as a whole.  If you miss a workout, your friends will ask you where you are.  If you miss a week of training, don't surprised if a coach calls you.  As a CrossFit member, you are part of a community trying to better themselves.
CrossFit gives you a chance to see how you measure-up against your peers in Alexandria VA.  CrossFit provides you with someone to compete against.  For some people, this provides them with tremendous motivation to work harder.  Working harder can improve results.  An amazing thing about CrossFit is that your community wants you to succeed.  People cheer you on and help you find the motivation to keep going when you'd rather call it quits.
If you are a former high school or collegiate athlete like me, you probably miss competing with your peers.  I played competitive soccer until I was 35.  There is nothing like scoring a winning goal in a crucial game.  To have a team behind you, cheering you on.  CrossFit provides us a chance to compete again.  To win a workout or to hit a personal best.  It's great to feel like an athlete again, and CrossFit will provide that to you.
At Sand & Steel Fitness, we realize that some people want a community and some people don't.  That's why we offer both individual training (personal training) and fitness classes.
Coaching, Corrections, and Safety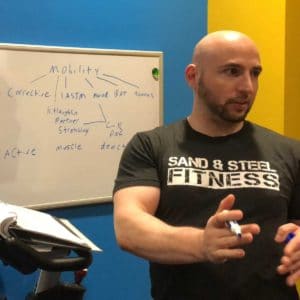 I have 25 certifications in mobility, weightlifting, and personal training.  If you think you know how to work safely because you've done P90X with Tony Horton, follow Jeff Cavalier from Athlene X, or have read Bigger, Leaner, Faster by Michael Matthews — you have a lot to learn.  I've read well-over 200 books on fitness and flexibility, and I keep buying new ones.  When I was in my 20s, I thought I knew everything about working out.  All I did was waste a lot of time.  There is no replacement for expert-level coaching.  A coach that provides you with the right corrections, drills, and cues at the right time is priceless.  He or she will prevent you from getting injured and help ensure you keep improving.
Tracking Progress in CrossFit and Personal Training
In the author's opinion, all fitness programs should be tracked.  We track performance in Powerlifting, Olympic Lifting, Personal Training, and CrossFit.  If you are serious about improving your performance and fitness level, tracking your progress and taking accountability for your slip-ups is important.
How to Find the Best CrossFit in Alexandria VA
As you may already know, there are many CrossFit gyms (boxes) in DC and Alexandria Virginia that offer CrossFit Classes.  There are more 16,000 CrossFit gyms worldwide.  The coaches, the facilities, and the members of these CrossFit boxes are all different.  So in deciding whether CrossFit in general is for you, one also needs to determine whether a particular CrossFit affiliate is for you.  Although CrossFit boxes differ from one to the other, the questions you need to ask yourself to find your best box do not.  So here's your cheat sheet to finding the best CrossFit Box in Alexandria, VA, Washington DC, Fairfax, VA, etc.
Don't Go to the Cheapest CrossFit Box in Alexandria VA
There are three costs in running a CrossFit Business that you cannot easily reduce.  Rent, marketing, and labor.  Rents are always going up, and the more convenient the CrossFit box location, the more they need to charge for membership.  Marketing costs for Yelp, Facebook, Instagram, Google ads, etc. are very expensive.  Everyone pays these same costs.  But the real difference is labor.
Better coaches cost more money to recruit and obtain.  I am sure you make it a point to make as much as money as you can right?  As you learn more valuable skills, you ask for more money and get raises.  The same is true of CrossFit coaches.  Do you really want to go the CrossFit box that hires the cheapest coaches in Alexandria VA?  I think not.  The cheapest coaches are brand new to coaching, don't have many certifications, and make more mistakes.  Better coaches are harder to find (hire human resources costs), and more expensive to retain (hire salaries).  Better coaches cost more, because they deliver more.  Your time is valuable … find the CrossFit box with the best coaches you can.  Your health is worth the extra cost.
Individual CrossFit Accommodations in Alexandria VA Differ
What are some key differences between CrossFit Boxes in Alexandria VA?
Does the Box have air conditioning?  We have a 1-ton commercial air conditioning unit.  This allows us to keep the gym at a reasonable temperature with lower humidity.
How Clean is the Gym?  Cleaning CrossFit gyms is a lot of work and much more expensive than you might think.  Clean gyms are safer from an hygienic point of view.
How Good is the Gym Organization?  Simply put, your coaches and owners should care about how the gym is organized.  They should enforce organization policies.  You will be asked to assist in putting equipment away.  "Leave no trace" applies to camping and CrossFits.
What is the condition and number of restrooms?
What is the quality of flooring?  1.5 rubber is the gold standard for flooring.  Avoid boxes that just have concrete or metal.  These tend to create more injuries.
What is the quality of the equipment?  For most products, we have found that Rogue Fitness is the gold standard in terms of function and durability.  There are other good brands such as Again Faster, All in Wonder, Legend, Elite FTS, Life Fitness, etc.
Are showers available?  If having access to a shower after your workout is important to you, seek out a box that has one.  Our CrossFit Box in Alexandria VA has one shower and three changing rooms.
How big is the gym?  CrossFit Gyms can vary in size, but you are generally looking for a box 4000 square feet – 8,000 square feet.  Tall ceilings 15ft+ is also a benefit.
Is parking included?  Most CrossFit boxes don't have ample parking.  You'll want to check out how hard it is to park at your potential box.  Sand & Steel CrossFit has access to over a hundred parking spots.
How close is the Box to the Metro or Subway?  Obviously, if you use the subway or metro, having your box / gym near the metro is a big plus.  Sand and Steel CrossFit is a block away from the Van Dorne Metro station.
Keys to Finding the Best CrossFit Box in Alexandria, Arlington, or Fairfax
Since all CrossFit boxes are not created equal, you should always be asking yourself, which CrossFit Box in Alexandria, Arlington, or Fairfax Virginia will provide you the most value?  Here are some tips for performing that analysis.
Protip: Can you Meet & Train with the Head Coach?
At most every CrossFit Box, the head coach will be the most qualified coach.  He or she sets that standards for movement and safety.  Many CrossFit boxes run about 500 sessions a month.  If you do the math, that won't leave much time for a specific coach to work with just you.  At Sand & Steel Fitness, the Owners almost always spend an hour upfront with new students.  Plus we offer free consultations.  Getting your programming right is important to us.  Want to book with the Owners, Dawn or Paul?  Just purchase an Owners Training Session.
Finding the Best CrossFit Coach or Personal Trainer in Alexandria VA
CrossFit Boxes and Personal Trainer Studios generally have three types of coaches: amazing athletes, amazing looking models, or amazing teachers.  I have personally hired and trained over 100 personal trainers for Sand & Steel Fitness.  Whom do I hire first?   I hire CrossFit Level 1 and Level II coaches first.  If I can't find a CrossFit Level I or II Trainer, I hire a certified ACE, CSCS, or NASM coach.
An Amazing Athlete vs. an Instagram Model vs. a Professional Teacher
A coach's credentials matter a lot.  Having hired so many coaches, I can safely say that the number of credentials a CrossFit Coach has is probably the single most important thing to that coach's success with members.  Beyond their credentials, there are three major types of coaches I encounter.  Professional Teachers, Amazing Athletes, and Instagram Models.
Professional Teachers:
Spend their time learning how to help all types of athletes
Evaluate their own performance based on the success of their students
Focus on teaching the skills they know
They know how to work with normal people, because they are normal athletes.
Amazing Athletes:
Selecting an amazing athlete has its allure.  After all, who know better how to make it the CrossFit games, then a CrossFit games champion?  There is some merit to that, but there are some counterpoints to consider:
Making it to the professional level of sports requires extreme genetic talent — talent can't be taught.
Amazing athletes have to be very focused on themselves to make it the professional level — a person focused on themselves might not be the teacher
Professional athletes have direct experience in terms of training at the highest level.  That experience is important if you want to make it to the professional level.
Counterpoint: Movement tends to come very easy to amazing athletes — it might be hard for an amazing athlete to bring movement down to a "normal" person level.
Instagram Models:
There are many professional trainers who get their clients by their good looks, clear skin, and chiseled abs.  It's easy to the draw the conclusion that if I eat what this coach eats and if I train like this coach trains, I will look like this coach.  Unfortunately, the path forward is different for every person.  Every person has different genetics, different willpower, different mechanics and mobility.  What's good for one CrossFitter might not be good for the next one.  Yes, everyone should be able to do some version of a squat.  But the squat that Rich Froning does in his workout (speed, load, depth, stability) is different that someone who had a knee replacement.  So just because the program of an Instagram Model coach worked for that person it doesn't mean it will work for you.
Counterpoint: It's been my experience that the best looking coaches, know the least about the training (generally speaking).  Their looks, their skin, their hair, etc. helps them get clients that their talent and knowledge doesn't substantiate.  However, I also wouldn't recommend you hire a coach who isn't in good physical condition.  I wouldn't hire a mobility coach that isn't flexible.  If your potential coach cannot get himself moving well, it's not likely they will be able to make you move better.
Decide a Radius that you are Willing to Travel in Alexandria VA
Many clients select a CrossFit gym by searching Yelp, CrossFit.com, and Google Maps, and simply selecting the one closest to their house.  You will want to consider whether parking is included (that saves time), and how close the parkways are to the CrossFit (travel time.)
More than that, you will be better served by first considering how long you are willing to travel — 10 minutes, 15 minutes, or 20 minutes, etc.  Make a decision about how long you are willing to travel, and then do your research and choose the best CrossFit gym within that travelling time radius.
What do the User Reviews of your Potential CrossFit Gym Say?
Does the number of reviews a CrossFit gym matter?  Yes.  Members of gyms leave reviews for their coaches when the following items occur:
the member gets the results they are promised;
the member is treated like a client, not a number;
the member gets value for the money they spend;
the coach has developed a positive relationship with that member.
So ask yourself, do items 1-4 matter to you?  But as a careful consumer, you also have to watch for companies that purchase fake reviews.  In general, Yelp has the strongest algorithms against fake reviews.  The number of reviews on Google is typically equal to the number of Yelp reviews.  The number of Facebook reviews should be about half as many as Yelp.  If those numbers match up, the reviews are probably authentic.
Read E R.'s review of Sand & Steel Fitness on Yelp
Another great way to tell if the reviews are real?  Visit the CrossFit gym on a Saturday morning and ask the owners to point out anyone at the gym who left a review.  They'll be happy to show who wrote them a review.
What Kind of Articles Does your Potential CrossFit Gym Write?
You want to hire a coach that prioritizes learning.  Learning involves teaching.  One of the ways coaches teach their members is through writing on their websites, giving presentations and workshops, and writing for a newsletter.  If you want to know what is important to the owners's of the gym that you are about to join, read their blog.  CrossFit Boxes and gyms write about topics they think their members and future members need.  Are the articles they write relevant to you?  If they are not relevant to you, you are probably looking at the wrong gym in Alexandria VA.
[wp_show_posts id="127739″]
What Instructional Videos Does Your Potential CrossFit Publish?
Most CrossFit gyms don't have huge budgets for Facebook, Instagram, or YouTube.  Most of the videos you'll see on their channels are published and produced by the owners.  Much like the articles they write, you should look at the videos and determine whether they are relevant to you.  Is the coach passionate and informed about the techniques he or she publishes?  Does the coach spend the time to make the videos succinct and easy to understand?
[arve url="https://www.youtube.com/playlist?list=PLBz3ePfZIl2harD9p37BxezfnUYpaRwC-" thumbnail="128597″ title="Featured CrossFit, Nutrition, & Personal Training Videos" description="Featured CrossFit, Nutrition, & Personal Training Videos" duration="1HJ2M30S" maxwidth="1200″ /]
Will I Get in Better Shape Doing CrossFit?
Yes.  Whereas other forms of fitness are designed for a specific purpose (run further, improve boxing ability, dance better, etc.) the purpose of doing CrossFit is to get in better shape.  CrossFit in Alexandria VA, Washington DC, etc is about improving your fitness.  Indeed CrossFit calls itself the sport of fitness.  So yes, if you want to improve your fitness across multiple domains, CrossFit should be your first choice.
Will I Look Better from Doing CrossFit in Alexandria VA?
CrossFit builds great bodies.  You just need to take a look at a regionals competition or a CrossFit games competition to see that.  CrossFitters aren't overly muscular bodybuilders — they have more of the lean, muscular look.  The kind of body you are proud to show in a bikini.  If want to look toned, shredded, or cut, CrossFit is great for that.
Will I lose Weight Doing CrossFit?
Yes … but CrossFit's main purpose isn't weight loss.  You will lose weight naturally through building a community of people that eat better and workout harder.  Will you become more active in general, because you will make friends that are more active?  Yes.  Will you burn a ton of calories in each workout (WOD)?  Yes.  So yeah, you'll lose weight doing CrossFit, but CrossFit is about improving overall fitness.  Decreasing bodyfat is a byproduct of that process.
Will I Build Muscle Doing CrossFit?
Yes, CrossFit builds a great deal of muscle.  Attractive, cover-of-a-beach-magazine muscle.  CrossFit isn't like bodybuilding or strongman, where people put on really massive amounts of muscle.  The purpose of bodybuilding is to increase and balance muscle mass.  The purpose of CrossFit is fitness.  Bodybuilding also takes about 3-4 hours a day, CrossFit takes just an hour.
FAQ: CrossFit in Alexandria VA
We compiled this list of questions based on questions we get on our Facebook and Linked Groups.  Have a question on CrossFit?  Ask us, and we'll add it to this post.
Can Beginners do CrossFit?
Yes.  Different CrossFit Boxes (in Alexandria VA and other town in Northern Virginia), use different methods for teaching new students.  At Sand & Steel CrossFit, we have two paths to help you progress from a beginner CrossFitter to an intermediate CrossFitter.
CrossFit Beginner's Class: in our beginner's class where we focus on teaching the 9 Fundamental Movements of CrossFit.  Your workouts will include more than these 9 movements, but we limit the technical movements to these nine movements when you are first starting.  Mastering these movements takes practice.  You'll become proficient in these movements quickly.  These fundamental movements are super important exercises that build strength and reinforce good body positioning.
Personal Training: if you prefer to train in private sessions with a coach, we also offer personal training.  Clients that have attended at least 32 sessions are automatically qualified to join our intermediate CrossFit classes.  Truth be told, intermediate level CrossFit classes aren't better than beginner classes.  They just involve more complex skills.
What are the Foundation 9 Movements of CrossFit?
I am currently working on an article which summarizes the 9 foundational movements of CrossFit.
In the meanwhile, please review this video for a demonstration of all 9 CrossFit Exercises
What Alternatives are there for CrossFit?
At Sand & Steel Fitness, we offer personal training, yoga alignment, yoga flow, TRX CoreFit, Powerlifting, Olympic lifting, and mobility classes.  All of these training methodologies have their pluses and minuses.  Checkout our Group Classes and Personal Training options for more information on how these fitness training options work.
Is CrossFit Dangerous?
For the past 15 years, there has been considerable rumblings and rumors about whether CrossFit is dangerous.  CrossFit isn't dangerous — moving incorrectly is dangerous.  Do people get injured in CrossFit classes?  Yes.  They get injured in Orange Theory Classes, F45 Classes, Yoga Classes, etc.  People get injured running all the time.  When I played adult rec soccer, someone would get injured every single game.
So why does CrossFit have a reputation for being dangerous?  I think it's perception more than anything else.  Let's say you are attending an Orange Theory class, and your develop plantar fasciitis because you lack the knowledge on proper running form, you don't have the right running shoes on, and you lack sufficient flexibility in your calves.  Do you blame Orange Theory for the injury?  No, your probably blame your own body.
Let's say you are working at your own in Gold's Gym.  Like most of the bros, you do benchpress on Mondays.  You're been feeling good lately, and decide to go up 30 pounds this week on bench.  After your third set, your shoulder begins throbbing.  After a few weeks of pain, you see a mobility coach and find out that you have a shoulder impingement.  Is that Gold's gym fault?
Whereas in CrossFit, you are pushing the dial doing Fran (thrusters and pullups) and you hurt your shoulder doing pullups incorrectly.  Some people would blame the programming, essentially CrossFit, for hurting their shoulder. After all, if they hadn't gone to the class, their shoulder might not be hurting.
I don't think you can separate the injuries that people experience exercising in these three examples.  Professional athletes get injured, Navy Seals get injured, and yes CrossFitter occasionally get injured.  But do CrossFitters get injured more often from doing CrossFit?  No.  Many people have attempted to show that, but there hasn't been one respected journal article to demonstrate that.
Intensity is important for results.  But good, quality movement — safe movement is more important.  Good movement keeps you safe.  Staying safe gets you results.
What is a CrossFit class like?
John Glaude put together an excellent overview video with some great tips on what to expect in your first CrossFit class in Alexandria VA.  Every class and CrossFit Box is a little different, but overall, Glaude does a great job of providing you with an overview.  Such a good job, I can skip writing this section.  Just watch the video :-).
Can I do CrossFit at Home?

Yes.  Many CrossFit workouts can be done at home.  For example, one of the CrossFit hero workouts Murph can be done at home or even in a hotel.
Murph:
1 mile Run
100 Pull-ups
200 Push-ups
300 Squats
1 mile Run
True, you'll need a pull-up bar to do Murph (and weight-vest if you are a real sadist).  But what if you can't do a pullup?  Maybe you use a pulldown machine?  Maybe you use a band to assist you in the pull-ups?   Some CrossFit workouts are harder do at home, but most of the time you can substitute one piece of equipment for another.
What are Some Sample CrossFit Workouts I can Try?
CrossFit's website is full of thousands of workouts that you can check out.  But if you are still reading this article, you might interested in the last 4 workouts Sand & Steel CrossFit programmed.
WOD 1
WOD 2
WOD 3 - Mary
WOD 4
Type: Metcon
Patterns: Deadlift, Squat, Core
Beginner Scale: 3 Rounds
• 10 Deadlifts
• 20 Air Squats
• 7 Minutes Boat
20 Pike Up Burpees
Intermediate Scale: 3 Rounds
• 10 Deadlifts
• 20 Air Squats
• 7 Minutes Boat
20 Pike Up Burpees
Type: Conditioning & Gymnastics
Patterns: Press, Squat
Beginner Scale
• Jump Rope 100 cycles
• 15 thrusters 65/95
• 21 Candle Sticks to Pushups
Intermediate Scale
• Jump Rope 150 cycles
• 15 thrusters 95/135
• 21 inverted burpees
https://www.crossfit.com/190714

Type: Gymnastics
Patterns: Row, Push, Squat
Beginner Scale – 20 Minutes AMRAP:
• 5 handstand push-ups from box
• 20 single-leg squats with TRX
• 15 banded pull-ups
Intermediate Scale – 20 Minutes AMRAP:
• 5 handstand push-ups
• 10 single-leg squats, alternating
• 15 pull-ups

WOD 4 (Based on Jackie)
Type: Sprint
Patterns: Pull and Push
• Beginner Scale
• 1000 meter row
• 66 2-hand 15 pound Kettlebell Press
•  30 pull-ups with Band
Intermediate Scale
• 1000 meter row
• 66 2-hand 35 pound Kettlebell Press
• 30 pull-ups with Band

Is CrossFit Just Classes?
Crossfits in Alexandria VA offer a variety programming.  Some have run clubs, some have rowing clubs, etc.  Our CrossFit offers a number of different types of classes such as yoga, powerlifting, TRX CoreFit, Mobility, etc.  We also offer personal training.  For those people who prefer to work one-on-one we even offer CrossFit in our personal training programming.
Do I have to eat Paleo Diet if I do CrossFit?
No.  Eating well is important, but we don't force our members to change their diet if they aren't ready.  Eating a balanced meal plan is important to realize many of the benefits of the CrossFit.  Sand and Steel CrossFit does provide a comprehensive nutrition program we call BluePrint.
Fitness Nerd Discount
So you have read or at least skimmed through my 5,000 word article on CrossFit.  That's awesome!  I'm glad that you read it, and hopefully you learned something.  New Members that are serious-enough to spend 30 minutes reading an article are members that I want to coach personally.  So here's a free owner's session on me.  That's $150 coupon, but there is only 10 of them available.  First come, first served.  I'll see you in the gym.