Iron Star Games 2022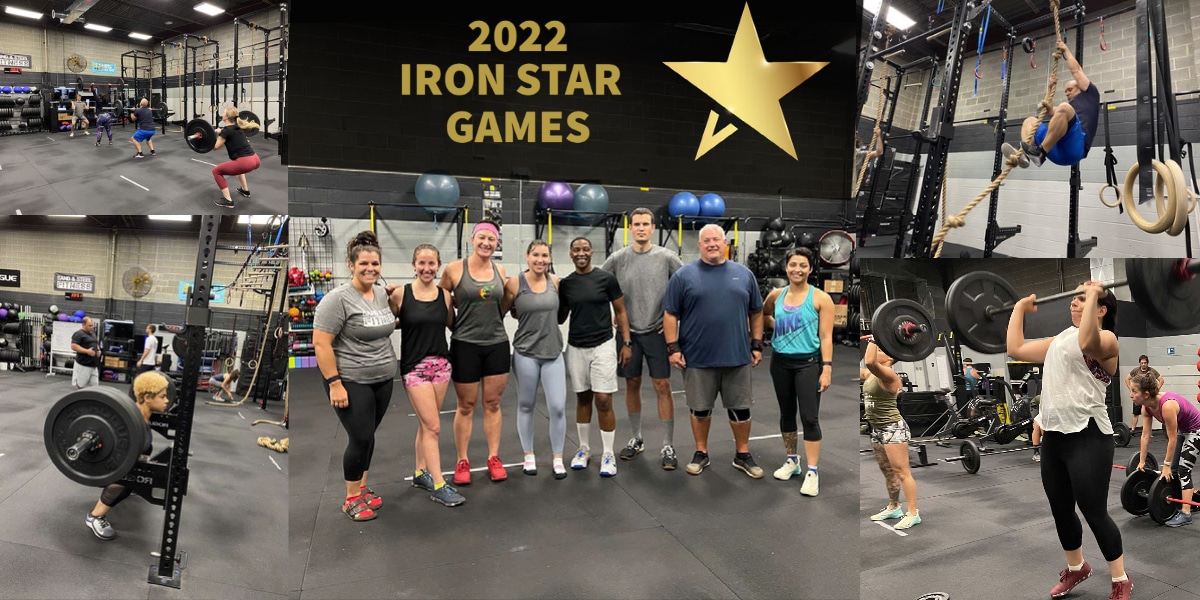 September 5
@
10:00 am
–
11:30 am
EDT
The Iron Star Games is Sand & Steel's biggest competition of the year. Taking place across 9 workouts, the Iron Star Games will help us decide who is the fittest and cleverest amongst us. The Iron Star Games workouts will feature some of the most memorable and challenging workouts from 2021 and 2022. Expect to see a mixture of Strength and Conditioning workouts throughout September.
Tickets
Regular Registration Ends August 20, 2022.
Schedule
September 5 at 10AM-11:30AM. Opening Ceremonies and workout. Aslin afterparty.
Iron Star Competitions will take place on Wednesday evenings and Saturdays mornings in September at the normal CrossFit class time
Last Workout, Awards, and After Party is October 1, 9AM-12PM at Port City.
What's Included?
All Iron Star Tickets include event entry, a free beer at Port City, Pizza at Aslin, and a Free Prize Wheel Ticket on our Prize Wheel. To participate, you'll need a class membership or class pack (not included). Plus you'll need to have completed CrossFit Foundations or our CrossFit Starter Pack before enrolling.
Videos from Last Years Iron Star Games
Rules
Winners of each round (workout) will be determined based on their relative performance, technique, and sportsmanship. Coaches present during the workout will determine who they believed demonstrated the best relative performance, technique, and sportsmanship during the class. Winners of each round will receive a Prize Wheel Ticket.
Missing a workout. It's fine to miss a workout if you are not able to attend that day. You just can't win that particular round if you don't participate in that workout.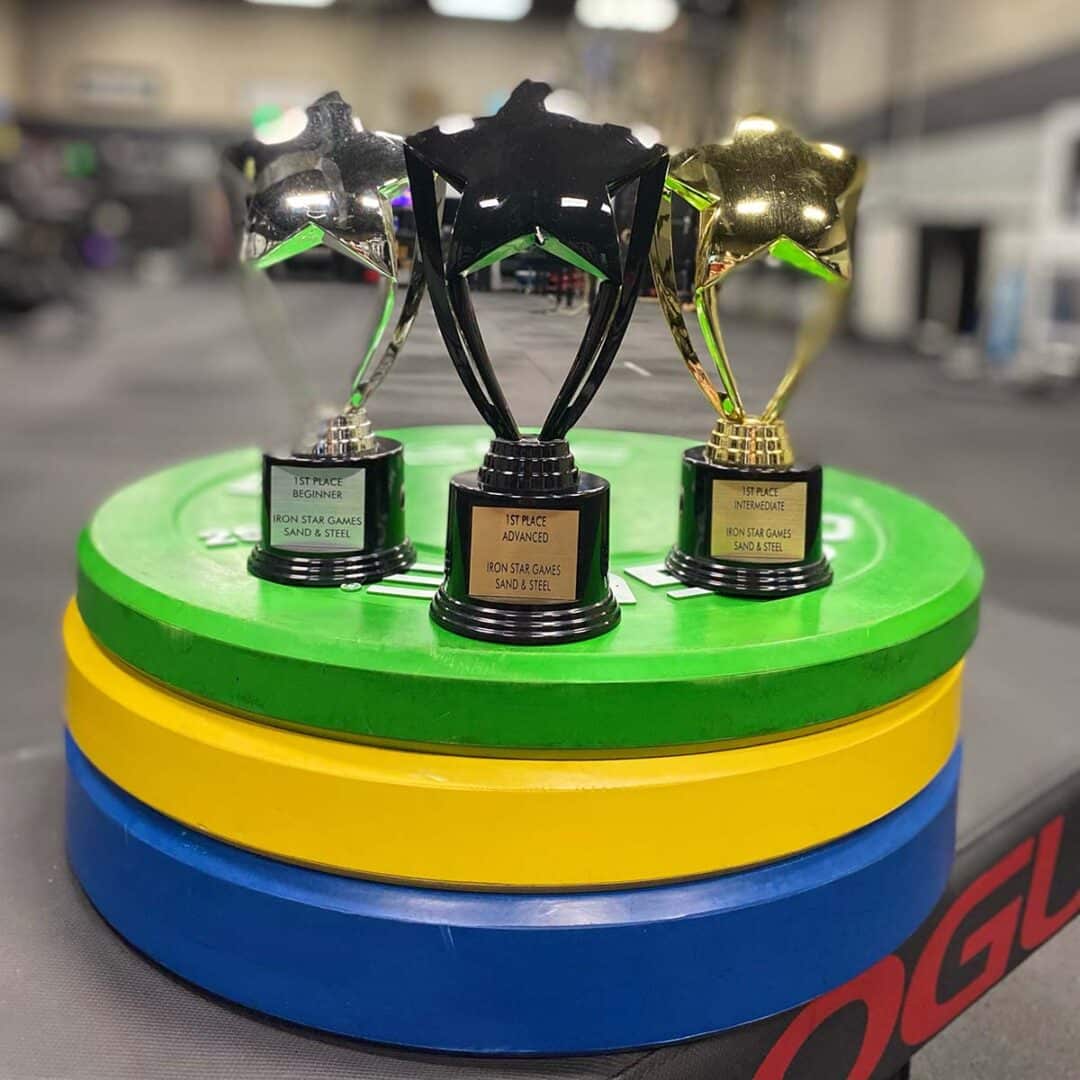 Food, Beer & Prizes
1 Spin Ticket Comes with Your Registration
Port City Opening Party. Your first beer is Free.
Pizza Party at Aslin. Free Pizza at our closing ceremonies.
Trophies for the Top Male and Female Athlete in the Beginner, Intermediate and Advanced Skills Levels
Many different prizes on our Prize Wheel.
Iron Star Jerseys
All Iron Star Jerseys Come with Two Free Prize Wheel Tickets!
Prize Wheel Tickets
Each prize wheel ticket you win provides you with a spin on our prize wheel. The more tickets you have, the more chances you have to win a better prize. You can spin the wheel as many times as you have prize tickets and you can stop spinning at any time, but you only keep the prize of your last spin. So it's one prize per person.
Additionally, the six people with the most prize wheel tickets at the end of the competition win an Iron Star Trophy (Male / Female in the Beginner, Intermediate and Rx categories). For this reason, you still win the competition and miss a few of the workouts. If you cannot attend the closing ceremonies, you'll be able to spin the wheel on your last attended workout.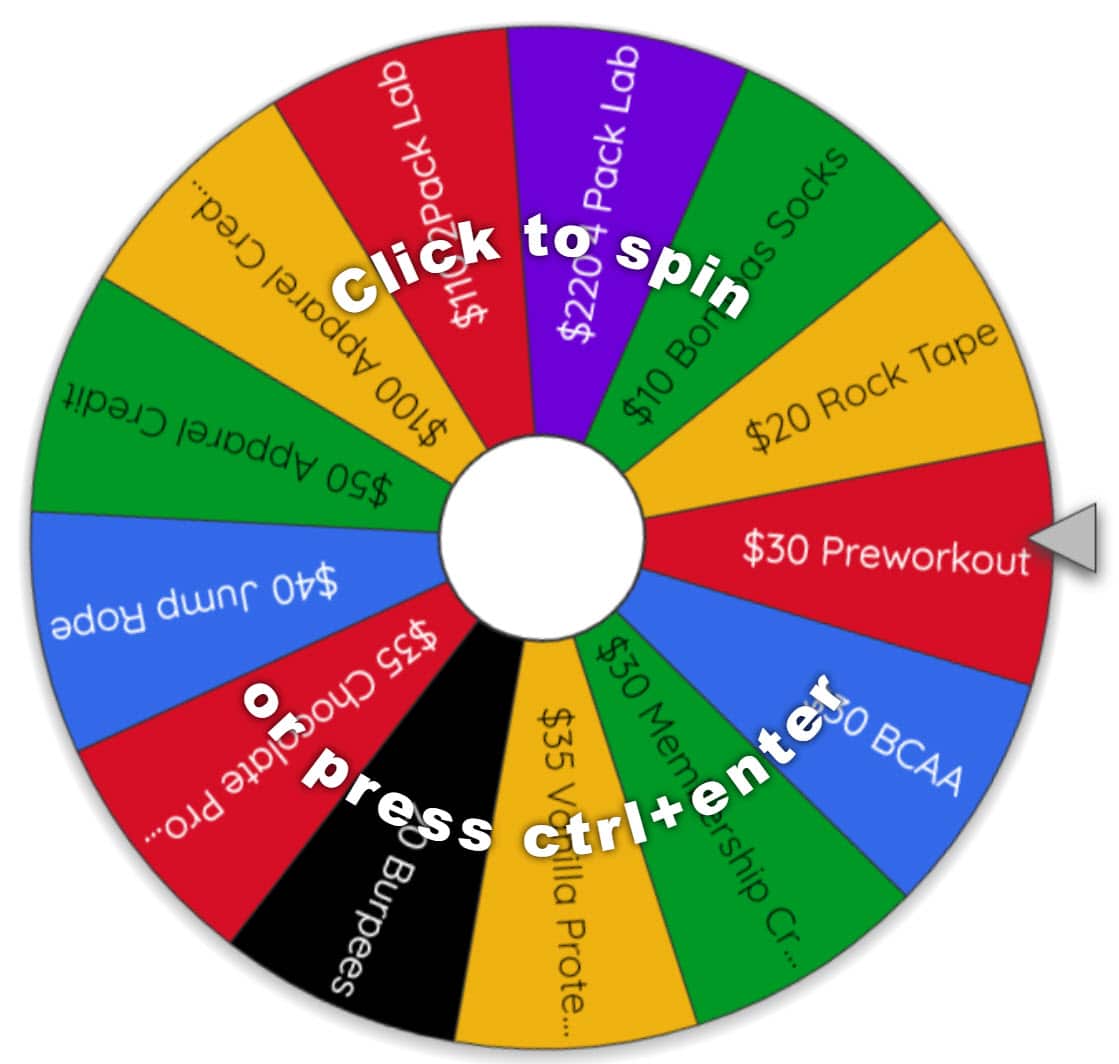 Prize Wheel
$220 Performance Lab 4 Pack
$110 Performance Lab 2 Pack
$100 Apparel Gift Certificate
$50 Apparel Gift Card
$50 Gift Card to CopperWood
$50 Gift Card to Dudleys
$40 Custom Sized Jump Rope
$35 Whey Protein Isolate Chocolate
$35 Whey Protein Isolate Vanilla
$30 Zen Planner Membership Credit
$30 BCAA
$30 Preworkout
$20 Rock Tape Roll 2 inch
$10 Bombas Socks
20 Burpees
The Workouts
The Workout Bank features the top 30 workouts that best represent the creativity of our programming, the challenge of our workouts, and spirit of our gym. During the opening ceremonies, we will select the workouts from the Workout Bank that you'll be doing in the Iron Star Games. Here's how it will work.
The first eight people that register will be invited to participate in the selection of the workouts. As one of the first eight, you will randomly select a first workout from the workout bank. You can keep that workout or you can draw again and keep the second workout you draw. This is a big advantage … the ability to veto a workout and only first eight people will have the opportunity.
Paul will decide the first workout which will remain unknown to everyone until the Iron Star Games, but he might drop some hints on Instagram along the way.
Workout Bank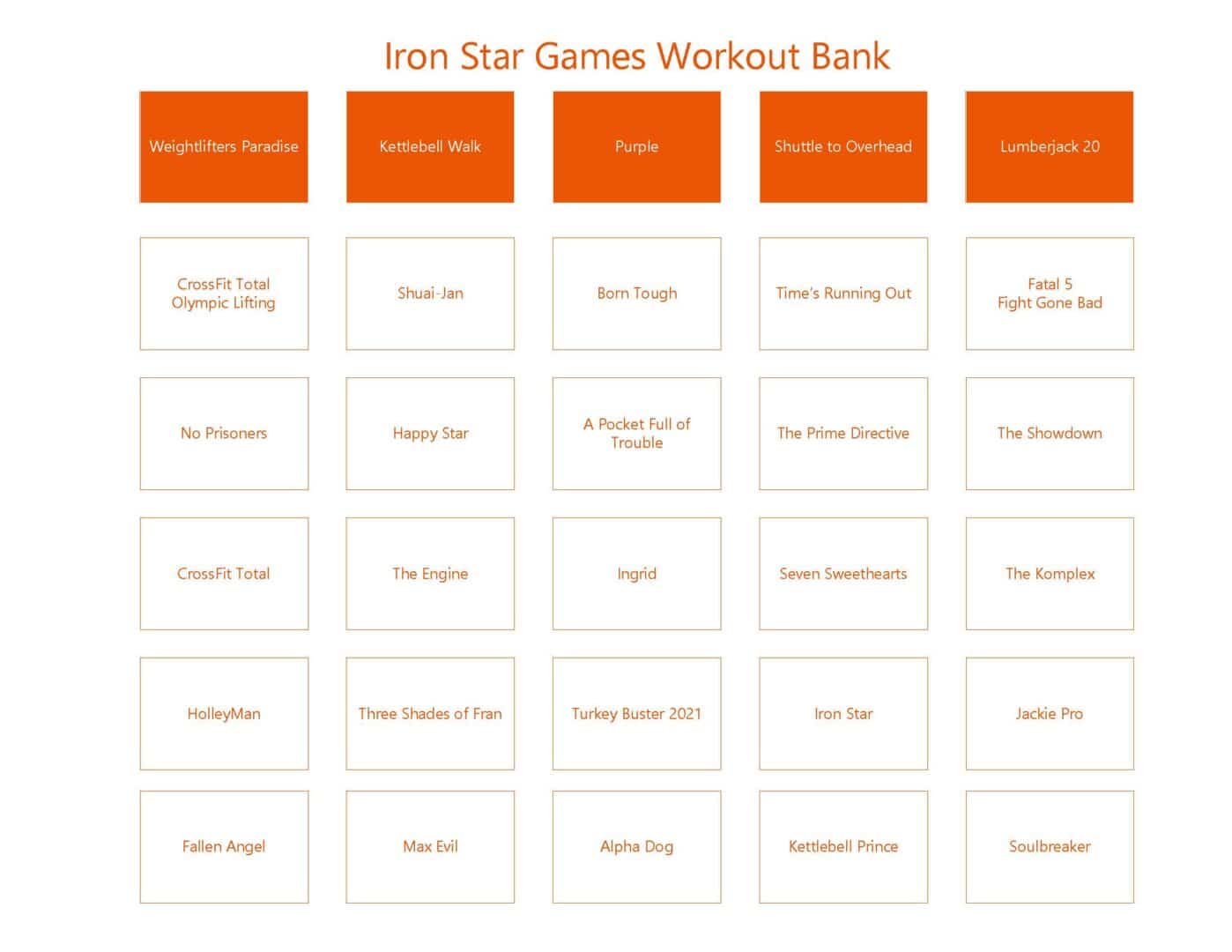 Iron Star Games Workout Bank
Paul chooses the first workout -- fate decides the final eight workouts
WOD
Title
Workout
Scoring
Movement
1
Weightlifters Paradise
- RX -
5 rounds for time:
12 hang power clean and jerks (75/115 lb)
9 thrusters
6 power snatches
Time
Clean, Clean & Jerk, Hang Power Clean, Power Clean, Power Clean and Push Jerk, Snatch, Thruster
2
Kettlebell Walk
- RX -
AMRAP 9:
15 KB Walking Swing (16/24 kg)
Handstand walk (4 Tiles)
Rounds + Reps
Bear Crawl, Kettlebell Swing
3
Purple
- RX -
5 Rounds For Calories:
AMRAP 2:
3 Rope Climbs (15/10-ft.)
Max Calorie Row
- Rest 3:00 between rounds-
Rounds + Reps
Rope Climb, Row
4
Shuttle to Overhead
From 0:00-2:30 (2:30 minutes) Run 200 m
Max jerks
Rest 1 minute

From 3:00-6:30 (3:30 minutes)
Run 300 m
Max jerks
Rest 2 minutes

From 8:00-12:30 (4:30 minutes)
Run 400 m
Max jerks
Women: 100 lb Men: 200 lb
Reps
Run, Shuttle Sprint
5
Lumberjack 20
- RX -For time:
20 deadlifts (185/275 lb)
400-m run
20 KB American swings (24/32 kg)
400-m run
20 overhead squats (75/115 lb)
400-m run
20 burpees
400-m run
20 chest-to-bar pull-ups
400-m run
20 box jumps (20/24 in)
400-m run
20 Medball Cleans (14/20 lb)
400-m run
Time
Box Jump, Burpee, Clean, Deadlift, Kettlebell Swing, Medicine Ball Clean, Overhead Squat, Pull-up (Kipping), Run
6
CrossFit Total Olympic Lifting
36 Minutes to complete
1 Rep Max on Front Squat
1 Rep Max on Split Jerk
1 Rep Max on Sumo deadlift
Log Total Weight Completed
Load
Deadlift, Front Squat, Split Jerk, Sumo Deadlift
7
Shuai-Jan
- RX -
5 rounds for time:
12 hang power clean and jerks (75/115 lb)
9 thrusters
6 power snatches
Time
Clean, Clean & Jerk, Hang Power Clean, Power Clean, Power Clean and Push Jerk, Snatch, Thruster
8
Born Tough (Arms OCR)
10 Rounds for Time*
10 reps of Benchpress at 135
20 Kettlebell Alternating Swings 53/44
30 Double Unders

Dont get capped! It's 5 chin-ups for everyone that doesnt finish. The cap is 25 minutes.
Time
Bench Press, Jump Rope (Double Unders), Kettlebell Swing
9
Times Running Out
In 30 Minutes Complete
100 Situps
100 Medball Cleans
20/14
100 Pushups
Max Weight Hip Thrust 1 Rep
Build up to the Max Weight Hip Thrust after completing 100 pushups.
Load
Clean, Medicine Ball Clean, Push Up, Run, Sit-up
10
Fatal 5 - Fight Gone Bad
Athlete moves from among five stations after a minute each. After the five-minute round a one-minute break is allowed before repeating. The clock does not reset or stop between exercises. On call of 3-2-1 Go the athlete moves to next station immediately.
- Thrusters 75/55
- Toes 2 Bar
- Box Jumps 30/24
- Power Snatch 75/55
- Evil Jump
Score Reps
Rounds + Reps
Box Jump, Hang Power Snatch, Power Snatch, Snatch, Thruster
11
No Prisoners
For Time
30 Minutes
100 Situp Buy-in
3 Rounds of:
* 20 Stir the Pot
* 10 Kipping Knees to Elbow
* 30 Scissor Crunches
100 Swiss Ball Situps Cash out

Note your completion time. In exactly 5 minutes begin the next session ...
AMREP 1.25BW Hip Thrusts
Reps
Knees-to-Elbows, L-Sit, Run, Sit-up
12
Happy Star
All Levels Rx / Int / Beg
For time:
300-m run
5 burpee box overs (20/24 in)
5 thrusters (95/135 lb) / (65/95 lb) / (35/45 lb)
300-m run
7 burpee box overs
7 thrusters (105/145 lb) / (75/105 lb) / (45/55 lb)
300-m run
9 burpee box overs
9 thrusters (110/155 lb) / (85/115 lb) / (55/75 lb)
300-m run
11 burpee box overs
11 thrusters (115/165 lb) / (95/125 lb) / (65/95 lb)
Time
Burpee, Run, Thruster
13
A Pocket full of Trouble
Rx
AMRAP 18 Minutes
* 8 TRX Stir the Pot, to Pike, to Pushup
* 6 Left KF Swing, 6 Left KB Swing Clean & 6 Left Pushpress 53/35
* 6 Right KB Swing, Right KB swing Clean & 6 Left Pushpress 53/35
* 8 1/2 BW Front Squats
Time
Clean, Front Squat, Kettlebell Swing, Push Press, Push Up
14
The Prime Directive
For Maximum Reps - One Time Through
For 25 Minutes
- 100 Bench Legs Lifts (from a Bench)
- 50 BW Hip Thrusts
- 100 Leg Scissors on the floor
- 40 BW Hip Thrusts +20lbs
- 40 V-Ups
- 30 BW Hip Thrusts + 40lbs
-- Accumulate 3 minutes of Low Plank
Max Reps Hip Thrusts at BW + 40lbs in Time Remaining

Log only the reps you complete at the end.
Reps
Bench Press, V-Up
15
The Showdown
Every 3 Minutes for 9 Minutes
Score the successful competition of:
3 power cleans - 6 front squats - 3 Thrusters.

Exercises must be done in a sequence, you cannot regrip the bar or put the weight down (Touch and Go). The score is the total weight completed (all 3 attempts count)
All 3 attempts count... movement must be done in a touch and go fashion. If you fail the lift, you must complete it in the three minutes or you get a zero for the round. Log your weight for all 3 sets. SugarWOD will score all 3 lifts.
Load
Clean, Front Squat, Hang Power Clean, Muscle-Up, Power Clean, Power Clean and Push Jerk, Thruster
16
CrossFit Total
- RX -
For load:
1-rep max back squat
1-rep max shoulder press
1-rep max deadlift
Load
Back Squat, Deadlift, Shoulder Press (Strict)
17
The Engine
For Time
60 Cal Echo Bike / 100 Cal Row
60 OH Plate Walking Lunges Lunges 65/55
60 Bench Press at 1/2 BW(m) 1/3 BW(w)
Time
Bench Press, Bike (Road), Row, Walking Lunge
18
Ingrid
10 rounds for time of:
3 snatches
3 burpees over the bar (95 lb. / 135 lb.)
Time
Burpee, Snatch
19
Seven Sweethearts WOD
The Seven Sweethearts WOD
Light Karen 150 Wall balls 8/6
1/2 Grace 15 Squat Clean & Split Jerks 135/95
1 Round of Helen 400m Run, 21 KB Swings (53/44), 12 Pullups
1 Rounds of Nancy 400m & 15 Overhead Squats (95/65)
3 Rounds of Cindy 5 pullups, 10 pushups, 15 Air Squats
1/2 Isabel 15 Snatches 135/95
Final Round of Heavy Fran 9 Thrusters 135 & Weighted Pullups (45/30)

Target is 30 minutes and 35 minutes cap.
Time
Clean, Hang Squat Clean, Kettlebell Swing, Overhead Squat, Pull-up (Kipping), Push Up, Run, Snatch, Split Jerk, Squat Clean, Thruster, Wall Ball Shot
20
The Komplex
Every 2 Minutes for 8 Minutes
4 Deadlifts, 1 Hang Power Clean, 3 Push Jerks for Load.

All 4 attempts account... movement must be done in a touch and go fashion. If you fail the lift, you must complete it in the two minutes or you get a zero for the round. Log your weight for all 4 sets. SugarWOD will score all 4 lifts.
Load
Clean, Deadlift, Hang Power Clean, Muscle-Up, Power Clean, Power Clean and Push Jerk, Push Jerk
21
Holleyman
Thirty rounds of:
5 Wall ball shots 20 /14
3 Handstand push-ups
225/155 pound Power clean, 1 rep
Time
Wall Ball Shot, Power Clean, Handstand Push-Up
22
Three Shades of Fran
Target: 15-20 Minutes. Cap 25 Minutes. Include the rest time in your total time.

15-12-9:
Thrusters (65/95 lb) / (55/75 lb) / (35/45 lb)
Pull-ups / Inverted Ring Rows / Standing Ring Rows
-Rest 5:00

12-9-6:
Thrusters
Pull-ups
- Rest 5:00

9-6-3:
Thrusters
Pull-ups
Time
Pull-up (Butterfly), Pull-up (Kipping), Thruster
23
Turkey Buster v3
24 Minutes: AMREPS:
50 Walking Lunge Steps
25 Chest-to-Bar Pull-ups / Banded Pullups / Inverted Rows
25 Box Jumps 24 / 18 / 12
10 Wall Walks (5 Feet / 4.5 Feet) / Walk one foot back and forth / 3 Second Wall plank (includes Pushup)
25 Ring Dips / Banded Ring Dips / Wedge Dips
25 Knees-to-Elbows / Knee Raises
25 Medball Cleans (20/14/10)
50 Sit-ups
Max Reps Rope Climbs:

- No jumping onto the rope or down from the rope. Must touch the top of the rack for the rep to count. Rx athletes must do 2 laps in a row for either lap to count. 😈
- Beginners can do pull to standing with straight legs.
Reps
Box Jump, Clean, Knees-to-Elbows, Medicine Ball Clean, Muscle-Up, Pull-up (Kipping), Push Up, Ring Dip, Rope Climb, Row, Sit-up, Walking Lunge, Wall Walks
24
Iron Star
- RX -
For time:
100 KB American Swing Buy-in
50-40-30-20-10: Push-ups
25-20-15-10-5: Box jump overs (20/24 in)
50 Thruster Cash Out 115/75
Time
Bench Press, Box Jump, Kettlebell Swing, Push Up, Thruster
25
Jackie Pro (Modified)
-RX-
1,000-m row (3:45/4:15) Time CAP!
50 thrusters 65/35
30 Chest to Bar Pullups
Time
Chest-to-Bar Pull-up, Pull-up (Kipping), Row, Thruster
26
Fallen Angel
6 Bosu Burpees
Accumulate 100 American Kettlebell Swings 35/25
Every Minute on the Minute 6 Bosu Burpees

Then do AMREPS Barbell Push Jerks in time remaining 95/65

Time Cap is 14 Minutes. Record number of push jerks completed.
Reps
Burpee, Kettlebell Swing, Push Jerk
27
Max Evil
Three Four Minute Rounds
- 10 TRX Pike to Crunch
- 20 TRX Hinge Pushup
- 20 TRX Knee Sweep
- 20 Band Assisted Alternating Pistol Squat (sit on band)
Max Reps Evil Jumps in time remaining
Rest Two Minutes
Points
Dumbbell Snatch, Hand Release Push-ups
28
Alpha Dog
Buy-in: 100 Ft. Handstand Walk
3 Rounds for Time
- 5 Muscle-ups
- 10 Clean & Jerk at 155M/105W
Cash Out: 100 KB Snatches for time 53M/35W

If you cannot complete the -Rx- in under 25 minutes choose a good scaling that preserves the stimulus.
Time
Clean & Jerk, Handstand Walk, Kettlebell Snatch, Muscle-Up, Row
29
Kettlebell Prince
For Time:
Buy-in: 40 Kettlebell High Pull to Goblet Squat 35/22
3 Rounds
• 30 Kettlebell American Clean 35/22
• 20 Atomic Pushups
Buy-Out: 60 Contralateral Kettlebell Split Cleans
Time
30
Soulbreaker Team WOD
Karen + Randy + Cindy

With a partner, you have 20 minutes to complete:

Karen: 150 wall-ball shots (20/14)
Randy: 75 power snatch (75/55)
Cindy: as many rounds as possible: 5 pull-up, 10 push-up, 15 squat

One does other one rests. Switch can be done as many times as wished, but only one athlete works out at a time.
Your result is the number of rounds of Cindy performed.
Rounds + Reps
Hang Power Snatch, Power Snatch, Pull-up (Kipping), Push Up, Snatch, Wall Ball Shot
Related Events