This week is jam-packed with exciting events.  On Friday February 25, we kick off the 2022 CrossFit Open.  The Open is your chance to get a real taste of CrossFit and see how you measure up against everyone in the US.  Then on Saturday February 26, we are working together to reconfigure the gym to make Sand & Steel better than ever in our Gym Reconfiguration Meeting.  Afterward, Member Sean Dunphy is hosting a board game night after we've completed updates.  Then on February 27, Mike Hoard and Coach Paul are leading a special beginner friendly trail run at Sand & Steel. So clear your schedule for this weekend, and join Sand & Steel for a weekend of fitness, health, and friendship.
Note, we have a special CrossFit class time for Saturday (class starts at 11AM).  Coach Paul is privately coaching veterans from the Wounded Warrior Project at 10AM.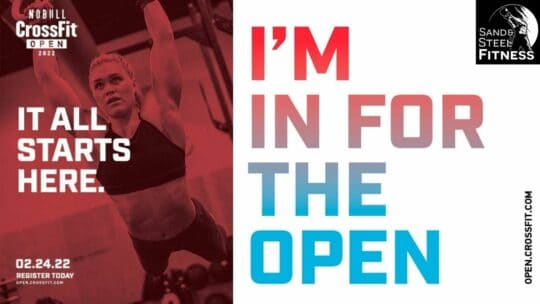 February 25, 2022 @ 6:00 pm to 7:30 pm
Join the Fun of the CrossFit Open. It only happens once a year. CrossFit.com tracks your progress against athletes across the world. See how you measure up each year and against other members from Sand & Steel. Earn a Sand & Steel Trophy for our best performing athletes in all skill levels. Plus join us at Aslin Brewry on the last evening to celebrate the conclusion of the 2022 CrossFit Open. Don't Miss it! More information
---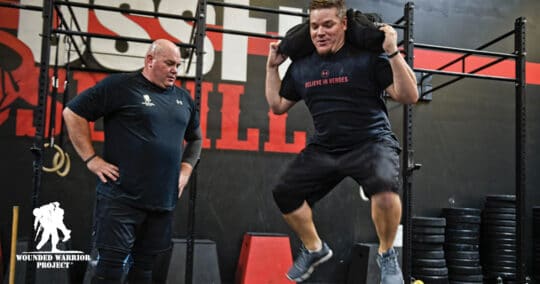 February 26, 2022 @ 10:00 am to 11:00 am
Sand and Steel is proud support our veterans and is hosting a workout for Wounded Warrior Project Members. We'll feature warmups, instruction, and modifications to make this workout a safe and approachable experience for everyone attending. More information
---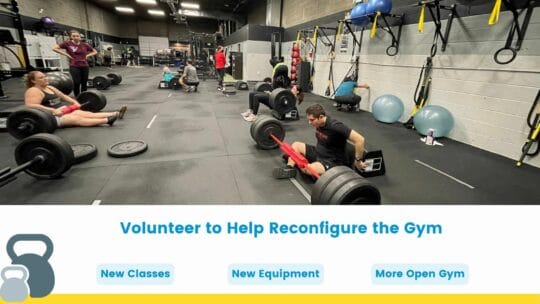 February 26, 2022 @ 12:00 pm to 5:00 pm
We are ordering some new equipment for our CrossFit Class and our upcoming Powerlifting & Mobility Class. But we need your help to prepare the gym so that we will have a place to install it. Basically, we need to move some equipment around in the gym to free up some space. We have specialized equipment to make moving the gear easier, but we'll still need a few people to move everything safely.
We'll be providing sandwiches and snacks for everyone during the event so you can keep your strength up! More information
---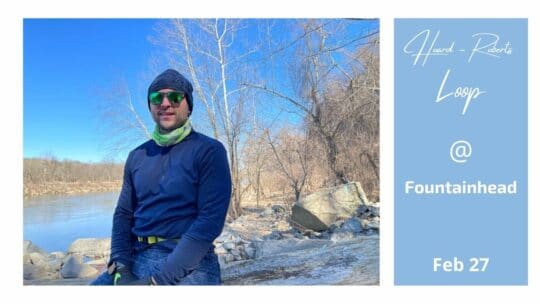 February 27, 2022 @ 11:30 am to 3:00 pm
Join us this Sunday at Fountainhead Regional Park for your first trail run. Fountainhead features some of the best trails in the DC area and we have assembled 4 different level trails so that runners of all levels will have a great run. Plus all runners who complete their "target distance" win a 10% off coupon for all Sand & Steel Apparel. More information
---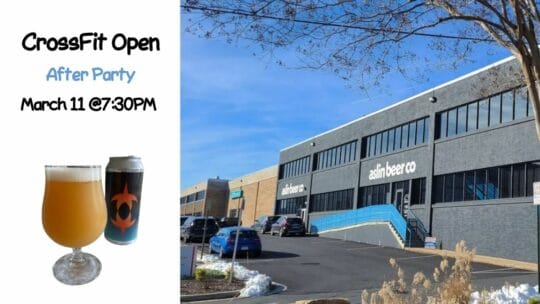 March 11, 2022 @ 7:30 pm to 9:00 pm
We'll be hosting our closing ceremonies at Aslin Brewery. Please join us for some amazing beer, great food, and our official unveiling of our CrossFit Open Trophy Mug Winners and Raffle. If you have previously won a Sand & Steel Competition, please bring your trophy mug with you. More information
---