What you can do on your own in 12 hours, we can do for you in 3 hours.  When you work with us, you have the advantage of the 20,000 hours of coaching experience that Dawn and I share.  As a team, we have trained more than 5,000 clients and certified over 120 coaches.  We have trained many clients who move just like you.  We have worked with people with your injuries and your goals.  We know what works, what's safe, and what will get you results.   At Sand and Steel, we handle the planning, the programming, the accessory work, mobility training, etc.   We do it all.  Just show up and give us 100%.

Paul Roberts

, Biomedical Engineer.  John Hopkins University.
The Sand & Steel Difference
Virginia's Highest Ranked Personal Training & Yoga Studio
We are an authentic Personal Trainer & Group Fitness Class studio.  We deliver on the boutique gym experience and all the results associated with having your own personal trainer.  While the rest of the fitness industry can sell memberships based on promises — we are real people and we have to sell results.  That is the way we started… and it will always be the way Sand & Steel is run.
Sand & Steel builds new programs around your goals and their movement patterns.  We customize the training to your fitness levels (beginner to expert).  We mobilize the parts of your body that don't move well.  We even customize your program for how you are feeling that day.  With a personal trainer, you get one-on-one customization and attention.  The result … a safer program that delivers faster results than the group model.  It costs more… because it delivers more.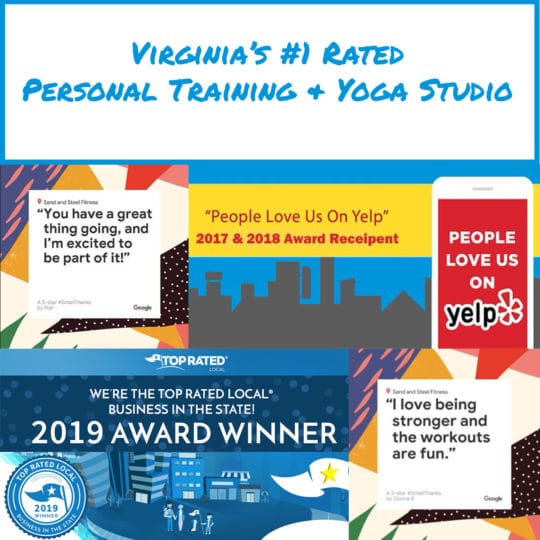 What Kind Of Training do We Offer?
Functional Strength Training
Corrective Exercise & Mobility for Neck, Shoulders, Elbows, Wrists and Hands, T-Spine, Lumbar Spine (lower back), Hips, Knees, Ankles, and Feet
Bodybuilding and Hypertrophy
Conditioning and General Physical Preparedness
Weight loss for people (even if you have to lose 100+ pounds)
Fitness for Seniors and Older Adults
Powerlifting (Starting Strength, Westside, CrossFit Powerlifting, etc.)
Olympic Lifting (Catalyst Programming, Escalade, etc.)
Combo Powerlifting and Olympic Lifting Programs
Custom Yoga Flows and Sequences
Astanga, Rocket, Bikram, Hatha, Iyengar, Inversions, and Yin
CrossFit Style — We are Level 2 CrossFit Coaches
Clubbells, Fatbells, Kettlebell Sport and RKC
TRX Suspension Training, RipTraining, and CoreFit
Strength Training and Flexibility for Runners
5K, 10K, 1/2 Marathon, and Full Marathon Training Programs
[wp_show_posts id="87724″]