Members of the LGBT community save 10% on in-person and virtual training services.

LGBT Discount is open to gay, lesbian, bisexual, transvestite, queer Community. Coupon Code: LGBT10. Use the LGBT10 coupon on Zen Planner when you purchase your training.  Coupon codes cannot be applied retroactively, so don't forget to use them.

Sand & Steel Proudly Supports the LGBT Community.  We employ gay, lesbian, and transvestite coaches.   We offer customized personal training programs.  So whether you are trying to look good on the soccer field, at Freddie's or Cobolt, or just for yourself, we will build an optimized program for you.
Our LGBT10 code works during Pride Month so signup today and save.
We know what's it's like to just be tolerated at work, bars, and gyms, etc.  At Sand & Steel, all members of the LGBT community are welcomed and supported.  It's a place where you can just be yourself, work on your weaknesses, and improve your health and appearance.
---
Celebrate Pride Month with Sand & Steel Personal Training.  Save 10% with our LGBT Discount.  LGBT10 .  All members of the LBGT community are welcome to the sales.  Having a gym and a personal trainer that accepts you for who you are is important to making improvements. This article highlights some of our gay and lesbian clients plus some of our coaches who are part of our LGBT community.
TRAIN IN A LGBT FRIENDLY ENVIRONMENT
At Sand and Steel Fitness we have trained thousands of people with different body compositions, injuries, and various occupations.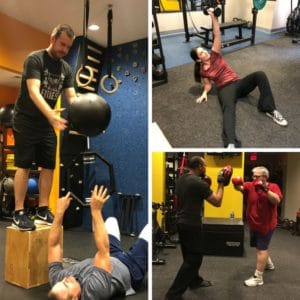 Rounded shoulders and upper back – Pushing the shoulders and chest in a tight compromised position causing strain on the thoracic spine.
Anterior Pelvic Tilt – Tight quadriceps, weak hamstrings, and lack of transverse abdominis strength places the pelvic bone in a forward tilt stressing the lower back.
Pronation Distortion Syndrome – Feet muscles are unable to hold arch and collapse in causing knees to migrate inward and increase stress on knee joints such as the ACL and MCL
Lateral Pelvic Shift – Range of motion in the joints on side of the body is reduced causing muscle imbalances on both sides of the body all the way from the ankles to the shoulders.
Shoulder Impingement Syndrome – Shoulder is in an internally rotated position placing stress on the muscles surrounding the humerus and can lead to pinching of shoulder nerves.
---
Get Started During Pride Month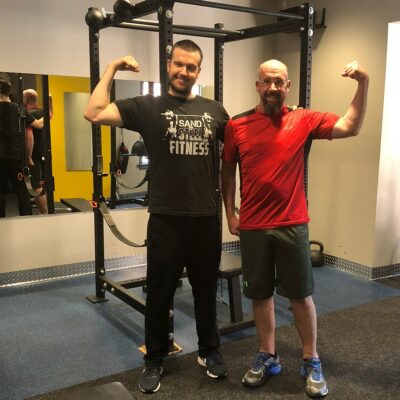 "I chose Sand & Steel because of their judgment free athmosphere. With Sand & Steel I got a completely custom program written and coached by the owners. I've lost over 50 pounds at Sand & Steel. Well worth the investment.
​
I've checked out all the personal training studios in Old Town Alexandria. I looked at Orange Theory, Crunch, Fitness Together, Planet Fitness, etc. At Crunch, I got the typical used car salesman approach. As for Fitness Together, I tried going there twice. They broke both appointment times… apparently there was supposed to be a manager, but he wasn't available. Orange Theory felt like a complete marketing scam — high pressure sales. Overly bulilt sales trying to push his "theory" down my throat. What I saw was a lot of very overweight people working out under the glaring eyes of a perfect built body instructor. "Instagram coaches" that look nice, but don't have the coaching experience I am looking for."
Tom L.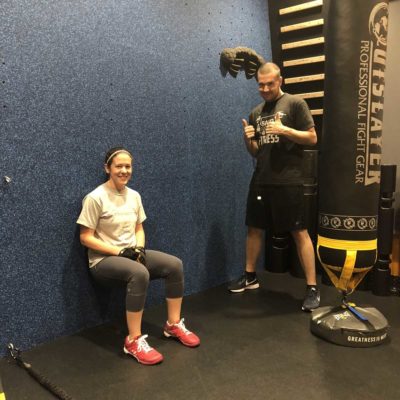 "Sand & Steel is open to people of all sexual orientation.  My wife and I, have been customers for years, and every single trainer has treated us with respect.   If you are considering Sand & Steel versus a gym like LA Fitness, let me break it down for you.  It's basically comparing someone that has taken a weekend course about how to be a personal trainer versus working with a professional.  I've watched many personal trainers at LA Fitness and they seem to apply a "one-size-fits-all" program to their clients. At Sand & Steel, you get a professionally scaled program, built for you.
I may be 40 years old, but thanks to Sand & Steel I am in the best shape of my life."
Sara F.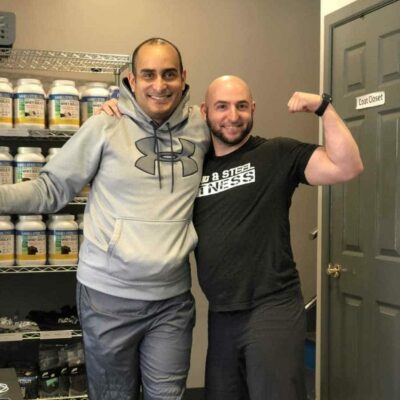 "I go to Sand and Steel so my clothes look good, and so everything fits like it should. Since come to Sand & Steel, I started learning to look more myself versus comparing myself to others. Sand & Steel is all about individual improvement — it's the opposite of a meat market.
You might not have enough strength to start weight lifting when you begin your transformation at Sand & Steel, but you will gain it through your workouts.
And for the lesbians, if you like lifting heavy, this is the gym to choose. Sand & Steel specializes in Power Lifting, Olympic Lifting, and Kettlebells.
Sand & Steel vs. Vida
No Pressure to impress anyone. It's like belonging to a community vs visiting a meat locker. When I was in my 20s I used to be hit up Micky D's, workout, and repeat. Now in my 40s, I appreciate the individual attention to nutrition coaching. In Vida, the emphasis is like, "Are those Nanos from 2017?" Sand & Steel is like, "Real lifters don't even wear shoes."
Jesus C.
---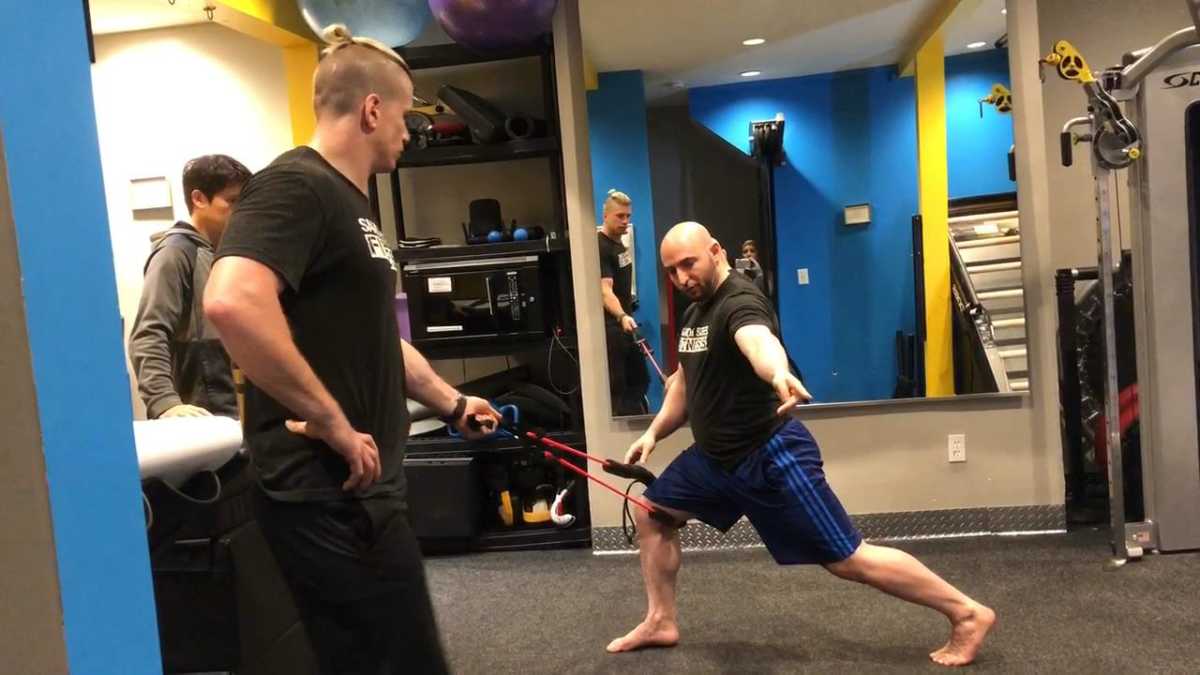 "There are eight fundamental movement patterns that are necessary for day to day function: the squat, lunge, hinge, twist, flexion, extension, push, and pull.  Whether your 55 or 85, these patterns do not change.  And it is through building your ability to correctly execute these patterns that I am going to help you move better and feel younger."
Paul. R. | Bio
Paul Roberts, Biomedical Engineer, JHU