Our 2020 goal was to make CrossFit affordable to everyone. We are proud to offer Unlimited CrossFit classes for about $90 / month.
Making CrossFit More Accessible to Everyone in Alexandria VA
CrossFit has about 3 million people who actively train in a gym.  CrossFit has helped thousands of people lose weight, build range of motion, and improve their overall health and fitness.  If CrossFit had an Achilles heel, it would it's cost.  Most CrossFit gym charge upwards of $250/month for an unlimited membership.  And while many would argue that a well run CrossFit Gym in Alexandria VA is worth that much, $250 or even $180 per month is simply more than many can afford.
Building an Affordable CrossFit Class For Everyone
Many CrossFit gyms go to great lengths to justify their expensive prices. We think that anytime a business needs to justify their prices, they are charging more than they should. Health & Fitness should be something everyone can afford. Under Dawn's leadership, we are proud to offer CrossFit classes for about $90 / month.
CrossFit Classes for $90 / Month?
When Dawn said to me in April, "Paul I want to charge $90 /month for CrossFit classes" my jaw hit the floor.
"$90?  Are you crazy?  We will lose money.  Trident CrossFit, CrossFit South Arlington, CrossFit Old Town, etc. all charge at least $200.  It's impossible."  I told her.
Dawn's response was, "We need to make CrossFit affordable to students and people that don't make a lot of money.  People are more likely to get very sick from COVID-19 if they aren't healthy.  We can't put a price on people's health and fitness.   This is important to me — you need to figure out the programming and logistics to make it happen."
I was like, "Is that all?"
Dawn replied, "In fact, no.  I want to offer open gym for just $8 more.  So Open Gym + CrossFit for $98.  Also, I want don't want any signup fees, no hidden fees, no cancellation fees.   Oh, and it needs to be Unlimited Classes.  But don't worry, since we are closed in April, you'll have a whole month to figure out how you can do that :-)."
That was April 2020.  Today, I am proud to announce that we can offer unlimited CrossFit Classes and Open Gym for under $100 / month — but it's for a limited time.   Here are the details.
CrossFit Classes + Open Gym for $98 / Month – How it Works
At Sand and Steel today, you get unlimited classes and open gym for $49 every two weeks.  There are no extended contracts and no signup fees.   Signup here.
Pricing Details for CrossFit Classes in Our Gym
Is that for Unlimited CrossFit in Northern Virginia?
Yes, our Pricing is for Unlimited Classes.  However, to make sure everyone has a spot they can attend in class, you can only attend one class per day.
How Long is the Contract for a CrossFit Membership?
The membership contract is for two weeks.
Do I Have to Pay Extra for Other Classes?
Our membership includes access to ALL classes.
Is the $98 Price Good Forever?
We will offer Unlimited Classes and Open Gym for as long as we can.  We care about the health of our neighbors.  We want you to be healthy to resist COVID-19.  But no, we cannot afford to offer this price forever.  So, if you want to CrossFit for less $4/day, you should book your gym tour and sign-up today.  P.S. You can always check current gym prices here.
Is there an Enrollment or Onramp Fee?
There are no additional fees.  We do recommend you sign-up for personal training before taking classes to improve the performance of your body.  Taking personal training helps reduce risk of injury and provides you with training to improve your body performance.  Taking personal training before classes is NOT required.
Open Gym Hours
Open gym is available:
Monday- Thursday 4AM-12PM & 8:15-10:15pm
Friday 4AM-8PM.
Saturday 4:30AM- 7:30AM.
Saturday 1PM-8PM.
Sunday 4AM-8PM.
Where Can I Learn More About Gym Classes?
You can view of our gym classes in Northern VA here.
Strong on Mondays & Wednesdays: Strong is Powerlifting and Olympic Lifting.
CrossFit on Tuesdays & Saturdays: CrossFit also includes TRX work and Kettlebell Training
Yoga Alignment 88 on Thursdays
Kinstretch Beyond Stretch: KBS is a mobility and range of motion class
When Are the Gym Classes?

Comparing our Costs to Starbucks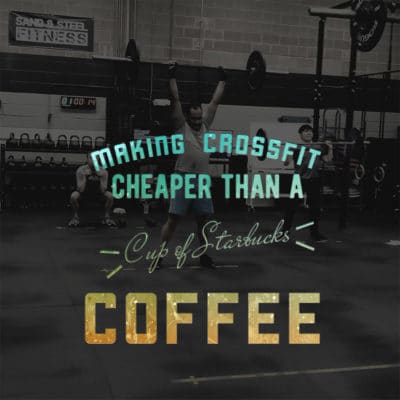 The average cup of Starbucks Coffee in Alexandria VA is $4.75.  So, we charge less than cost of getting one cup of coffee from Starbucks or Even Dunkin Donuts coffee.  So, before you think that you can't afford CrossFit classes, consider whether you can afford to buy coffee on your way to work in the Northern Virginia area.  If you can, you can afford our CrossFit gym.