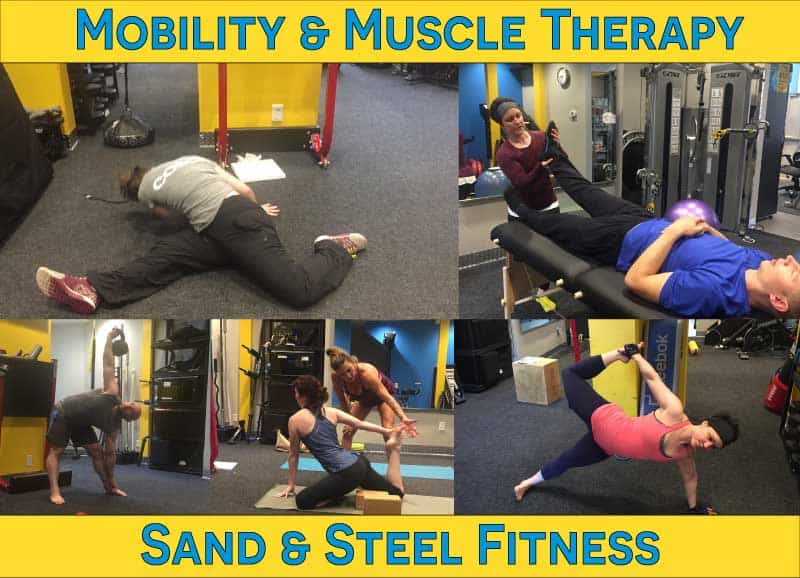 Mobility Benefits include:
improves joint mobility and range of motion so that you can properly perform movements,
improves your durability and decrease injury risk through proper mobilization of joint capsules and tendons,
improves static motor control for people who are hypermobile or recovering from injuries,
assesses injury risks for extracurricular activities like hiking, basketball, etc., and
helps restore proper muscle and tendon functionality.
24 movement patterns tested to determine areas of limited mobility;
Custom modifications to your personal training program based on results;
Risk assessment for common activities (Olympic lifting, cycling, etc.)
Detailed report and scoring on each of your movement patterns.
Mobility and Muscle Therapy Program
Functional Movement Screen Level I and II certification and equipment,
Muscle Activation Technique's Jump Start Program
Kelley Starrett's Supple Leopard,
Bob Anderson's Stretching,
Subscription to ROMWOD and Yoga Journal,
Kit Laughlin's Stretching and Flexibility,
Mobility WOD Certification and equipment,
Move2Perform Y-Balance Test certification and equipment,
200Hr Iyengar Yoga Certification,
Gray Institute's Three Dimensional Movement Analysis and Performance System.
Incorporating Mobility and Muscle Therapy into your personal training program.  You can now purchase individual Mobility and Muscle Therapy sessions via the webportal.  In those sessions, we will measure you mobility, and determine the joints and areas that need the most care.  We'll then develop a custom mobility plan for you.  This can be done either as full 60 minute sessions, or we can simple add 3-4 corrective exercises or mobility exercises to your program.  You'd repeat those for 2-3 weeks, and we'll add new ones during your next mobility and muscle therapy session.
At Sand & Steel, we diagnose sources of movement problems, correct muscle imbalances, and utilize the XT60 personal training system to improve body fat and activate weakened muscles.Lose Weight, gain flexibility, and build rock-solid strength,
Latest posts by Paul Roberts (see all)