Morning and Lunch Time Fitness Classes are now available at 7AM, 9AM, 12PM, and 1PM.  Check out our new classes, The Engine & The Rx. Plus get more times for your favorites like the CrossFit Beginner Class and Beyond Stretch.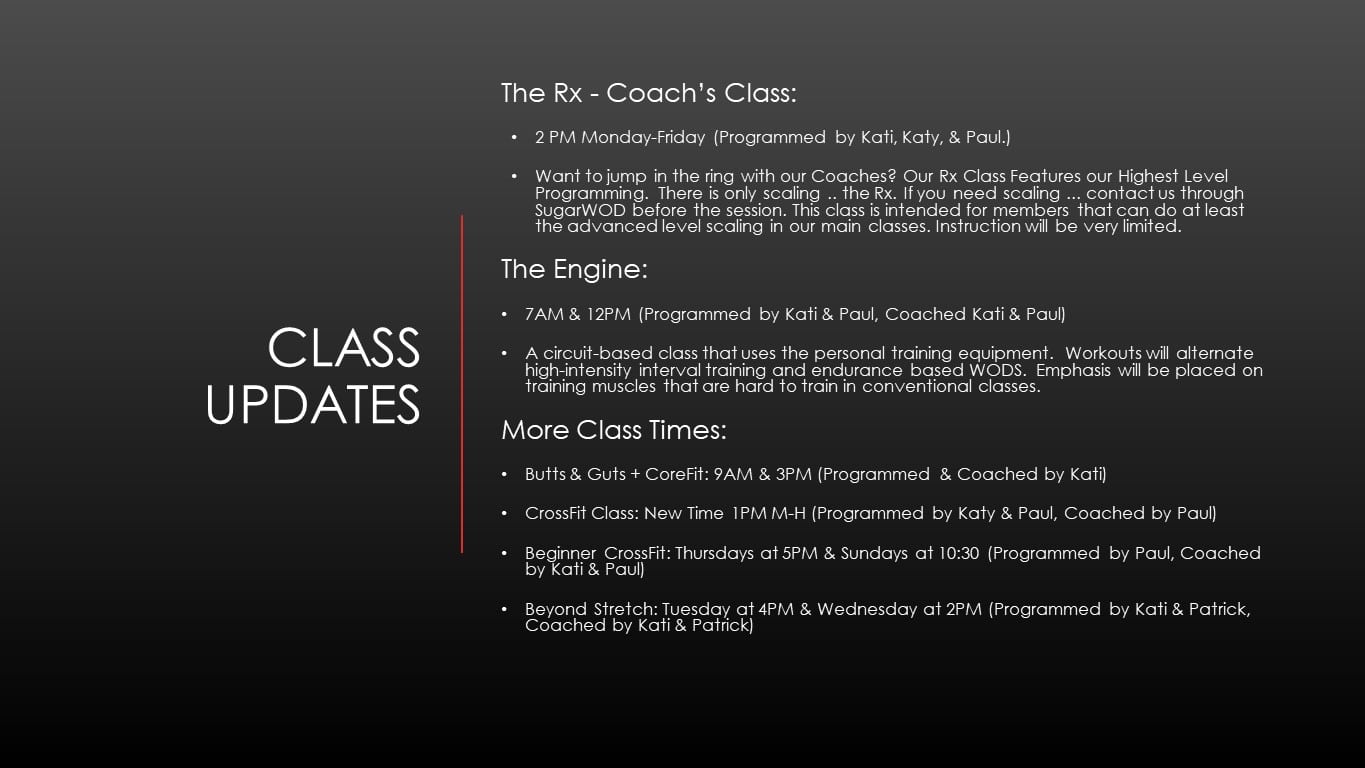 The Rx – Coach's Class:
2 PM Monday-Friday (Programmed by Kati, Katy, & Paul.)
Want to jump in the ring with our Coaches? Our Rx Class Features our Highest Level Programming. There is only scaling .. the Rx. If you need scaling … contact us through SugarWOD before the session. This class is intended for members that can do at least the advanced level scaling in our main classes. Instruction will be very limited.
The Engine:
7AM & 12PM (Programmed by Kati & Paul, Coached Kati & Paul)
A circuit-based class that uses our personal training equipment. Workouts will alternate high-intensity interval training and endurance-based WODS. Emphasis will be placed on training muscles that are hard to train in conventional classes.
More Class Times:
Butts & Guts + CoreFit: 9AM & 3PM (Programmed & Coached by Kati)
CrossFit Class: New Time 1PM M-H (Programmed by Katy & Paul, Coached by Paul)
Beginner CrossFit: Thursdays at 5PM & Sundays at 10:30 (Programmed by Paul, Coached by Kati & Paul)
Beyond Stretch: Tuesday at 4PM & Wednesday at 2PM (Programmed by Kati & Patrick, Coached by Kati & Patrick)