CrossFit Murph 2021 is our holiday workout, party, and social event at Port City Brewery. Join us May 29 for an intense CrossFit workout followed by food and refreshments. Get your tickets today.
CrossFit Murph – May 29, 2021
8:30AM-3:45PM
8:30AM Check-in Desk Open. Event sign-in and same-day registration.
8:45AM Drink Station Opens. Pick up your complimentary water, preworkout, BCAAs, Beer Tickets, and Commemorative T-Shirt.
9:00AM Whiteboard Overview & Workout Logistics
9:10AM Group Warmup and Stretch
9:30AM Murph WOD Begins
10:30AM Fully Catered Post Workout Brunch from our friends at Bittersweet
11:00AM Murph Raffle & Awards
12:00PM Intermission (showers and change clothes as you like.)
12:45-3:45PM: Join us for a Free Beer at Port City Brewery. Sand & Steel Picks Up the First Round.
Food & Party
Cheddar Chive Biscuits with Ham, Egg & Cheese
Pesto Mozzarella Shell with Chicken
Desserts
Locally Made Cupcakes & Yogurt Parfait
Preworkout & BCAA
Free Bottled Water, Preworkout, and BCAAS
Craft Beer
Free Round of Beer at Port City Brewery
Why CrossFit Murph?
We run Murph to honor the former Navy Seal that gave his life in the line of combat. To remember Mike Murphy and all Navy Seals that so valiantly protect our great nation.

Murph is more than a workout — it is a time we ALL can get together, workout hard, enjoy some great good, drinks, and friendship, and give thanks to all that we have. So signup for a full day of fun, food, and friends.

Spouses and New Members Welcome
Catering By Bittersweet
Beer at Port City Brewery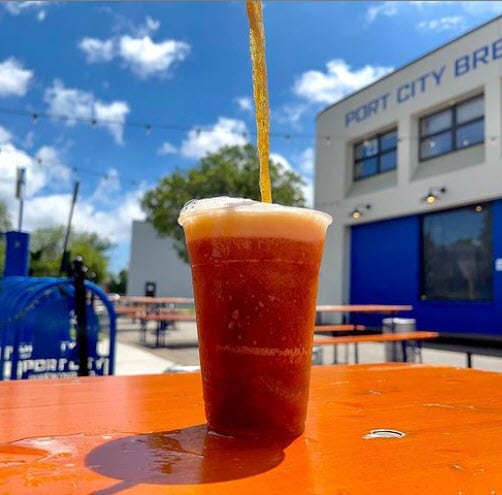 Tickets – On Sale Now
Commemorative Memorial Day
Sand & Steel T-Shirts
Get your limited-edition Red, White, and Blue Themed CrossFit T-Shirts.
Murph WOD to Honor Michael Murphy
CrossFit Murph is a Hero WOD named after Navy Lieutenant Michael P. Murphy, 29, of Patchogue, NY, who was killed in Afghanistan June 28, 2005. A U.S. Navy SEAL officer, Murphy was awarded the U.S. military's highest decoration, the Medal of Honor, for his actions during the War in Afghanistan. CrossFit Murph Rx'd Scaling is Run 1 Mile, 100 Pullups, 200 Pushups, 300 Air Squats, Run 1 Mile. While wearing a 20-pound weight vest.
To help you get in shape to complete Murph, CrossFit Sand & Steel has built a complete Murph a training program & plan. Join us every Saturday and Sunday.
We have designed 6 scaled versions of Murph so that everyone can participate at their CrossFit Rank: Beginner, Advanced Beginner, Intermediate, Experienced, Expert, and Rx'd.
Awards and Prizes
Raffle Prizes: You'll get a free raffle ticket at the registration desk.
Amazon Fire TV,
$50 Fogo de CHAO Gift Card,
$25 Bittersweet Gift Card.
Awards: upload any picture or video to our SmugMug channel during our Murph Prep Training or the Actual Event to be entered into the contest. Or post a picture of your training on your social media channel.
Best Picture: 50 Rewards Points. Runner Up 25 Rewards Points. Upload Pics
Best Video: 50 Rewards Points. Runner up 25 Rewards Points. Upload Clips
Best Social Media Post: 50 Rewards Points. Runner up 25 Rewards Points. Tag @sandandsteelfitness #murph
We Are In This Together
Murph Scalings
Rx Scaling
Run 1 Mile
100 Pullups
200 Pushups
300 Air Squats
Run 1 Mile
*All while wearing a 20 pound weight vest.
Expert Scaling
Murph as written, but no weight Vest.
Experienced Scaling
1 Mile Run
20 Rounds of
• 5 Pullups
• 10 Pushups
• 15 Squats
1 Mile Run
Intermediate Scaling
1/2 Mile Run
15 Rounds of
• 5 Banded Pullups
• 10 Pushups
• 15 Squats
1/2 Mile Run
Advanced Beginner
1/2 Mile Run
15 Rounds of
• 5 Ring Rows
• 10 Knee Pushups
• 15 Squats
1/2 Mile Run
Beginner
1/4 Mile Run / Walk
10 Rounds of
• 5 Ring Rows
• 10 TRX Chest Press
• 15 Squat to Box
1/4 Mile Run / Walk
Running/Walking. The run is a key element to Murph and if running isn't your thing, we recommend choosing the Intermediate Scaling which features only a 1/2 mile run. Feel free to do a run/walk. If it's not safe for you to run, we will have two Echo Bikes and Ski Erg Available. A 1 Mile Run is 2.6 Miles on Bike, and 1600m on the Ski Erg.
The Murph Training Plan
Coach Katy and Paul have designed a full training plan to help you get in shape for Murph and beyond. The best part is that you just have to show up. For the next 6 weeks, we'll be training for Murph.
Training Plan: we recommend 3 workout classes per week (Metcon, KORE, or Engine) and 2 Mobility Classes per week (Beyond Stretch or FireFlow). Let's keep a good thing going — find a friend or two and let's get them in here. Your #summersixpack starts now.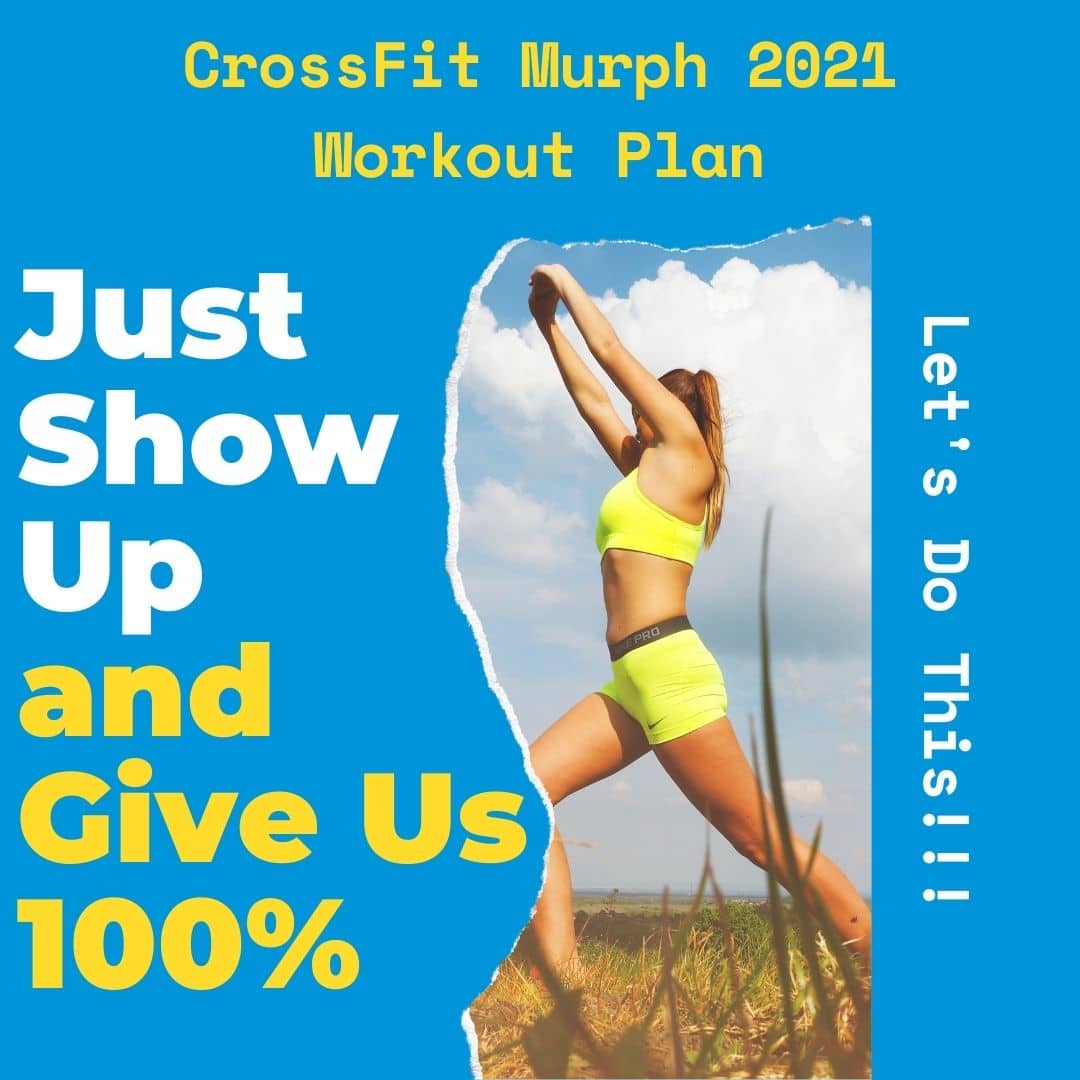 May 1: Cindy Girl WOD
Warm up: 400 meter run
Complete Cindy
AMRAP 20:
5 pull-ups
10 push ups
15 air squats
Cool down: 400 meter run
May 2: Kipping Pullup Clinic (PR)
Technique & Clinic class on the Kipping Pullup. Think you have your technique perfect? Think again. Better Technique, Less Effort, Faster Murph Time.
May 8: Partner Murph (PR)
Run 800M
Split up Murph with a Partner. It's 100 Pushups, so between you and your partner get a 100 pushups done. One Person works at a time.
Run 800M
May 9: Angie Girl WOD
For time:
• 100 pull-ups
• 100 push ups
• 100 sit-ups
• 100 squats
May 15: Panic Breathing (KO)
For time with a partner:
Buy in: 1 mile partner run with medball (14/10)
Then..
500-400-300-200-100 meter row OR
21-16.8-12.6-8.4-42 cal Echo Bike
Partner Kettlebell Rack Hold (20/14kg)
*5 burpee team penalty every time partner has to put down the kettlebells or if they lose a strong front rack position.
RX- As Written
Experienced- 16/12KG
Beginner- 10KG
May 16: Mary
AMRAP in 20 minutes of:
• 5 HSPU
• 10 Pistol squats
• 15 Pull-ups
See CrossFit Workout Planning for Scaling Notes
May 22: Half Murph (KO)
800m Run
50 Pullups
100 Pushups
150 Air Squats
800m Run
May 23: Warrior WOD (PR)
Run 1 Mile
2 Rounds
25 DB Thrusters 35/25/15/10
50 Situps
Run 1 Mile
May 29: Murph
The Full Murph is here with our Brew
June 5: Murph – Oblinger Variation
1 Mile Run
Karen: 150 Wall Balls 20/14
1 Mile Run
June 6: Nicole Girl WOD
5 rounds for time of:
• 400m run
• 15 Overhead squat 95/65#
June 12: Murph – Roberts Variation (PR)
1/2 Mile Run
150 Medball Cleans 20/14
1/2 Mile Run
* Run with the Medball 😈
June 13: Just a PVC (PR)
4 Rounds for Time
• 40 Squat Snatches with PVC
• 400m Run
June 19: Manson with Sandball (PR)
7 Rounds for Time
• 400m Run
• 29 Squats with Sandball / Medball
• 29 Lunges with Sandball / Medball
June 20: Manson with Jump Rope (PR)
7 Rounds for Time
• 100 High Knee Alternating Single Unders
• 29 Back Squats at 135/95
Scaling Note
We provide scalings for all these workouts. Anyone that would rather row, bike, or jump rope may do so.