Sand & Steel specializes in forging elite personal trainers.  The Personal Trainer Manual is your guide for how to train clients, how to scale workouts, how to mobilize muscles and help clients recover from injuries.
 Welcome to the Sand & Steel Mentorship Personal Trainer Manual.
In addition to all the information and tables you see below, you'll also need to read all the Mentorship Personal Trainer Articles below.  These articles will guide you in making good decisions as a new coach.  We recommend you read through these articles first as they are shorter than the Mentorship Personal Trainer Manual.  They will provide you with a framework in which to understand the manual.
If you haven't applied to work at Sand & Steel yet, please fill out an application.
Principles of Coaching @ Sand & Steel in 100 Words
Correcting, Seeing, and Teaching
Be assertive and direct with feedback. Short, simple, direct cues. Be relentless when correcting form. Use a tactile cue (touch) when a demonstration or auditory cue doesn't work. Don't cue if nothing is at fault. Confirm when a fault is corrected. If it is not corrected, continue to work with the client until it is the absolute best the client can do.
Plan your Workout
Minimize transition time. Know your client, their goals, injuries, strengths and weaknesses. Build the best workout possible, every time.
Principles of Mobility
The Exercise is the Test, and the Test is the Exercise.  Tight Muscles move joints into deformed positions.  Loose muscles allow joints to move into deformed positions.  Isometric holds and body weight exercises upregulate nervous response and create activation.  Rolling and stretching downregulate muscle and improve range of motion.
Required Reading to Pass the Level 1 Certification
If you are planning on taking our Level 1 Personal Trainer Certification, this manual, the spreadsheets, and the below articles are you study guide.  Paul, Dawn, and the Senior Coaches are your mentors.  Good Luck, and welcome to the Sand & Steel Team.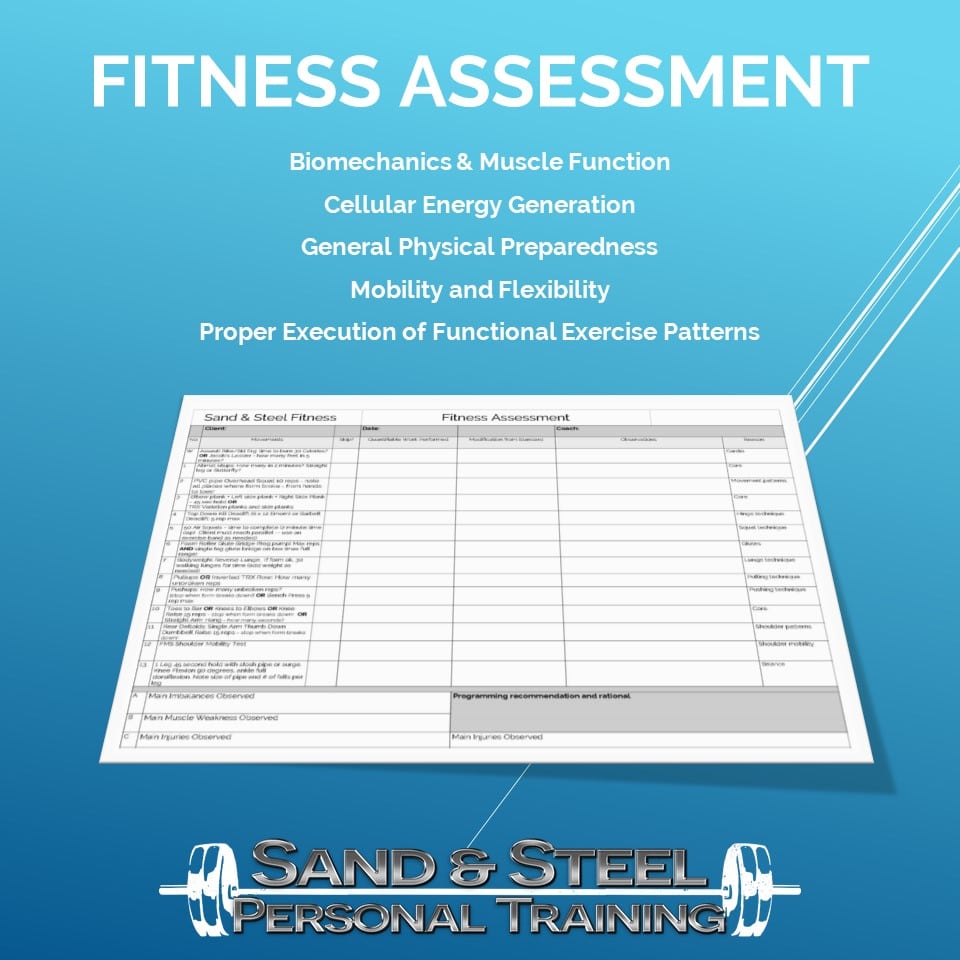 The Sand & Steel Fitness Assessment has been constantly developed and refined since we opened our doors in 2014.  We have done thousands of these fitness assessments over the course of five years.  Here's what we've learned and how we use the Fitness Assessment to build client specific programs.
Suggested Online Courses From CrossFit
CrossFit Spot the Flaw
CrossFit Anatomy
Beginner Programs
Currently, there are ten beginner programs to choose from.  These are listed in order of difficulty.
Seniors Biomechanics and Motion
Level 1 Biomechanics
Level 1 Weight Loss
Redline
Redline No Shoulders
Lower Body Symmetry
Upper Body Symmetry
Zero2Fit
Everyday Strength
Transformation I
These are the most common programs from a volume point of view.  By your fourth week, you need to know every workout and every exercise in each of these programs.
THE FOLLOWING CONTENT IS AVAILABLE TO SAND AND STEEL COACHES ONLY