Sand & Steel specializes in forging elite personal trainers.  The Personal Trainer and Yoga Teacher Manual is your guide for how to train clients, how to scale workouts, how to mobilize muscles and help clients recover from injuries.
Mentorship Personal Trainer & Yoga Teacher Manual.
If you haven't applied to work at Sand & Steel yet, please fill out an application.
Principles of Coaching @ Sand & Steel in 100 Words
Correcting, Seeing, and Teaching
Be assertive and direct with feedback. Short, simple, direct cues. Be relentless when correcting form. Use a tactile cue (touch) when a demonstration or auditory cue doesn't work. Don't cue if nothing is at fault. Confirm when a fault is corrected. If it is not corrected, continue to work with the client until it is the absolute best the client can do.
Plan your Workout
Minimize transition time. Know your client, their goals, injuries, strengths and weaknesses. Build the best workout possible, every time.
Principles of Mobility
The Exercise is the Test, and the Test is the Exercise.  Tight Muscles move joints into deformed positions.  Loose muscles allow joints to move into deformed positions.  Isometric holds and body weight exercises upregulate nervous response and create activation.  Rolling and stretching downregulate muscle and improve range of motion.
Sand & Steel All Star Coach
All Star Coach Criteria
Coaching Quality
Safe Movement: Injuries and how many sessions we lost.
Understanding the Exercises
Preparation for Sessions
Obtaining new certifications and pushing the envelope on how good of a coach you can be
Working on Mobility
Notes on Workouts (Write the actual workout the client does.

 

Write the actual mobility exercises.)
Client Organization
Maintaining client program sheets, proper notes, updating program sheet with specific warmups and exercises.
Conducting complete fitness assessments
Updating client program sheets timely
Organization of workout with other coaches
Helping other coaches when you have free time
Asking other coaches to help you when you need help
Teaching each other coaches what you know
Filling in for other coaches when a coach is sick
Customer Service
Client Retention
Properly and completely handling renewals
Contacting Dawn as soon as it's learned that a client hasn't renewed.
Learning what the clients need, and writing those goals into the client information packet.
Meeting your client.
Talking with all clients as clients of the gym.
Marketing
Follow through on ideas,
Taking videos,
Taking photos,
Uploading media into Smugmug,
Writing blog posts.
Gym Operations
Organization of the gym equipment
Responding to emails completely and timely
Cleaning the gym
Opening and closing
Reviewing the Mentorship Manual
THERE IS MUCH MORE INFORMATION BELOW FOR  SAND AND STEEL COACHES.  VISITING MEMBERS WON'T SEE ANYTHING BELOW THIS LINE.
[hide for="all" exclude="administrator, editor, author"]
Operations
The following topics are designed to prepare you to be self-sufficient with your schedule, have working email with notifications, and understand current procedures in place. Any questions regarding standards please contact management at [email protected]
Operations Checklist
Email Setup
Upon starting your mentorship, you will be assigned a username and password for both Ez-Facility and Rackspace. Once you receive the login information from Paul or Dawn for Rackspace, follow the link to setup your email for your phone.  To check your email on a computer, goto Rackspace
Bio Page Setup:
A Bio Page is an important resource to have while coaching at Sand and Steel Fitness. The information you set up highlights your specialty, personality and gives the client a chance to get to know who their coach is before they book their session. Clients will always book more of their sessions with coaches that have stronger Bio's.  Login into the website https://www.sandandsteelfitness.com/wp-login.php
As part of the mentorship, Paul will help.you put your bio on the website.  However, you are responsible for assembling the content.
Your Bio Page:
Red items are required, green are recommended:
Name and coaching speciality.

Video Overview of why you are a coach (45-90 seconds)

At least one blog post about your speciality

2+ Pictures of your coaching

Featured Image

List of your certifications with copy in the excerpt

Linked youtube playlist of exercise demonstrations

What are your favorite training methodologies?

Who is an ideal client for you?

What are your two favorite pieces of equipment?

Why did you decide to work at Sand & Steel?

Something unique about you that you want to share

Your favorite fitness quote
Pictures:
Head Shot
Full Body Shot of You
8-10 Pictures of you Coaching Pictures to make an image slide show
EZ-Facility:
Ezfacility is our scheduling software and provides you with a calendar.
You need to be familiar with all 3 views to help clients and view your schedule.
Color codes on Ezfacility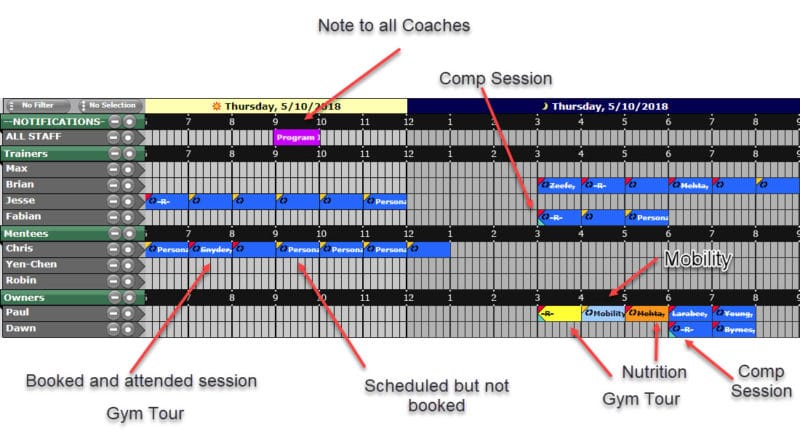 Scanning clients in:
Always scan in clients first thing in your session – if it's your client – you have to scan them unless someone tells you they have already done the scan.  If you don't scan, you aren't paid for the session, and the client gets a no-show fee.
Look at their check-in information.  Determine how many sessions they have left.  If it's two or less, ask them if they would like Dawn to renew their package.  If they say yes, immediately send Dawn email indicating how many sessions they are renewing for.
Pay attention to the trainer notifications in the top bar of EZfacility, messages about client renewal are provided there.
Client Retention:
Average Client Acquisition cost is between $400-$800.  Every client that we can keep fuels the business and ultimately your paycheck. On the check-in screen, a coach can determine and should keep track of how many session the client has left. When a client has 2-3 sessions left, the coach should check in within the client to see if they have questions about renewing.
Last session. If you did not renew the client — you likely lost the client!  Let the client know that we will close out their folder and put it in the Dawn's inbox.
Renewing their package:
If a client has 2 or less sessions, ask them if they want to renew.  You will do this at the front desk.  Ask them how many sessions they would like to purchase, there are three options:
Have them log into their account through the EZfacility portal: https://sandandsteel.ezfacility.com/login.  Click buy and choose their sessions.
Have them log into their Sand & Steel Website account: https://www.sandandsteelfitness.com/my-account/ and have them purchase sessions here: https://www.sandandsteelfitness.com/product/personal-training/
Pay through Paypal.  Sand and & Steel's paypal address is [email protected]  A client can pay for their sessions by making the payment to this email address, just make sure you email what the sessions are.
If a Client Doesn't Renew:
If a client doesn't renew, please pull their program sheet and put the program sheet in Dawn's inbox.  Email Dawn and Paul that the client has elected not to renew.  Do not put the client's program sheet back in the folder if they do not have any more sessions.
Please take ownership of renewals
Junior Coaches, please acknowledge all emails about renewals, and immediately send an email after the session in which a renewal is needed about what transpired.  You do not want to let the client walk out the door without renewing.  If they are hesitant about renewing, talk with the client and investigate the reasoning.
If Dawn or Paul are working that day, bring the client to the owners to let them handle the renewal conversation.
If it's updating their programming, see the example 1.
If it's vacation, see example 2.
If it's price, see example 3.
Example 1– Programming and renew online:
Coach, "David, would you like to renew your package?"
Client, "I will renew online. I wanted to update my program."
WRONG RESPONSE. Coach, "OK contact Paul to update your program."
Never leave it up the client to take a step.
CORRECT RESPONSE. "Well let's renew your package now, and then I can set you up with a free 30 minute consultation with Paul to update your program.
Example 2 – Going on Vacation:
Coach, "Jim, would you like to renew your package?"
Client, "I am going on vacation, so I'll renew when I get back."
WRONG RESPONSE. Coach, "OK have a nice trip."
Once a client goes on vacation they usually don't come back.
CORRECT RESPONSE. "Client, we process your renewal and delay the start date of your package until you get back. This way can reserve your session. In addition, knowing that you have made a commitment to keep training, will help you make better decisions while you are on vacation."  Also, the Coach should send an email to Paul and Dawn to let us know the client is going on vacation.
Example 3 – Finances
Coach, "Have you thought about buying more sessions?"
Client, "Yes, I can't afford it right now."
WRONG RESPONSE Coach, "OK, well it was good working with you."
Coaches! It's never finances.  Clients know exactly how much our personal training cost before they walk in the door.  We discuss this with the clients before they walk in.
CORRECT RESPONSE. "Are there any other reasons you don't want to renew?  Have we delivered everything we promised?  Didn't Paul and Dawn go over prices during your initial consult?  What can we do better to retain your business?
Gym Tour and Consult
Review the client intake form and make sure you have memorized their information.  Name, goals, history, etc.
Provide the new client with a guided tour of all of our equipment and explain how we use it.  Make sure you focus on the workouts and equipment that is relevant to this specific client.
Open FaceTime on the iMac and call Paul on FaceTime.  This way I can help you during the consult in case you get stuck and don't know how to complete the sale, etc.
Go over the Starter Pack and explain to the two starter packs we have. Draw a diagram by hand and explain what is included in each one. Be sure you pull up the starter pack on the website to double check your information. Explain to them they get a 15% coupon on their first purchase when they purchase the starter pack.
Explain that we offer 3 kinds of services (Personal Training, Nutrition, and Mobility).

 

Be sure to explain what is involved in each service.
Let them know they can use their personal training sessions for Nutrition and Mobility if they like.

 

They just need to book into those sessions when they reserve their session.
Ask them if they have questions about the Starter Pack or how our Personal Training works?
Ask them if they would like to buy the Starter Pack today.
If they want to purchase the Starter Pack, have them sign into their account on the website and purchase the Starter Pack.

 

Have them purchase it through the EZfacility Portal so that their sessions are available immediately.

 

Let them know that we'll add their nutrition session later in the day.
Do their InBody Scan, fill out the new client contract, and informed consent.

 

Have them take a picture and add it the Membership Portal.
Make sure you tell them about 24 hour cancellation and 12 hour booking window
Reserve their first session.
Walk-in Gym Tour
If a client comes in that doesn't have an appointment, here is the process.
Tell them about yourself, the gym , and the kind of personal training that we offer.
Ask them if they are interested in scheduling a gym tour and new client consult?
If yes, walk with them to the gym computer and open up the contact form. Fill in their name,  email, and phone.  In the message area have them fill in the type of personal training that they are looking and specific questions they may have.
If no, then ask them how you can help them.
If you have a client when the new client comes in, tell the existing client that you need to help the new customer. Make sure the existing client knows what he or she should be doing for the next 5-10 minutes. Check in with the client 2 or 3 times during the new client consult to make sure the existing client knows what to work on.
Opening and Closing:
The Opening and Closing Tasks List of all the opening and closing procedures and checklist is available online and also in the Front Desk Binder.  Coaches are responsible for making sure all the opening and closing tasks are completed — not the owners.
Parking
Please utilize the two spots near the curb first.  If those spots are both full please pull all the way up into the spot closest the backdoor of the gym.  If you block someone in, please leave your keys in the mesh drawer underneath the front desk so other coaches can move your car as necessary.
Books
Book Care:
Protect the bindings of books.  Do not leave books face open.  Do not insert pens, folders, or other materials into the bindings of books.  If you need to save the page of a book, you may use a Post-it Flag.
Book Organization:
Books must be put back in the shelf when you are done using it.  Do not leave books on the front desk if you are not using them (e.g. you are training a client.)
Book Loans:
Only coaches that have passed our Level 1 Exam may borrow books.  Only books that have a ISBN and are available for purchase on Amazon may be checked out.  Checkout and Checkin is a manual process and only Dawn or Paul can check out a book for you.  Books must be returned with 7 business days.  A $2/day late fee is assessed for all books returned later than 7 days.
Drinks and Supplements
If a client wants to purchase something from the shop, please have them use their phone.  Help them through the process as needed.  If they do not have an iPhone or Android, they won't be able to purchase the item.
Forms and Documents
Mastering Your Training Session
Preparing for your Client
You are responsible for knowing everything about every client that books with you.  Strengths, weaknesses, injuries, goals, etc.  You will be spot-checked during your sessions and embarrassed if you are not prepared.  If you don't know what a client's goals are… you don't have any business training him and her.
You must know every workout in a client's program.  Once a client book's you, you are responsible for knowing each and every workout in their program.  You must be able to demonstrate, cue, scale, identify, every workout in their entire program.
Getting training on workouts.  We are happy to help you learn new client programs with the following two exceptions:

We do not provide training "on the fly."
We do not provide training on the day of your session.  10 MINUTES BEFORE A CLIENT IS SCHEDULED ARRIVE IS TOO LATE TO ASK FOR HELP WITH A WORKOUT.  If you aren't prepared for that workout, just let the client know you aren't prepared, and select a workout you are prepared to coach.  On the workout sheet, indicate substitution, and note the reason on the workout journal.
XT60 Program and Exercise Database
Exercise Database: please check the exercise database before requesting information on how to do an exercise.  Please also check our books and manuals for instructions on how to do exercises.
Exercise missing in the Exercise Database.  If you identify an exercise is missing from the Exercise Database, it's your responsibility to film a senior coach and have it uploaded to the exercise database.  You need to have the Exercise Uploaded to the Database before your workout session with the client.
Error in the XT60 Program.  If you find an error in the XT60 Program, please handwrite the change in.  Be sure you edit the most recent version, and circle the workout on the table of contents.
Administering a Workout
Substituting Equipment.  You can substitute equipment as space requires provided you are substituting like movement for like movements.  E.g. Kettlebell Deadlifts for Barbell Deadlifts.
Checking with all coaches and determine optimal location for each workout.  Do not start your workout until you have spoken with all coaches coaching at the same time as you.
If there are more than two clients in the gym, do not use:

Battle Ropes
Sleds
Preparing for your session:
Open EZ Facility to check for what client are booked for particular coach and time. Reference the client's book to determine next workout.
Make sure you have looked carefully at the client intake form and inbody scan.
Analyze their fitness assessment, injury history and notes to prepare for modifications.
Determine what the next the workout is, and double check the notes against the workout sheet.  Review the exercise database for how to do all the exercises.  Review books from our library about how to cue and scale the exercises.
Scaling: Progression/ Regression of each movement.  Always have a back-up plan. Preparing for movement faults and having multiple option for scaling is necessary when coaching a client at Sand and Steel Fitness.
Quality of Session: Coach must fully be engaged in the client. Attention to detail of movement pattern, rate of perceived exertion and engagement of the client in the workout experience are all things to look out for.
Check their Client folder to determine what the last workout was.  Look at both the workout sheet and the workout log.  Initial the current days workout.  Write on the workout your name, WOD, WOD name, and date.
Look at the client summary sheet for mobility movements, blacklisted movements, etc.
Ending your Session – Last five minutes of the session: write down any movement problems you saw on the client summary sheet.
Check the workout log: is the workout information complete?  Weights, reps, worktime, modifications.
Make sure you have done a walk-through of the workout (setup the equipment, done a few sample movements of each movement.)  The client will know if you are guessing at it.  You and I know that you not knowing a particular movement isn't a good measurement of your ability as a coach.  However, a client will think you aren't knowledgeable as a coach because you don't know a specific movement.
Keep in mind that many of clients you are training I have trained for a year or more.  They'll know the moment you don't know you are talking about.
What if you Aren't Prepared for a Workout
Skip the workout and move to the next workout in the program.
If you don' t know the program, ask to switch clients with a more experienced coach.
If a more experienced coach is not available, call Paul or Dawn as soon as you realize you are out of your depth.  Don't let us catch you coaching a workout you don't know.
Following the Program and when to modify:
Check the workouts around the current workout for which exercises are being used in the program
Weight and/or volume should increase on the subsequent pass through on the workout
At 40-45 minutes in, it's recommended to ask the client if they want to work on mobility or continue strength training and/or conditioning
Always make modifications if the client's pattern isn't perfect.
If a client gives you feedback (generally this will sound like a complaint), the client is actually requesting that you modify the exercise…. So do so.
Check in with the client about intensity. All clients list the intensity they want to work, check the intensity on back on the folder to make sure you are in the area.
Clients often select a weight 20-30% below what they need:

Weight loss is done at 60% ORM
Conditioning at 60-75% ORM
Hypertrophy at 70-85% ORM
Strength at 90%-100 ORM

Observe the client's rate of perceived exertion (body language), and modify as needed.
Equipment
Equipment Location
Make sure you know where the equipment is.  If you don't you will lose track of timing during the session.  If that happens you'll appear disorganized to client, and they will lose confidence in you. Have the client help you put all equipment away in the last five minutes of the session.
Moving Equipment Between Floors
The following equipment is the only equipment that you may move between floors.  Do not move other equipment between floors.
Do not move exercise tubing or bands.
You may move Sandbells, Small Viprs, and Surges.
You may move lacrosse balls.
Damaged Equipment
If you observe that any equipment is damaged (or furniture, etc.) please email [email protected] as soon as your session is over.
Yoga Equipment
Yoga equipment is for yoga clients ONLY.  If you aren't a yoga instructor, you shouldn't use any yoga equipment with the following exception.
You may use the foam yoga blocks located on the Mobility rack.  All other yoga equipment is off limits, unless you are teaching yoga.
Gym Mat Care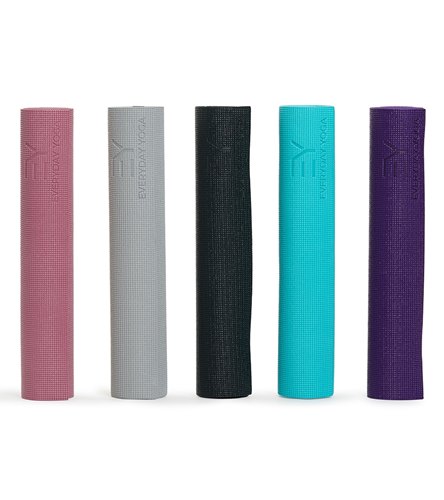 You may use the gym mats with clients (they are yellow/orange).  You may not use yoga mats with personal training clients.  Make sure you wipe down the mats after every use (or ask the client to wipe them down.)  Do not walk on the gym mats with shoes.
Workout Flow:
Check in the client
Explain the workout to the client
Perform a warm-up based on the exercises in the workout
Teach the skills needed for the workout
Complete the workout
Stretch and Mobilize the client
Clean up Equipment
Double Check your Notes
Tips for Getting More Clients on your Schedule:
Assist Dawn or Paul in coaching clients that book with them.
Write a blog post on exercise.  See example below

Upload a video to our Youtube or Vimeo Channel.   You'll want to discuss TAFS while performing the exercise and after completing it.
Content of Post:

Technique: description of how to do the exercise
Advantages: why is the exercise useful
Faults: what are common faults for this exercise?
Scaling: what are some tips for scaling this exercise.

Header Image 1200 x 630
Instagram image is 1200 x 1200
Coach Like A Rockstar
Improve your coaching.  Clients know when you are prepared for a session, and when you are not.  If you do an amazing job on the workout, the client will rebook with you.  If you do half-ass job, they won't.
Greet clients, warm them up for other coaches.  Provide them with A+ Service, and they will book you.
Stay focused on coaching the client throughout the workout.  For example, you would not want to work on pull-ups for yourself while clients are doing a long string of kettle bell swings.
Coach actively and attentively.  Sitting a ball or leaning against wall looks like you are uninterested.
Always be on the client's eye level.  If your client is on the floor, you should be on the floor, etc.
Every time a client books with you, you should be doing 100% your best job.  Clients talk … they know who puts in the effort and who does not.
Cheerleading: Most clients don't need cheerleading from you, they need competent corrections and scaling.  We don't expect you to get this right on your first attempt but listen as we help you get better at this.
Workout Intensity
All clients indicate on their intake how hard they like to train (it's called intensity on the workout sheet.)  Check-in with the client during the session and ask them on  a scale of 1 to 10 how tough it is.  Make appropriate modifications during the session.
Workout Complexity
Complexity: always make a client can do simple version of an exercise before moving onto a more complex version.  Make sure they move full the range of motion before weighting the motion.
PERFECT FORM IS REQUIRED.
Don't let us catch you letting a client get away with imperfect from.  We'll call you on it in front of the client every time.  Full range of motion and perfect movement is required.
Anatomy
Know you anatomy.  You'll be tested on this in front of the clients.  Know all your major tendons and muscle groups.
Improve Your Craft
The mentorship is step 1 on your journey to becoming an amazing coach.  Plan to read at least 12 books on personal training each year.  Register for at least one additional certification.  Write blog posts about what you learn.
CrossFit Scaling Course Certification Review by Paul Roberts
Finishing Your Workout
If you do not finish a workout.  You must indicate in the workout log, why you failed to complete the workout log in it's entirety.
If you are running too long, you are likely:
Talking too much to the client;
Spending too much time on warm-ups;
Taking too much time setting up workouts;
Spending too much time teaching a complex movement;
Giving the client too much rest time;
Spending too much transitioning between workout movements.
If you are running too short, you are likely:
Not scaling the weights correctly;
Not reading the workout program correctly.
Keep Paul and Dawn in the loop on your training
Email us if:
If you get stuck in cueing a movement and the client isn't "getting it."
If you observe any injuries or muscle recruitment problems
If you observe any problems with mobility.
Check the front cover sheet and make sure the problem you are noting is on the sheet.
The Professional Standard
Coaching at Sand & Steel requires you adhere to a professional standard in the way you act in front of clients.  Here are some general parameters:
Avoid being too familiar with clients — clients pay a lot of money to train at Sand & Steel and you should act professionally
Dress professionally with clean clothes, combed hair.
Don't come to work hung over or fatigued.
If you need to cancel because you are sick, please provide the staff with as much notice as possible.
Don't distract clients when they are training.
Avoid having prolonged conversations with clients.
Many clients come to Sand & Steel to work out, not to have a conversation with you.  If a client engages you in conversation be polite and respond, but focus your efforts on the training.
Avoid joking around or other childish behavior.  Again, this is a professional studio, treat it as such.
Feedback from Other Coaches
Key points: Support other coaches.  Be supportive, work together with the other coach.  The client should feel he or she is getting a bonus of having two coaches working together to help.  Don't argue with your fellow coaches in front of clients.  We hire amazing coaches at Sand & Steel, disagreements are inevitable, and lead to improvements.  However those discussions are best done in private.
Remember, the supporting coach has the benefit of seeing your movement pattern plus their own.  Generally, they are in the better position to make a change.  Coaches receiving feedback – keep in mind that if a coach is correcting a movement – there is potentially something severe going on.  No one intentionally makes mistakes, but everyone does.  Accept the criticism, and confer afterwards as needed.  The client's experience, safety, and improvement supersedes and personal ego bruising that may occur.
If another coach emails you with suggestions be polite and write them back a fully responsive answer within 12 hours.  Make sure you respond to all emails from Dawn or Paul within 4 hours or as soon as possible.
The Five Basic Scenarios:
You are showing an SDL but the workout says Romanian deadlift;
The exercise is right, but your execution or the client's execution is unsafe;
The exercise is right, but there is a more effective modification;
Programming problem in the workout;
Movement quality program in the standard
Consequences:
If another coach corrects you on (1) and you agree, just make modification. If you disagree, just follow what the other coach told you to do.  Discuss with coach after session.  If you disagree after discussing, have Paul break the tie.
If a coach corrects you on (2) and tells you it's safer to do it this way, and you feel that their movement advice is safe, make switch (even if you think yours is safe too.) After the session, discuss with the coach why they thought your technique was unsafe. If you disagree after discussing, have Paul break the tie.
If a coach corrects you on (3) and tells you it's more effective to do it this way, make the switch (even if you disagree.) After the session, discuss with the coach why your technique was unsafe. If you disagree after discussing, have Paul break the tie.
If you feel a WOD isn't programmed optimally, make the correction during the workout and email Paul the workout, what you changed, and why you changed it.
If an exercise description is unclear, consult with your fellow coaches during the workout. It's embarrassing yes, but you should look at the program in advance.  Don't make it up, the client will know.
If you find that Sand & Steel's modification or movement standard isn't ideal, bring that up with Paul. We update our standards when we find reputable sources and scientific evidence that a global change is needed.
Keypoints to Consider:
Keep in mind if you are providing feedback you might not know the reason a trainer has modified a movement
You also might not be aware of a particular clients goals and/or limitations
Required Reading to Pass the Level 1 Certification
If you are planning on taking our Level 1 Personal Trainer Certification, this manual, the spreadsheets, and the below articles are you study guide.  Paul, Dawn, and the Senior Coaches are your mentors.  Good Luck, and welcome to the Sand & Steel Team.
Suggested Online Courses From CrossFit (Personal Trainers Only)
CrossFit Spot the Flaw
CrossFit Anatomy
Beginner Personal Training Programs
Currently, there are ten beginner programs to choose from.  These are listed in order of difficulty.
Seniors Biomechanics and Motion
Level 1 Biomechanics
Level 1 Weight Loss
Redline
Redline No Shoulders
Lower Body Symmetry
Upper Body Symmetry
Zero2Fit
Everyday Strength
Transformation I
These are the most common programs from a volume point of view.  By your fourth week, you need to know every workout and every exercise in each of these programs.
Fitness Assessment
Our Fitness Assessment comprises 12 exercises which you must analyze in terms of:
Technique,
Reps,
Volume,
Scaling,
Weight, and
Work
It's very important that produce quantitative and qualitative evaluations of every exercise.  Strict Press?  How many reps unbroken?  What weight?  How was the form?  You will need to make observations on each exercise.  You will also need to know 3-4 scalings of each of the exercises shown.  After completing the Fitness Assessment, you will need to identify the major imbalances noticed, mobility restrictions, injuries, and muscle weaknesses.  You'll need to provide us with a recommended program plus a rationale as to why you picked that program.
When you complete the fitness assessment you must clearly fill out all fields, explain why you did not complete any exercises.  You must print the program template based on the program you have selected, and place the program and fitness assessment in Dawn's inbox for review.  Then email Dawn and Paul to check over your Fitness Assessment.
Workout Program
All clients must have a workout program.  The workout program sheet is the organization of the program flow for each individual client. Normally a client goes through an 8 workout cycle that is repeated 4 times. The program is assigned after the Fitness Assessment is completed.  Coaches must initial and date the workout completed the day that they coach the session.
Completing the Workout Program
Second to Last Workout.  If you complete the second to last workout, you need contact Paul and Dawn regarding what the next program.  You must contact Paul and Dawn with this suggestion on the day you coach this second to last session.  Last Workout.  Verify that a new program has been selected.  Remove the old program sheet from the program folder.  Put the new and old program sheet together in Dawn's inbox.  Email Dawn and Paul to approve the program selection.  This must be completed on the day you coach the last workout of the program.
Workout Program Spreadsheets
First check to see if we already have the workout template for the program you need.  If so, update the clients name and warmups and print updated workout template.  If not:Go to the coach template folder and make a copy of the coach template file needed.  Put the copy in the working directory.  Update the template with the program information from the XT60.  Save the new template into the Workout Templates folder and name it by the name of the program.  Do Not modify Coach Template Files!!!  Also do not forget to save your new template into the workouts template Folder.  This duplicates efforts by creating the same programs over and over again.  This is not an efficient use of your time (and frankly is boring to do anyway.)
Workout Notes + Standards
Write your workout notes in your Coach's folder, unless the client is a Get Steel Strong Client.  In the case of the latter, the notes go in the client's folder.  Coaches are responsible for writing down all notes for the session. These notes must include:
Workout number completed, the name of the workout, coach's initials, and date.
Rep schemes, rest periods, rounds completed
Length of time each round took (if applicable)
Warm-ups and Skills Taught
Specific Stretches and Mobility Exercises used.  With the names of the mobility exercises.
Modifications: Any modifications should be listed in detail and notes to why the modification was made.
Special scenarios: note if the client was late, had to leave early, couldn't go up in weight because of lack of sleep, etc.
Social Media Channels and Sharing Your Media
When you to take pictures/videos of a client — use "Air Drop" to share them with the client (iphone to iphone).  If the client has a droid – email them the videos and pictures as link. Clients prefer to actually get a copy of the photos and videos you take of them, so sharing with them is a MANDATORY part of the process.  If a client is concerned about what the photos look like, tell the client you are going to share them with him or her at the end of the session.
Social Media: Facebook • Instagram • Twitter • Reddit • G+ • LinkedIn • Blogger • Flipboard • Vimeo • Youtube • SmugMug
SmugMug
Taking Pictures and Video is very important for marketing on social media.  The number of pictures and videos you have in your smugmug folder also influences who we recommend to clients.  More pictures and videos allow the gym as a whole to get more clients.  Coaches that put more effort into marketing deserve more clients.
Setup
Text Paul to get the credentials for Smugmug so that you can login to our account.
Install the app on your phone so you can upload pictures and videos to smugmug.
Folders and Galleries
You are allowed to create galleries only.  Do not create any folders.
You are allowed to upload photos and videos to your own folder.  Do not upload photos and videos to any other folder or the root folder.
You specific coaching folder has the domain structure like: https://sandandsteelfitness.smugmug.com/Dawn
Videos
Make sure you have no music playing
Trim all your videos to the good parts.  Videos don't have to be long but they do need to be at least 4 seconds.
Clean your lens
Don't shake the camera
Photo Quality
Check your white balance
Check your lens before taking pictures
Make sure your photo is in focus
Don't crop your photos.
Personal Trainer & Yoga Teacher Rules
Don't Erase the whiteboards.  Don't let clients erase them either.  We use them to write down valuable notes.  If you need a white board, please send Paul a picture of the whiteboard before it's deleted.
Do not remove books from the gym.  There is a checkout procedure for borrowing books.  Don't take any books without permission.
Schedule: Our schedule is completed one month in advance. We cannot make changes after the schedule has been posted.
Pay Dates: Twice per month – around the 5th & 20th (depends on the calendar)
Work Attire.  All coaches are required to wear a Sand & Steel t-shirt.  They cost $20 each.  You may buy additional ones or win them through work related contents.  Please choose pants that are well fitting and in good condition – they should not be torn, ripped, wrinkled, or stained.  Hair should be combed, beards trimmed, nails clean, etc.
Keys to Gym.  You will receive keys the gym after we have determined you are competent to coach clients without supervision.
All opening/closing tasks must be completed – every time.
Additionally, when opening/closing with a co-worker, everyone should pitch in.
Personal Workouts.  You may use the gym for your personal workouts. Schedule them outside of our peak training hours.  Clients always come first.
Equipment: Make sure you know where the equipment is.  If you don't you will lose track of timing during the session.  If that happens you'll appear disorganized to client, and they will lose confidence in you.
If you observe that any equipment is damaged (or furniture, etc.) please email [email protected] as soon as your session is over.
Have the client help you put all equipment away in the last five minutes of the session.
Organizing and Cleaning
Vacuuming and Mopping
Tuesday morning we Mop the second floor.  You'll do this at the end of your session if you are training clients on Tuesday mornings.
Wednesday evening we vacuum the first floor. You'll do this at the end of your session if you are training clients on Tuesday mornings.
Thursday morning we mop the lobby.  You'll do this at the end of your session if you are training clients on Tuesday mornings.
Front desks
Do not leave mail, personal items, water bottles, or any other objects on the front desks.  We have walk-ins and this makes the gym look messy.
Cell phones
Cell phones must be in silence or mute while you are the gym.
Cleaning at the end of your session
All equipment must be returned to its original location at the end of the session.  You can have the client help you, just end your session a few minutes early.
Cleaning at the end of your day
At the end of your day, do a walk through and organize any item that looks messy.  Sand bags, dumbbells, plates, whatever.  Spend five minutes and help organize.