Social Client of the Month $49 Gift Certificate. Congratulations to Victoria for winning our social client of the month. Victoria had the highest number of Facebook shares and Instagram likes.
Social Client of the Month – Victoria
Victoria's Program: Lower Body Symmetry
Corrective Exercise to build glutes, adductors, and hamstrings. Her program is designed to stabilize the knee and mobilize tight quadriceps and calves.  Victoria posted a 25% increase in speed on the Alexandria Police Qualification Test in only 3 weeks.  Her dedication to improving her diet and determination is an inspiration to all other members at Sand & Steel.  Victoria also earned runner-up for most improved client in April.
Help us Spread Sand & Steel
Victoria is the recipient of a $49 gift certificate just for sharing our posts on Facebook and Instagram. She also wrote this really nice review on Yelp. You could win Social Client of the Month Next Month. Just tag us in your posts, and help spread Fitness and Mobility to Alexandria, VA.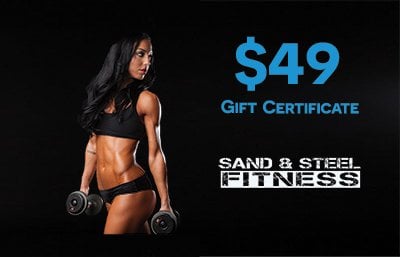 [icon name="star" class="" unprefixed_class=""][icon name="star" class="" unprefixed_class=""][icon name="star" class="" unprefixed_class=""][icon name="star" class="" unprefixed_class=""][icon name="star" class="" unprefixed_class=""] 
I have been working with the S&S team for just over two months. In that short amount of time, I have learned about my abilities and just how wrong I have been. From learning that I have the strength and ability to do things I didn't think possible to understanding the challenges I have had are fixable. As my confidence goes up as I hit milestones, so does the relief I feel when I learn that I haven't been exaggerating or "making up" the pain I was in for years. It also helps to know that that pain is not permanent, nor does it require drastic measures. Yes, you have to drive yourself toward your goals to be successful, but with S&S guiding the way that success is definitely within sights. These folks know what they are doing, they maintain their skills with constant training of their own bodies and minds, and they really care.
Victoria on Google Business Reviews
Victoria Favorite Workout on Lower Body Symmetry
Body Splitter
EMOM (Left than Right).  Each minute move to next exercise.  3 cycles.
1 Leg Vipr Deadlifts into side hold

1 Leg Vipr Marx Row off center hold

1 Vipr Leg Knee Hold with Arm Raise (aka the Terrible deadlift)

Russian Crossbody Step-Up with Vipr

Front Leg Step 360 Lunge w/ Vipr

Back Leg Step 360 Lunge w/ Vipr
2 rounds, 1 minute per set. Step 360 Core
Exercise Tubing Yoga Boat

Exercise Tubing Mummy kicks

E/T Bikes

E/T alternating knee to elbow

1 minute rest
View More Transformation Stories