Join as us as we celebrate Health with Delray Business Association.
Saturday, June 23, 2018 from 9AM -1PM
Register for our Class and get a $99 Gift Certificate*
At the WellRay Festival in Delray
Group Class Schedule Wellray
YOGA SANCTUARY (Bean Creative Field):
9:00-9:45AM-Yoga In Daily Life
10-10:45AM- Tara and Sara Partner Yoga
11-11:45AM-Kids Yoga Downward Dye
12-12:45PM-Mind the Mat Open
OXFORD AVENUE:
9-9:30AM-Tippi Toes Dance
10-10:30AM-Potomac Kempo
11-11:30AM-YMCA
12-12:45PM-Studio Body Logic
DEL RAY AVENUE:
9-9:30AM-Sand and Steel Fitness
9:45-10:30A-Pilates Boot Camp
10:45-11:30AM-Fit4Mom
11:45-12:30PM-Foundation Fitness
12:30-1PM-Orange Theory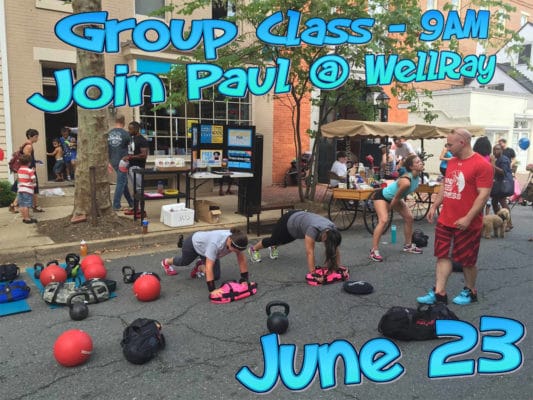 * Gift Certificate is redeemable by new clients only.  Donations will be accepted at every class for our Non-Profit Partner this year ROCK RECOVERY.  Rock Recovery is a 501(c)(3) nonprofit organization serving the Washington, DC area whose mission is to support the journey to freedom from disordered eating through an affordable outpatient recovery program and community empowerment events. The organization uniquely involves the community (including clinicians, churches, treatment centers, businesses and individuals) to spread the message that complete recovery is possible and to offer a unique and accessible holistic outpatient recovery program that helps individuals find full and lasting freedom.