Five Workout at Home Solutions. Exercise Equipment Rentals, Customized Home Workout Plans, Exercise Library, and more.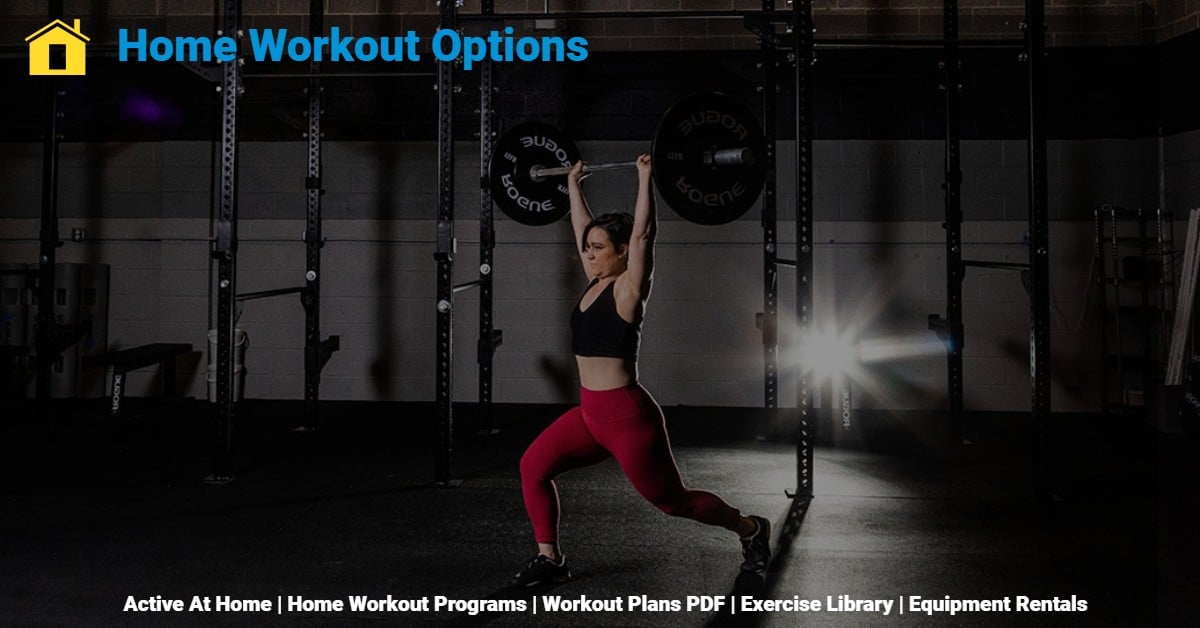 More Workout at Home Options
Exercise Equipment Rentals, Exercise Library, Workout Plans PDF
Exercise Equipment Rentals

Price Depends on the Equipment
Rent the Exercise Equipment You Need.  (Exercise Equipment Inquiry) Sand and Steel has a full supply of strength training, bodybuilding, and CrossFit equipment that you rent while the gyms in Alexandria VA and Fairfax VA are closed.  Get a complete cost estimate instantly.
Active At Home

from $79 / workout
Customized Home Programming.  (Active at Home Signup) Individually crafted workouts designed for you by Dawn and Paul. We hand build each workout based on your goals, health, and fitness assessment. You specify what equipment you want us to use in building your workouts. We include telephone, email, and video support. We provide video demonstrations for any exercise that is new to you. We provide form checks to help keep you safe. You get a free a SugarWOD subscription with your membership so that you can log your workouts. Your coach review your workout logs and updates your program based your progress.
Paul is filming videos for our Active at Home Video Archive on Mondays and Fridays.  So if you would like a video of any exercise, please let us know.  
Home Workout Programs

from $19.00 / Month
5 Daily Online Programs to choose from.  (Home Workout Plans Signup) We offer 5 Different Home Workout Programs that you can do in your home gym, work gym, or commercial gym.  Simply Fit & Burn30 are you minimal equipment options — great if you are working at home.  The Strength & Conditioning Workout Program provides you with a foundational strength training program 7 days a week.  CrossFit GPP offers you a full scale CrossFit training program 7 days a week.  Powerhouse offers an elite training program with 2 hour workouts for those serious about making positive change.  Finally our Complete Package offer all 5 workout programs for one low price.
Workout Plans PDF

$79.00 / Workout Plan
A full 12 week program for a one time price.  (Workout Plans PDF Signup) Workout Plans PDF are exactly what the name says.  You'll get a PDF copy of any of the Workout Plans we use at Sand and Steel.  We have building workout plans for over a decade and the workout programs in this library represent the very best we have built.  Workout Plans PDF does not have any monthly fees.  You select program at time of purchase.  We have built workout plans of all types for all level athletes.  Strength, Weight Loss, Mobility, Flexibility, Yoga, etc.
Exercise Library

Suggested Donation $25.00
View our Professional Exercise Videos for free. (View the Exercise Library) Get Complimentary Access to our entire library for use any of Workout Plans and Programs.  Over 900 exercise videos professionally demonstrated by Sand and Steel coaches.  If you like this resource, please consider donating.  It's your donations that have made this exercise library possible.
30 Day Beginner Workout Routine

$49 / One Time Cost
One Time Cost.  (30 Day Beginner Routine Signup) The 30 Day Beginner Routine is a good fit for the majority of people in Alexandria VA that purchase personal training.  Paul has trained over 8000 people in Alexandria VA, and vast majority of them start on a program similar to this one.  This amazing program includes a warmup, workout, and stretches.  Excellent for beginners, but easily scaled to more advanced athletes.