If you are a newly certified personal trainer, your first task should be actually writing some personal training programs for your future clients. In the below video, I take you through the process of actually writing two personal training programs: a strength program and a conditioning program. Then we'll analyze the program together as we focus on correcting the 8 key mistakes that new personal trainers make in their programs. If your client experiences nausea after working out, Salubrius Vita has some great tips for you.
Your Program Starts with Your Structure
Getting started is chiefly a matter of deciding your structure for your program. There are many correct answers to how to build a workout program for strength and conditioning. For a 45-minute workout, here are two possible structures which work well and easy to program.
For Beginner Strength Programs:
5 Minute Warmup
5 Minutes on Skill workout
One Compound Strength
One Accessory Version of the Strength Exercise
Two or Three Accessories
5 Minute Cooldown
For Conditioning (Metcon) workouts:
5 Minute Warmup based on the exercises in the metcon
10 Minutes on Skill workout for the exercises
Two to Three Exercises in the Metcon
10 Minutes Cooldown
Workout Planning – Where to Start
For many new Personal Trainers, writing 16 workouts (8 Strength Workouts) + (8 Weight Loss Workouts) is a monumental task. To help you, I've recorded a video of me coaching a new personal trainer through the thought process of building a new workout plan.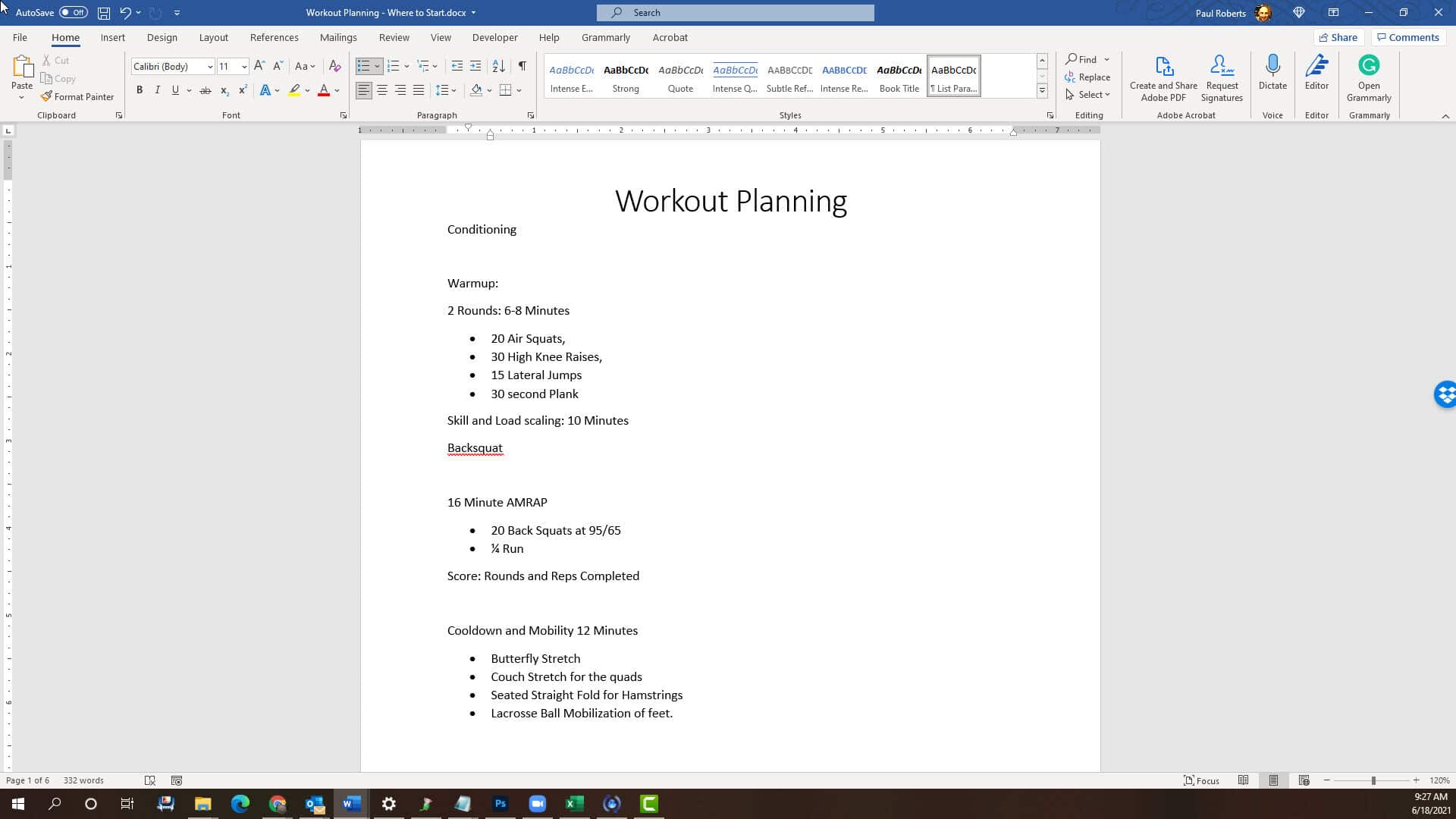 Great, so after reviewing the above video you know how to get started on creating your first personal training strength workout and your personal training weight loss workout. But is your new workout program any good? Most new coaches make the same basic mistakes in their programming, and here's what they are.
New coaches confuse conditioning with accessories. For more information on this topic see our article on exercise optimization.
New coaches struggle to maintain their programming integrity through the entirety of the program. Decide on a structure for your program and check that you have kept this structure the whole time.
New coaches forget that there are 9 principles patterns of motion that each workout plan must include: push, pull, squat, lunge, hinge, core flexion/extension, lateral flexion, rotation, and gait. Make sure all patterns are represented.
Work the weaker patterns for new athletes. If you are working with beginners, you should design your programs to focus on muscle areas like hamstrings, glutes, rear delts, core, etc. These are areas that beginners tend to need more training. They need mobility work in the mirror muscles like calves, quads, chest, and biceps, etc.
Don't try to program a Strength & Conditioning workout. Beginners need accessory work to get better at the main exercise. Similarly, if you are doing a conditioning program, keep with conditioning-only programming.
Keep your program interesting and fun to do. You've studied to become a professional coach, program like one.
Test every workout you write. Never ask a client to do a workout you haven't tested. Sometimes I'll tweak a workout 3 or 4 times before I get it perfect.
Warmups should be keyed to the exercises in the workout. Cooldowns should be based on the muscle group performed.
Putting it Together
Many of you will probably skim over the above 8 points… and those same people will make the same mistakes over and over in their programming. I provide these eight points to all my new coaches, and many have to revise their new programs 2 or 3 times because they don't fully consider how to apply these points in their programs. So I've provided below a complete video review of a new personal trainer's Strength Program and a Weight Loss Program. You'll see the commentary and corrections I make on each individual workout. 99% of the mistakes come from the above 8 points.
Download the Documents Used in this Video