Personal Training: for strength, hypertrophy, weight loss, or conditioning.
Muscle Therapy and Movement Correction Training: to systematically improve muscle engagement and decrease body pain.
Nutrition and Meal Planning: improve body composition and aid in recovery.
Mobility and Muscle Activation: improve flexibility and range of motion of joints and muscles.
InBody Scan: for body composition determination and measuring progress.
Mobility Screen: to measure movement patterns and range of motion improvement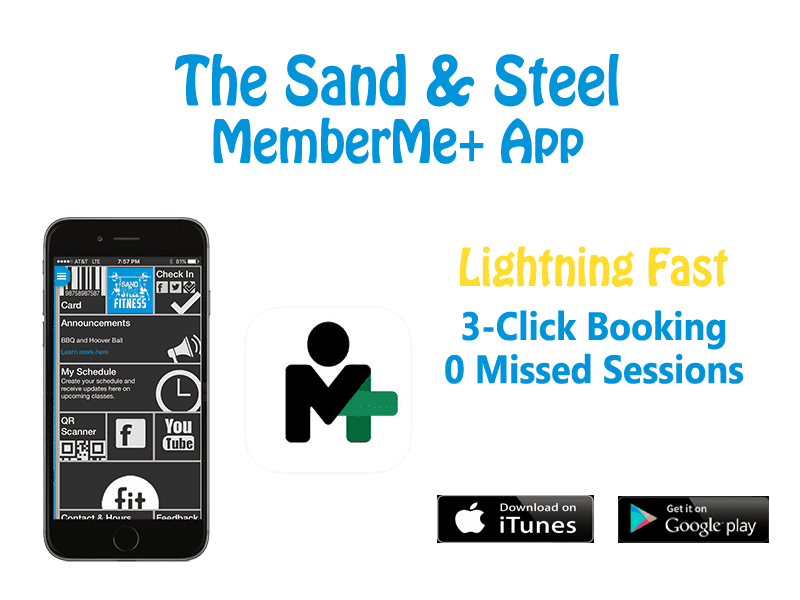 Sand and Steel Fitness is a great gym with an excellent coaching staff. Paul has incredible knowledge to help you with any mobility problems you have. He is also capable of designing a program that fits your needs and goals specifically.
Dawn is an excellent programmer as well, she is able to create strength programs spanning the spectrum of novice to experienced weight lifter. Overall their coaching staff is professional, kind, and highly experienced.
The amount of equipment they have is amazing allowing one to train every muscle in the body, even the ones you never thought you had! If you are looking for a gym to help motivate you to work out Sand and Steel is your gym! If you just reached a plateau and want to ascend to the next level, you should stop in and see Paul or Dawn!
I have very much enjoyed my workouts at Sand and Steel. It's a great crew, with professional coaches and knowledgeable expertise. I'm addicted to my program, and it's exciting seeing and feeling results of hard work.
Since I started training with Sand and Steel a couple of months ago, I've had the opportunity to train with Rachel, Max, Alex, and Dawn. I learn something every time I train, and I appreciate the variety of instruction from each of the separate coaches. I look forward to all my sessions -- something that I never thought I'd say, when workouts start at 6A! I appreciate the same level of focus and dedication from the coaches, that I give to the workouts twice a week.
Sand and Steel coaches are well-versed in technique and repercussions of different movements; they're dedicated to ensuring that I get the max out of my workout, and I appreciate their attention to detail, as well as their motivating attitudes.
Thanks to Dawn and Paul -- to the both of you, as well as the coaches that you hire -- for providing amazing talent, and kick ass workouts. You have a great thing going, and I'm excited to be part of it!
If you're looking for high quality exercise and nutrition guidance from knowledgeable, personable, and capable trainers, then I highly recommend giving Sand & Steel Fitness a try. You will be safely pushed to your limits and there's a good chance that you will enjoy it! Ask for Paul. He's a good person and he knows and loves what he's doing to help people achieve their fitness goals! I'm sure he can help you whatever your level.
I have been close friends with Paul, co-owner and trainer of Sand & Steel Fitness, since middle school on Long Island. I recently visited him during a trip down to NC. Paul and Dawn have created an amazing gym. Paul was always passionate and competitive about fitness. He sets the bar high for himself in all of his goals, and I am sure he helps his clients do the same for themselves. Paul told me that it feels good to help others and he is confident in his ability to do so.
After catching up and giving me a tour, Paul invited me to join him in his workout. As expected, the gym is in immaculate condition and spotlessly clean. It has to be clean because Paul is very sensitive to dust.
Also of no surprise was that all of the equipment and apparatus is of the highest quality. Paul always believed in having the best for the activities and hobbies he cared about. This high standard also applies to the quality of the trainers that Paul hires and teaches, as well as the programs and supplements offered at Sand & Steel.
Paul's mother is a dietitian so Paul was always conscious about health and nutrition. Paul probably learned a thing or two about health and fitness while earning a degree in biomedical engineering from Johns Hopkins.
Edit: I stopped by a second time on my way back north and got to do a second workout with Paul and another trainer Max. Max is very nice! I had never done any of the exercises in either of the two workouts. It was fun and challenging! I haven't been to a gym in 7 years and I don't miss it. There is a stark contrast between Sand & Steel and your typical gym. I wouldn't get bored at Sand & Steel.