Personal Trainers in Alexandria VA
Starter Pack Pro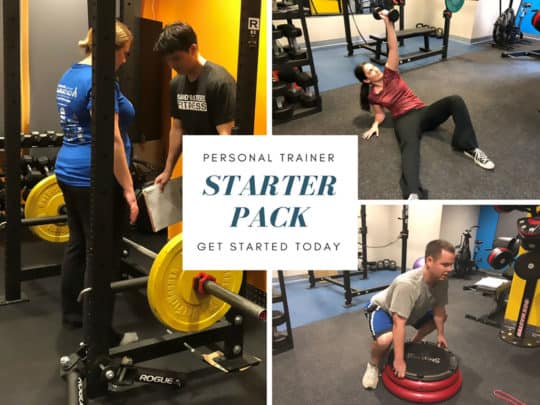 Best Pack for New Clients
Gym Tour and Consult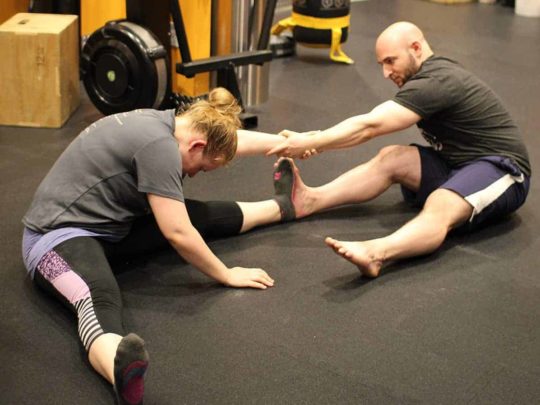 Meet with a Certified Personal Trainer
1 Hour Meeting with Paul or Dawn to begin building you a custom workout plan
Complete body fat and muscle density analysis with InBody 570 body composition scanner
Strategy on what kind of workout program will be best for your goals, injuries and time frame
Setup your Sand & Steel Personal Training Account.
---
---
Fitness Tracker Comparison.  Fitness Trackers can track how much food you are eating, how many steps you take, and give an approximation of how many calories you burn.  In this article we compare 6 of the best fitness trackers on the market.
View All Personal Trainer Articles
---
Certified Personal Trainers Alexandria VA 22314

Certified Personal Trainers Specializing
Strength, Powerlifting, Olympic Lifting, Kettlebells, Mobility & Movement (FMS & M|WOD), Flexibility, Private Yoga Sessions, Running Coach, Weight Loss, Nutrition, Boxing, & Senior Personal Training.
Services
Personal Training
Mobility and Flexibility Training
Nutrition, Meal Plans, and Macros
InBody Composition Scan
Personalized Workout Plans
Personal Trainer Session Types
Personal Training
Partner Training
Nutrition and Weight Loss
Mobility and Corrective Exercises
Private Yoga Lessons
Personalized Workout Plans
Online Workouts
100% Customized Personal Training Programs.
During your first session with a personal trainer, we perform a full benchmark of your fitness and weaknesses.  Benchmarking includes testing for maximum cardio capacity, recover speed, strength, knowledge of complex movements.  A certified personal trainer will examine your technique on exercises like the deadlift, squat, and kettlebell swing.  The benchmark session will customized around and preexisting injury or condition you may have by your personal trainer.  The fitness benchmark will also be scaled to your level of fitness.
Custom Workout with your Personal Trainer
Once your Fitness Performance Benchmark is complete, we'll schedule your first workout.  This workout will be customized based on the goals we set during your initial consult and the data we gather during Fitness Performance Benchmark.  Assuming you'd like to become a full client, we'll discuss how you liked the sessions, make any modification necessary based on your feedback, and then build you a personalized workout plan based on this information.
Mobility and Flexibility Sessions
Injury Rehabilitation.  If you have an old or new injury and haven't been able to restore full range of motion, we utilize various mobility techniques such as (Muscle Activation Techniques, myofascial release, PNF stretching, joint distraction, etc.) to help your regain the loss of range of motion.  If you are lacking strength in that joint or muscle, we'll utilize techniques such as corrective exercises, Trigger Point, Muscle Energy Techniques to help you restore your strength.
Stabilize & Strengthen Bendy People.  If you have lots of loose muscle and joints (such as yogis and dancers), your lack of muscle control can cause you to develop painful injuries such as impingement and bursitis.  Our mobility training with help you gain control of your muscles without reducing your range of motion.  We'll make your stronger without making you tighter.
Mobilize Stiff People.  When you have restricted range of motion, you often develop chronic pains up or down the kinetic chain.  Tight hamstrings lead to sore back for example.  In addition, while you have developed a good deal of strength, your lack of range of motion will eventually impede your progress because you will be unable to complete exercises in good form with the right technique.  This results in a pattern of injuries where you improve strength and then get injured.  Our Mobility Training helps you break this cycle, by restoring the full range of motion your joints and muscles are supposed to have.
Mobility Training vs Personal Training vs Physical Therapy vs Massage vs Chiropractic Care.  If you click the link you'll find that we wrote a full blog post on this topic.  We also explain the differences to you during your Gym Consult.
Custom Meal Plan for your Lifestyle
Our nutrition sessions are one-on-one sessions, where we work together to improve your food choices.  We'll teach you how to balance macros, build recipes for your goals, break food addictions, etc.  We create shopping lists, custom meal plans, etc.  Our methodology is based on Precision Nutrition and Whole 30.  Paul has coached hundreds of clients, and this diet works for everyone, with no exceptions.  We systematically remove the foods causing you to gain weight and substitute them for healthier options.
Custom vs. Stock Diets
Stock diets (like the kind you find on most websites) don't work for several reasons:
Everyone has different food allergies, eating patterns, and work restrictions.
It's one thing to read a plan, but do you have someone that is going to hold you accountable to executing it.
Small mistakes in execution of a diet is often the difference between whether it works or not.  With a stock diet, you don't have someone checking over whether your decision are correct.
At Sand & Steel, we only provide custom diets.  We analyze your current eating patterns, and provide you with a custom set of nutrition rules and guidelines so that you make changes to your diet.  We provide nutrition coaching for performance (e.g. police test, races, events, etc.) weight loss, bodybuilding, anti-inflammation, and strength training.  Nutrition Service. 
InBody 570 Body Composition Scan
With our InBody service, we'll measure your basal metabolic rate, muscle mass, body fat percentage, chronic inflammation, and even the amount of muscle in each of your body parts.  This service helps your personal trainer evaluate improvements in body composition over time.  In addition, the segmental muscle analysis provides us with insight into the efficacy of the corrective exercise by measuring the change in muscle mass in the weakened limb.  InBody Scan
Personalized Workout Plan
Our personalized workout plans are written by our head personal trainer Paul Roberts.  They are completely customized workout plans based on detailed intake form that you fill out.   You can specify details such as equipment, preferences, goals, injuries, etc.  We build you these workout plans based on the information you provide.  After your first month is completed, we'll send you an updated questionnaire so that your personal trainer can make revisions to your program such as progressions and modifications.
Home and Travel Online Workouts
Our personal trainers have designed 20 online workouts that you do at home or in your hotel.  Videos come with full movement technique, plus suggested rep ranges and scalings.  You can choose to purchase single workouts, or a monthly subscription that provide you with access to all our Online Workouts.