CrossFit, Mobility, and Personal Training Alexandria VA Certifications
Biomedical Engineer: Johns Hopkins University
RKC Russian Kettlebell Club: Strength & Conditioning
FMS Level II: Functional Movement Screen
3DMAPS: 3 Dimensional Movements Analysis and Performance System
Muscle Energy Techniques: Rehabilitation and Mobility
Mobility|WOD Movement and Mobility Specialist: Movement and Mechanics
Rock Tape FMT Blades: Gua Sha and Scraping to Alleviate Pain and Improve Mobility
Y-Balance: Examination of Movement Patterns and Imbalances
TRX Suspension Training: Core and Bodyweight
CrossFit Level 2: Weight loss and Metabolic Training
CrossFit Powerlifting: Strength Training
CrossFit Gymnastics: Bodyweight and Mobility
CrossFit Scaling Course: Progressions and Regressions for Weight Lifting
CrossFit Lesson Planning: Effective Techniques for Structuring Workouts
CrossFit Pose Running: How to Spot Faults in Running Technique
CrossFit Spot the Flaw: How to Spot Faults in Gymnastics and Weight Lifting Technique
Precision Nutrition: Nutrition Coaching
Starting Strength Seminar: Powerlifting Certification by Mark Riptoe
Road Runner Certified Coach: RRCA Certified Coach
Certified in First Aid and CPR/AED National Foundation
Yoga Inversions and Arm Balances Workshop
CrossFit, Mobility, and Personal Training Alexandria VA Certifications
Muscle Activation Techniques: Corrective Exercise and Therapy
National Council on Strength and Fitness: Certified Personal Trainer
RKC Russian Kettlebell Club: Strength & Conditioning
TRX Suspension Training: Core and Bodyweight
CrossFit Level 2: Weight loss and Metabolic Training
CrossFit Powerlifting: Strength Training
CrossFit Flexibility: Range of Motion and Flexibility
CrossFit Scaling Course: Progressions and Regressions for Weight Lifting
CrossFit Lesson Planning: Effective Techniques for Structuring Workouts
CrossFit Pose Running: How to Spot Faults in Running Technique
CrossFit Spot the Flaw: How to Spot Faults in Gymnastics and Weight Lifting Technique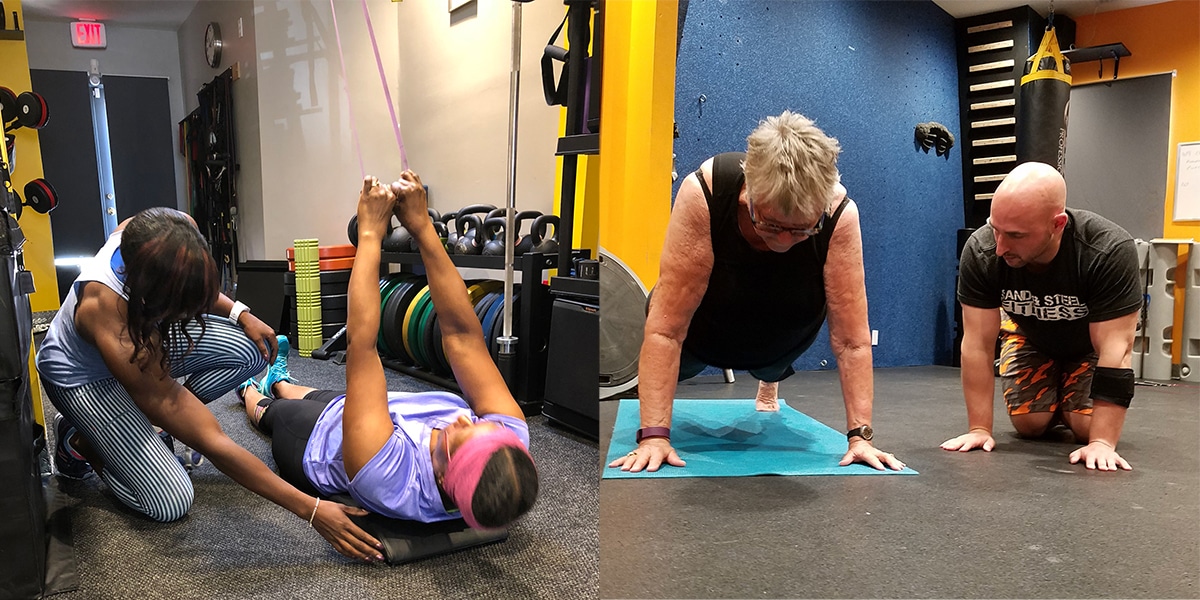 At Sand & Steel, the majority of my clients are in their 50s, 60s, and 70s. Most people start feeling the effects of aging in their mid-thirties, but by age 50 they really start to notice a change.  It becomes harder to lose weight, injuries heal slower, and energy levels generally decline. If you are going to be working with clients in this age population, you'll need to know how to perform a senior fitness assessment.  Here's how it should be done.
Certified Personal Trainers Alexandria VA 22314
WHO WE ARE:
We are a boutique personal trainer & yoga studio. We handcraft and customize every workout. We integrate nutrition, movement, and flexibility into our personal training plan.
OUR SECRETS TO SUCCESS:
We study our craft, take as many certifications as we can, and develop unparalleled expertise in our specializations. We treat every client with respect and individualize every workout. Developing talent takes discipline, and we push the envelope to improve our coaching quality every day.
WE LOVE WHAT WE DO … and We Do It Better than Anyone Else. We are Sand and Steel: Professional Grade Yoga Teachers and Personal Trainers.