Personal Training Methodology

Whether your goals are based in performance, bodybuilding, weight loss, or rehabilitation, improvement begins and ends with proper mobility and exercise mechanics.  I have published over 250 articles on nutrition, physical therapy, and strength training.  I particularly enjoy Power Lifting, TRX, and KettleBell Training.
What Can you Expect in a Typical Personal Training Session with me?

My coaching style is all about customizing the personal training session to your goals, fitness level, and biomechanics.  I scale personal training sessions through progressions and regressions so that they are safe for you.  Taking care to analyze risk of injury vs reward.  Sessions with me are going to be tough, but tough in a way that you know it's going to work.  I'm an intellectual, so you are going to learn a lot about fitness and physiology when you work with me.  But make no mistake, you will be drenched in sweat, and you are going to feel in sore in muscles you never knew you had.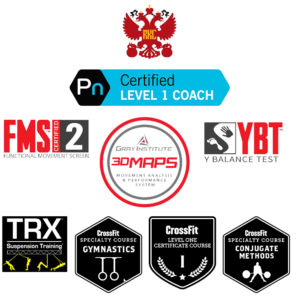 Biomedical Engineer: Johns Hopkins University
RKC Russian Kettlebell Club: Strength & Conditioning
FMS Level II: Functional Movement Screen
3DMAPS: 3 Dimensional Movements Analysis and Performance System
Muscle Energy Techniques: Rehabilitation and Mobility
Mobility|WOD Movement and Mobility Specialist: Movement and Mechanics
Y-Balance: Examination of Movement Patterns and Imbalances
TRX Suspension Training: Core and Bodyweight
CrossFit Level 1: Weight loss and Metabolic Training
CrossFit Powerlifting: Strength Training
CrossFit Gymnastics: Bodyweight and Mobility
CrossFit Scaling Course: Progressions and Regressions for Weight Lifting
Precision Nutrition: Nutrition Coaching
Current Areas of Study
Books and Materials that I currently reviewing and studying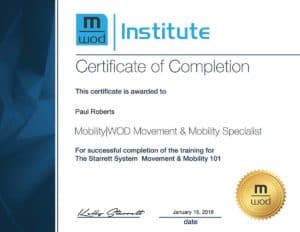 My Experience
I have conducted over 10,000 hours of personal training with over 600 clients. I work with clients who have had massive surgeries (hip replacements, shoulder reconstruction, car accidents, rifle damage, etc.) to active military and police.  I specialize in weight loss, strength training, and correcting movement mechanics (kinesiology.)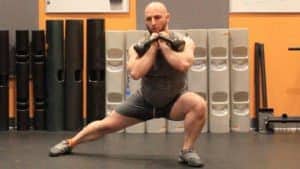 My Education
I have a bachelors in biomedical engineering from Johns Hopkins and a Juris Doctorate from Rutgers. I chose to be a personal trainer so that I can help people move better and improve the quality of their life. Whether it's unlocking confidence they didn't know they had, or changing the way they look at fitness, personal training is my opportunity to help others.
Mobility Methodology
In addition to using the principles and teaching of M|WOD, I also integrate Muscle Activation Techniques and Muscle Energy Techniques to strengthen weakened muscles.  For range of motion testing, I utilize Gray Cook's FMS, 3DMAPS, M|WOD foundational patterns.  For partner stretching, I utilize Astanga Yoga Asanas and Kit Laughlin's Partner Stretching Methodology.
Better Movement
I have 5 Mobility Certifications.  Mobility is all about retraining your muscles and connective tissue to move better. It enhances all aspects of fitness because when you move better you train better.  My training sessions focus on providing athletes with exercises that they have sufficient range of motion and control to execute safely. Through integrating mobility into all personal training sessions, we reduce injury rates and help clients break through strength plateaus.
The Top 84 Books on Personal Training, Nutrition & Therapy
I owe much of my success in training clients to the hundreds authors and mentors that have written amazing books on Yoga, Personal Training, Crossfit, Nutrition, etc.  Here are the books and authors that have helped me become the personal trainer I am today.
Bodybuilding Books (None of these are great, but Campbell's book is probably the best)
Bodyweight & Gymnastics (Impact and Gaddor's book are must reads)
Clubbell Books (Only need one… Sannon's book is great)
The Big Book of Clubbell Training by Scott Sonnon.  Rating 9/10
CrossFit & General Physical Preparedness (By the numbers… worth every penny)
By the Numbers by Sean Manseau.  Rating 10/10.
First: What it Takes to Win by Rich Froning.  Not Rated Yet.
Learning to Breathe Fire by J.C Hertz.  Not Rated Yet.
Kettlebell Books (I'm still searching for a level 10 book)
Mobility, Stability, & Stretching (Starrett's and Laughlin's book are stuff of legends)
Nutrition (I haven't read a comprehensive nutrition book yet, until I find it … here's what I suggest)
Olympic Lifting (Greg's book is near perfect… if not too long.)
Olympic Weightlifting: A Complete Guide for Athletes & Coaches by Greg Everett.  Rating 10/10
Personal Training (Someone please write a good book on personal training.)
Physical Therapy (These books are a slog to get through, but worth it)
Power Lifting Books (Starting Strength — required reading for all S&S coaches)
Starting Strength: Basic Barbell Training, 3rd edition by Mark Rippetoe.  Rating 10/10
Practical Programming for Strength Training by Mark Rippetoe.  Rating 7/10
5/3/1: The Simplest and Most Effective Training System by Jim Wendler.  Rating 5/10
Running and Endurance Training (MacKenzie's book is the standard for endurance)
Power Speed Endurance by Brian MacKenzie.  Not Yet Rated.
Unbreakable Runner by TJ Murphy. Not Yet Rated.
Ready to Run by Kelly Starret.  Not Yet Rated.
Strength Training Books (Delavier's book is a classic and a must read)
TRX Suspension Training (Someone please write a decent book on the TRX)
Suspended Bodyweight Training: Workout Programs for Total-Body Fitness by Kenneth Leung.  Rating 5/10
Complete Guide to TRX Suspension Training by Jay Dawes.  Rating 3/10
Yoga (Lacerda's book covers every pose I've ever seen)
---
My Publications
View all of my publications and articles
Associations
NSCA National Strength and Conditioning Association
FunctionalMovement.com