---
November Programming
November CrossFit Programming
I am glad everyone survived the month of October where we focused on gymnastics. For November, we get to move into everyone's favorite focus, weightlifting. However, don't expect this to be a barbell frenzy where we see super heavy loads and a lot of Olympic lifting. We are going heavy everyday with max squats and deadlifts every week (that would be fun… but not so safe.)
Rather we are going to take a broader perspective approach towards building weight lifting capacity. First we'll be using an array of objects including dumbbells, some sandbags and kettlebells on top of our standard barbell.
We're also going to try to develop capacity at the top layer of the spectrum. So expect to see some some lighter loading and higher volumes.
Benchmarks WODS? Yup. We'll be doing Diana at beginning of the month, and then a repeat of Grace and Isabella we saw in August (comes at the end of November).
Hero WODS? You know it. Jack DT will be in full effect this month. We'll be doing Ryan (a HERO WOD I haven't done)… you know to mix things up.
On top of that, expect to see some drills targeted towards weightlifting. On our simpler days, you might come into some workouts and see where we've just got a simple model structural day and that's going to be a good opportunity to bust out the barbell and maybe work on technical skills either before or after the workout.
I'm really looking forward to this month, I hope you are too.
-Coach Paul
November Mobility Lab
4 Mobility Labs Sessions are programmed for November.
Quads, Hips, and Hams
Calves, Shins and Feet
Chest, T-Spine, and Shoulders
Elbows, Wrists, Hand, and Neck
November Nutrition Lab
2 Nutrition Lab Sessions are programmed for November on Thursdays at 5PM. Online and In-Person available.
The Nutrition Lab Cleanse. We are reaching the end of the Weight Loss Challenge – let's kick it into high gear.
Sports Nutrition and Supplements. Everything you need to know about nutrition and the CrossFit athlete.
November Performance Lab and Foundations
Foundations is Mondays at 6PM.s
Performance Lab is Mondays at 7PM. Gymnastics emphasis and more double unders practice.
November Special Events
Turkey Buster at Sand and Steel at 8AM
Alexandria Turkey Trot on Thanksgiving Day at 9AM
November FireFlow Yoga on Thursdays
A new flow debuts on Thursdays at 6PM … Into the Unknown.
November Trail
Fountainhead Hoard and Roberts Loop 11.5 Miles
Fountainhead 17 Miler (Fountainhead, Bullrun, and Hemlock)
Northwest DC Loop 12 Miles
Turkey Trot – just 3 Miles
November PowerFit
In October, we did lots of complexes, and so in November, we will be simplifying things with alternating variations of back squats, front squats, bench, push press, deadlift, and sumo deadlift.
November Butts & Guts / Arms OCR
Expect workouts to feature odd object cleans like med ball clean, kettlebell cleans, and barbell cleans. Another obstacle course workout is in the works. Expect to see row / hip thruster combo coming to Butts and Guts as well.
---
Questions/Comments on Our WOD?
---
---
WOD (Workout of the Day) Newsletter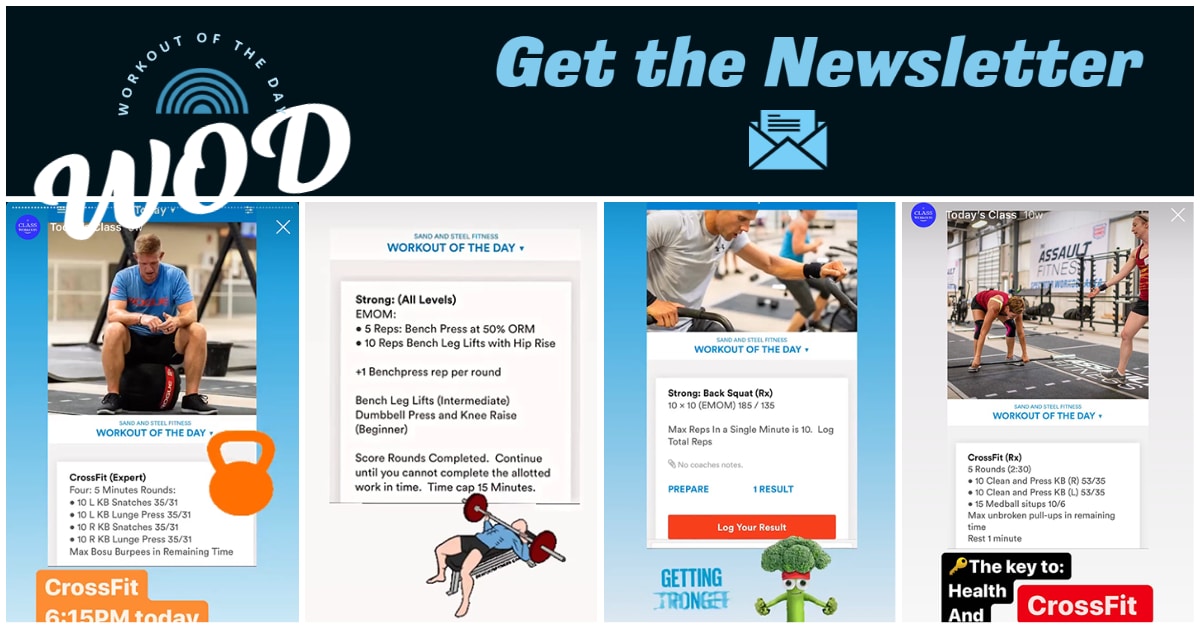 Every Sunday we email our subscribers an entire week of class programming for week.
Signup for free or check out a preview here (May 2, 2021 issue)
Newsletter Signup Preview the Newsletter
---
CrossFit Rank and Scaling Article