What is a WOD?  WOD means Workout of the Day.  It's the workout programming for the class.  Our WODS specify exercises, reps, and sets.  We provide a beginner, intermediate, and advanced level of every workout.  All CrossFit workouts include a warmup, skills and practice section, technique overview, a full workout, and a cool down.
---
View Your Next Workout on IG or FB Stories
---
---
WOD (Workout of the Day) Newsletter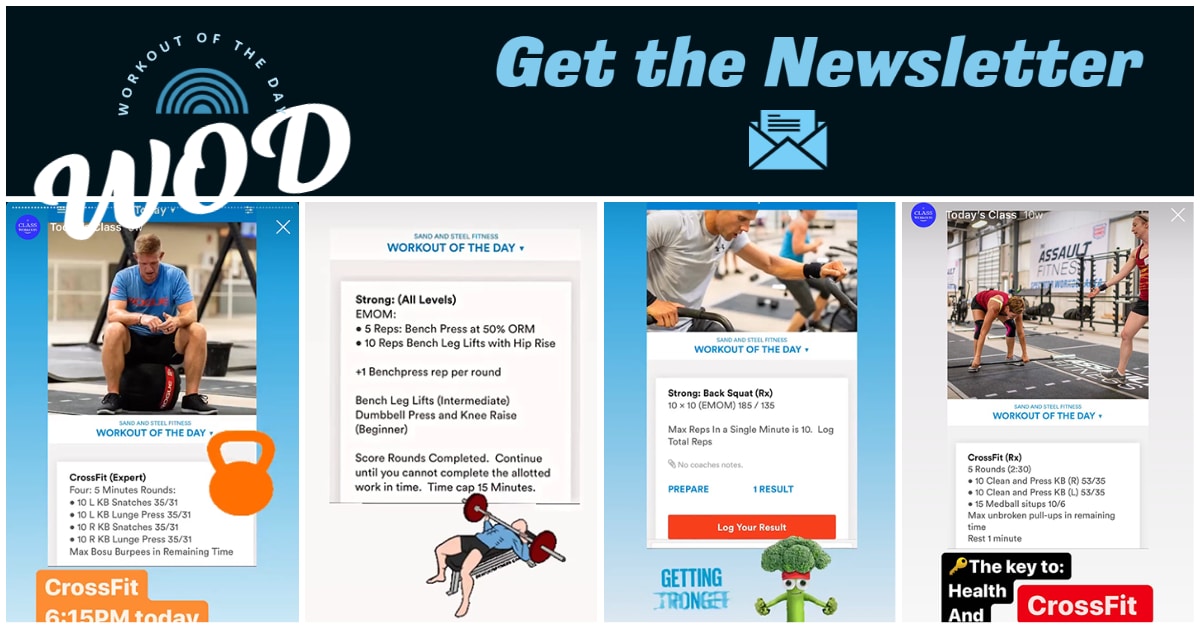 Every Sunday we email our subscribers an entire week of class programming for week.
Signup for free or check out a preview here (May 2, 2021 issue)
Newsletter Signup Preview the Newsletter
---
---
CrossFit Rank and Scaling Article
Previewing the CrossFit Workout
When you get to class, you'll find the white board looks like this.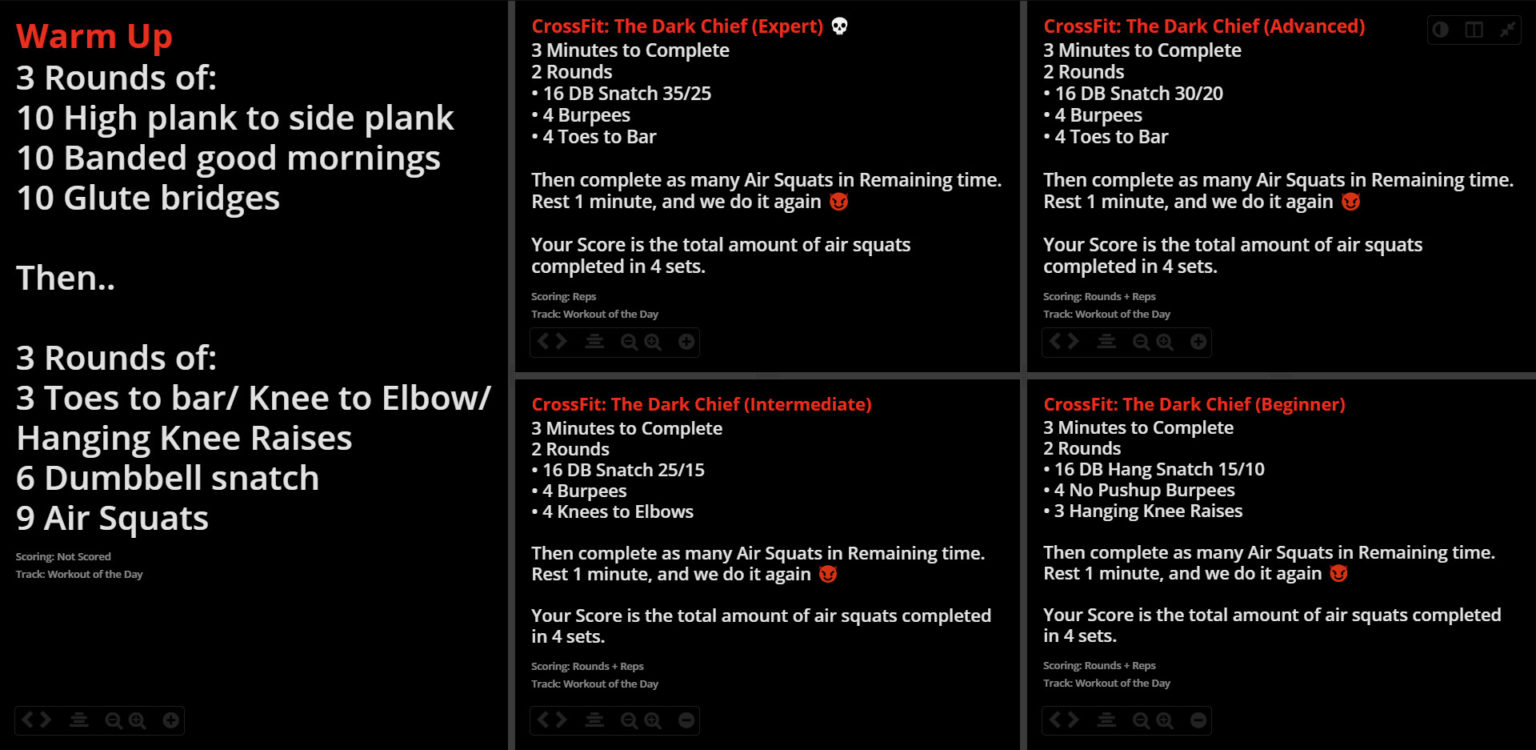 On your SugarWOD app, you'll see screens like the ones below.
Come early & prepare in advance.  You'll get more out of the class if you know what lies ahead.
---
Rx Versus Scaled CrossFit WOD
Rx means you did the workout as prescribed, e.g. exactly as written.  Scaled means you made a modification to the workout (reduced load, reduced rounds, changed an exercise.)  Members are always encouraged to scale the workout to preserve the current stimulus (intent of the workout).  It's better to scale too light and go faster than it is to scale too heavy and not complete a workout.  To scale a WOD via SugarWOD, just click the workout you are going to complete and click the "scaled" option when you enter your results.  Always scale a workout to keep it safe for existing injuries or mobility limitations.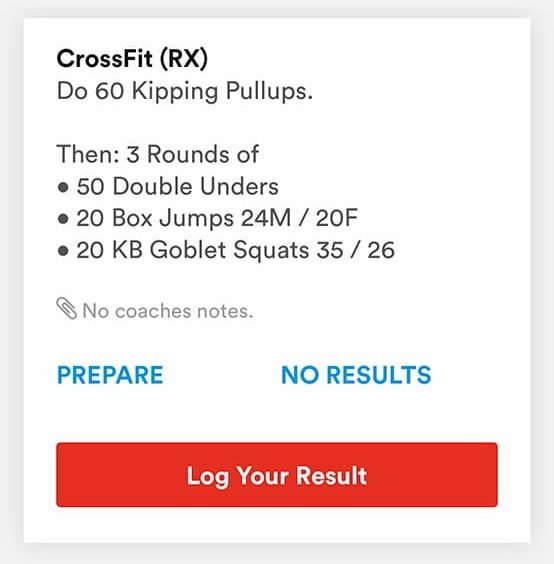 Rx Version of CrossFit Workout
The Kipping Pullups are Challenging for even CrossFit Veterans
50 Double are one of the most difficult technical skills to master.
24 inch box jumps are pretty high.
20 Goblet squats after the box jumps with tax your legs quickly.
For this workout you are scoring time to complete the full workout.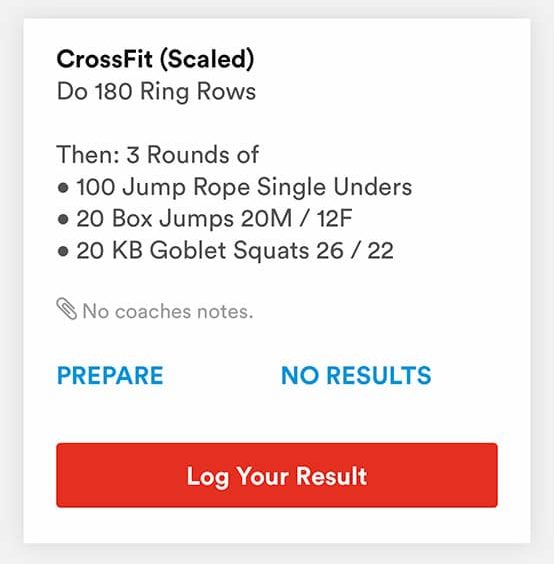 Scaled Version of CrossFit Workout
180 Ring Rows will build strength to progress to pullups.
100 Single Unders is much easier technically than 50 double unders.
The box jumps are 4 inches shorter making the jump easier.
The goblet squats are lower in weight.
For this workout you are scoring time to complete the full workout.
---
Choosing Your Scaling
The Rx version of the workout isn't better for everyone.  If you are deconditioned or new to CrossFit, the Rx version is probably worse for you.  Doing exercises at high intensity with incorrect techniques leads to injuries and soreness in the wrong muscles (lower back, neck, etc.)  When in doubt, choose the scaled option.
Moreover, each workout features a Men's Weight and a Women's weight.  So that's 4 different versions of the same workout.
---
Learn CrossFit with Private Lessons
Did you know that we offer Private CrossFit lessons?  Just ask you personal trainer to put you on our CrossFit Foundations program.