When a new member joins Sand & Steel for personal training, they always ask me who is going to be their coach. And I always tell them the same thing — we are all your coach. No one coach is better than the aggregate knowledge and wisdom we share as a team. Sand & Steel works because we are united in our quest for safer movement, healthier bodies, and acceptance of all people and cultures.
Sand & Steel Coaching is many things, but at its heart lies a commitment to teamwork for the betterment of each other and our members. Teamwork is working together to build and secure a common vision. It is the coordination of individual efforts to benefit our members and our gym. Our teamwork-first culture is what provides us the ability to offer a level of personal training service unmatched in our industry.
So, yes, we are all your coach. We are all your team. We want you to benefit from the combined experience and certifications we all share. Learn from everyone, absorb as much as you can, and become the fittest you can be.
Sand & Steel Fitness is a gym specializing in Personal Training, CrossFit, Yoga & Nutrition.
We are well known in Alexandria for maintaining the cleanest CrossFit Box in Northern VA. We have smaller classes to improve coaching and instruction. We also have lower prices than nearly all CrossFit gyms in Alexandria, VA. We reinforce safety by prioritize teaching mechanics and consistency over intensity, and we employ the highest certified coaches in the DMV area so that you can get in shape quickly and efficiently.
We are a beginner-friendly CrossFit gym that welcomes people of all ages and genders. We proudly support the LGBTQ community and the military.
Personal Training Certifications
Bachelor's of Business Administration with a minor in Marketing
CrossFit Level 1 Trainer
CrossFit Programming
First Aid, CPR, and AED Certified
Read More »
Some of our Favorite Coaches that Have Moved to Open Their Own Gyms and Studios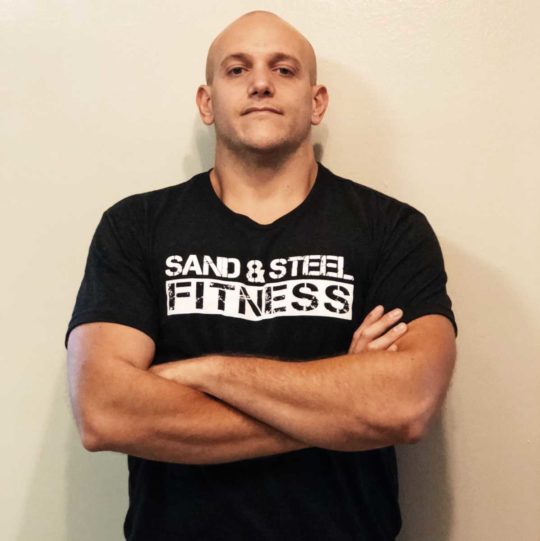 🌟 Sand & Steel All-Star Coach.  July 2018
Flavio's Personal Trainer Certifications
Kettlebell Sport Coach Level 2: Exam passed with highest marks, certified by Oleh Ilikia, World Kettlebell Sport Federation president, multiple time world champion and Guinness Record holder
Strongman Instructor: Certified by Francesco Gioia, Italy's strongest man
Crosslifting: A new sport born in Russia by combining all of the strength sports together. Spent a week in a Russian Olympic facility, training with Klokov, Berestov, Koklyaev and Denisov
Weightlifting Instructor: Certified by Giles Greenwood in London, UK
Functional Training Instructor: Certified by Italian Boxing Federation
Read More »