Dawn Anderson
Strength, Flexibility, and Grit
My Ideal Client
"My ideal client is someone who's ready to fight to get fit. I can help you live better and feel stronger, but only if you are truly ready to make a change. I have Fibromyalgia and Chronic Fatigue but I keep it in check with nutrition provided by my fiancé, and business partner, Paul Roberts and the fitness programs that I design.
I recently recovered from a 2 level ACDF surgery. Staying fit and healthy through it all was not easy. The fitness programs that I designed that gave me the physical (and mental) strength that I needed to get back to my active daily life.
The gym is my safe place, it gives me stress relief and sanity when life is difficult. Working with women is my passion. Women who like to weight lift (or want to learn) to get stronger and achieve a healthy physique. I do take more of a traditional approach – I love barbells, kettlebells, and dumbbells. But that doesn't mean that other things will not be mixed into my programs. You will be challenged by my programs – you will get the work done – but I am not the type of trainer to yell and scream.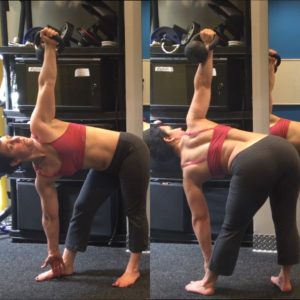 It doesn't matter if you are brand new to fitness, recovering from an injury, or trying to hit a new PR. If you're ready to make a change, I can help you. Stick with the program and you will get results. Never let anything hold you back."
CrossFit, Mobility, and Personal Training Certifications
Muscle Activation Techniques: Corrective Exercise and Therapy
National Council on Strength and Fitness: Certified Personal Trainer
Yoga SCW Level II Certified: Hatha Yoga,  Yoga for Seniors, Chakra balancing, Inversions, Pranayamas
RKC Russian Kettlebell Club: Strength & Conditioning
TRX Suspension Training: Core and Bodyweight
CrossFit Level 2: Weight loss and Metabolic Training
CrossFit Powerlifting: Strength Training
CrossFit Flexibility: Range of Motion and Flexibility
CrossFit Scaling Course: Progressions and Regressions for Weight Lifting
CrossFit Lesson Planning: Effective Techniques for Structuring Workouts
CrossFit Pose Running: How to Spot Faults in Running Technique
CrossFit Spot the Flaw: How to Spot Faults in Gymnastics and Weight Lifting Technique
RockTape FMT Performance and Basic: Functional Movement Techniques & Advanced Kinetic Taping
RockTape FMT RockPods and RockFloss: Myofascial Cupping and Compression Band Flossing
Functional Range Conditioning Mobility Specialist: Human Movement Optimization. Mobility Development, Articular Strength, and Neurological Control
Glute Specialist | Women's Strength Training | Body Sculpting
My Custom Programs
Anderson Glute and Core
Commit and Conquer Series
Strong By Dawn
Bikini Body Builder
Training Techniques
Functional Movements
Prioritization
Periodization
High Intensity Interval Training & Tabata
Glute Activation and Isometrics
Train with me to:
Women's Strength Training
Glutes and butt sculpting
Invest in yourself & build confidence
Get scuplted and sexy
Flexibility & Injury Prevention