Signature Personal Trainer
Personal Training Certifications
CrossFit Level 1 Trainer
National Strength and Conditioning Association Member/Certified Strength and Conditioning Specialist (NSCA CSCS)
NETA Personal Trainer
Functional Movement Systems Functional Movement Screen Level 1
TRX Suspension Systems and Rip Trainer
I am a military veteran and spouse, so I have lived all over the world and worked with a wide variety of people.  Health and fitness are so important to me because as I get older, I realize more and more the importance to move well, stay flexible, and maintain and build strength.
I am a life long learner. I am never satisfied with my current knowledge level and continuously seek out new information to help the athletes I work with. I am currently working on two new certifications, one for nutrition and another for adaptive exercise.
I have been a fitness professional for over ten years. I started my journey in fitness as a personal trainer and group exercise instructor and then moved on to teach indoor cycling, functional fitness, and eventually CrossFit and strength and conditioning. I have had the opportunity to work in many different types of fitness facilities and learn from some of the best trainers out there.
Through out the years, I have trained a very diverse group of individuals. Some that only need to be told how many sets and reps to do as well as those that needed some extra encouragement and motivation to keep moving forward. However everyone had the same goal, becoming a better version of themselves and I was there to help them achieve it.
My goal is to tailor each work out to you, ensuring that it meets your individual needs and at a level that is right for you. I get the most joy out of helping others achieve their goals.  I love seeing all our members improve their health and grow better, faster, and stronger each day.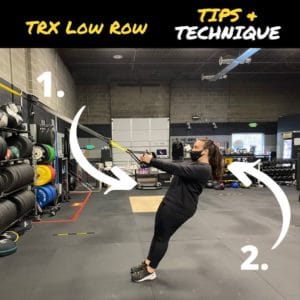 The TRX Low Row is an excellent conditioning exercise for building strength for pullups and improving overall rowing mechanics.  Coach Cindy provides a complete breakdown on how its done.
Read More »