Planned Events at Sand & Steel
Turkey Buster: Near Thanksgiving
Iron Star Games 2023 (Friday / Saturday): Dec 1 – Dec 16
12 Days of Christmas and Cookie Competition: Near Christmas
Powerlifting: March – April 2023. 3 Classes per week. Tues, Thurs, Sat.
Nutrition Lab Schedule:
First Sunday of the Month
Lesson 0: Metabolic Syndrome, Cheat Meals, 10 Rules for Weight Loss, 11 Foods to Avoid, Using a Shopping List, Building Healthy Habits, 80 Superfoods you Should be Eating. | Sunday: 08/20/2023 at 10AM (Free)
Lesson 1: CrossFit Nutrition Resources. An overview of materials available to you from CrossFit.com. | Sunday: September 10, 2023 at 10:15AM
Lesson 2: Finding your Target Calories. The Weight Loss Calculator, InBody Interpretation, Nutrition Label Analysis. | Sunday: 10/08/2023 at 10:15AM
Lesson 3: Getting Smart About Eating Clean plus everything you need to know about organic foods. | Sunday: 11/03/2023 at 10:15AM
Lesson 4: The Nutrition Lab Cleanse: 85 Rules to build a bulletproof diet. | Sunday: 12/03/2023 at 10:15AM
Lesson 5: Eating for Success. 22 Rules for building a perfect diet. Meal Journal Review. | Sunday: 01/07/2024 at 10AM
Lesson 6: The Five Elements Rule – A simpler Approach to Building a Better Meal Plan. | Sunday: 02/04/2024 at 10AM
Lesson 7: Way Beyond Macros – Macros, Serving Sizes, Meal Plan Optimization. | Sunday: 03/03/2024 at 10AM
Lesson 8: Make it Fast, Make it Right – Reading Nutrition Labels, Speed Tips, Weekend Prep, and Meal Delivery Services. | Sunday: 04/07/2024 at 10AM
Lesson 9: Glycemic Impact. Understanding Glycemic Load, Glycemic Index, and Glycemic Impact. | Sunday: 05/05/2024 at 10AM
Lesson 10: Restaurants and Travel. | Sunday: 06/02/2024 at 10AM
Lesson 11: The CrossFit Nutrition Regimen. | Sunday: 07/07/2024 at 10AM
Lesson 12: Sports Nutrition and Supplements. | Sunday: 08/11/2024 at 10AM
CrossFit Competitions
Metcon Rush Last Weekend of August.
MACC FEST. Sept. 29 – Oct. 1st. Maryland
Rogue Invitational: Oct 27-29, 2023. Texas
Wodapalooza January, 2024. Miami
Beach Town Throwdown May 6-7, 2024. Myrtle Beach
CrossFit Northeast Semi-Finals. May 18- May 21. Orlando Fl.
CrossFit Games. First week of August
Races
Spartan Race West Virginia (AUG 26-27, 2023)
Tough Mudder Pittsburg PA (September 9, 2023)
Three distances available. Paul is registered for 8AM – 15K race.
Spartan Race Washington DC (SEP 16 – 17, 2023)
Private Event Price Quote
Private Event
Use this form to request Sand & Steel host an event for your group. The event can be at Sand & Steel or at a private venue of your choice. Pricing for private events depend on the length of the event, number of people, and type of training / programming requested.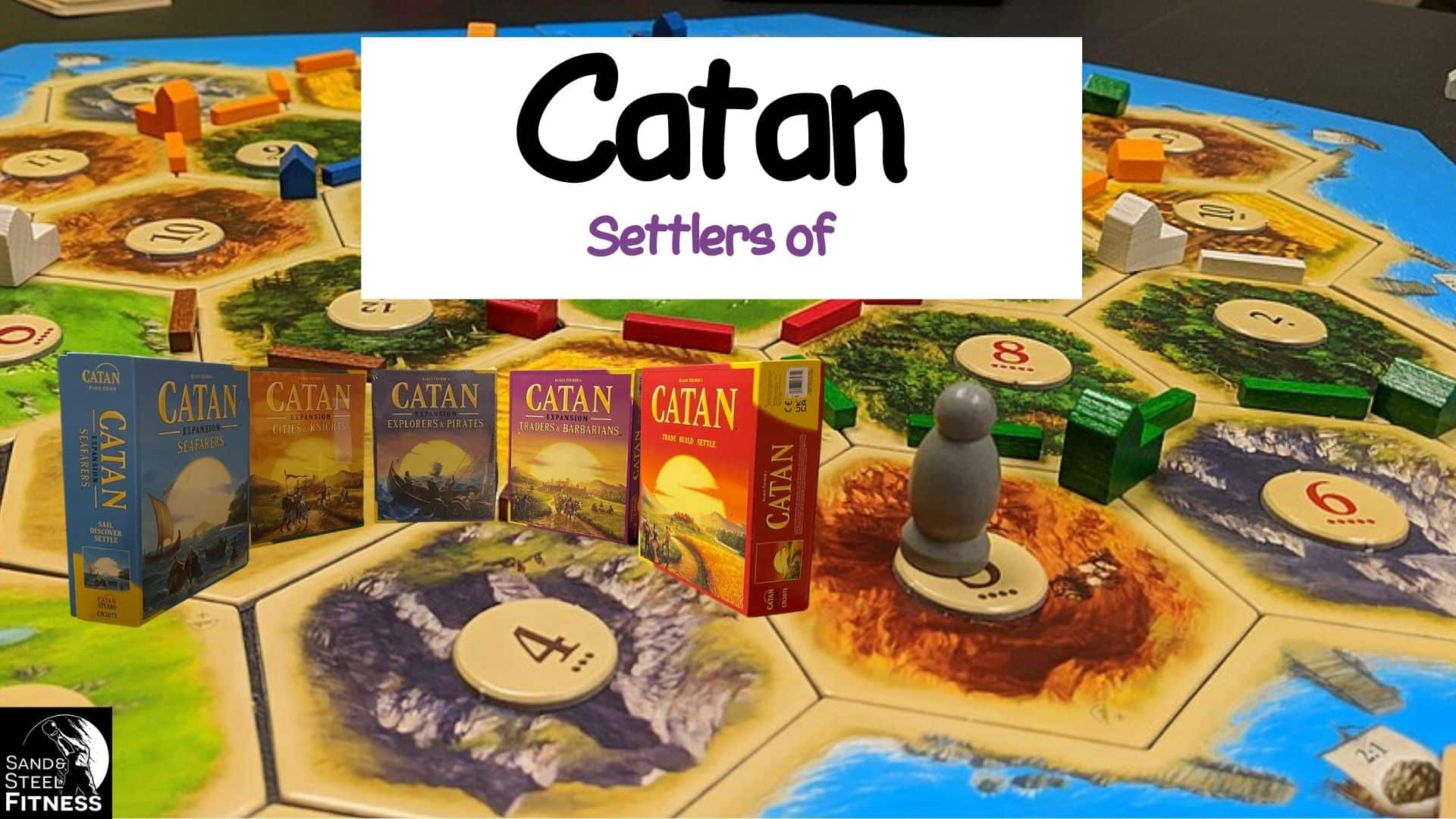 July 17 @ 10:30 am – 1:30 pm EDT
Join us as we lock horns in battle in the world of Catan.  This match will features Seafarers, Cities & Knights, and Treasures, Dragons, and Adventures.  It'll be an epic battle for all.  This event is not recommended if it's your first time playing Catan, but please let us know if you are interested in learning.  We'll let you know when our next Catan event is going on.

We'll be playing at the penthouse.  Please bring food or beverages to share.