Certified Personal Trainers Alexandria VA
Understanding the XT60 Training System
The XT60 Certified Personal Training System was developed to overcome the short comings of personal training at many other gyms.  Our system starts with our comprehensive two hour fitness performance benchmark.  We use that benchmark in combination with a client psychological profile to determine the best program out of the 40 programs we have for that client.  Next, we scale the individual workouts in that program to the client based on their benchmarks.  After completing each of the workouts 4 times, we restest and upgrade the program based on the clients progress.
Our programs improve daily, as we learn from training hundreds of clients every month.  What you can do your own or with a single personal trainer, can't compare to the refinement, objective testing, and experience we deliver as a team implementing the XT60.  This point can't be understated … whereas other gyms pit personal trainers against each other … our coaches share clients and they train as a team.  Iron sharpens iron and every new coach improves the whole.
We are the Professional Grade Studio in Old Town.  Every single client has a binder organizing their workout program, specific modifications, fitness benchmarks, nutrition program, InBody Body Composition Scans, Mobility Progress, and client specific warmups.  We are the most organized training facility you'll find anywhere.  All of coaches teach as a team, we track client performance as a team.  Every workout is logged, and every athlete is tracked.  Our workout programs are reviewed daily for safety and efficacy.
To the client, it is a turnkey system.  All you have to do is show up, work hard, and eat what we you tell you.  We have clients who are a 100 pounds overweight, military and police professionals, teenage athletes, and elderly women in their 80s.  Our system works for everyone because it is scaled to the individual.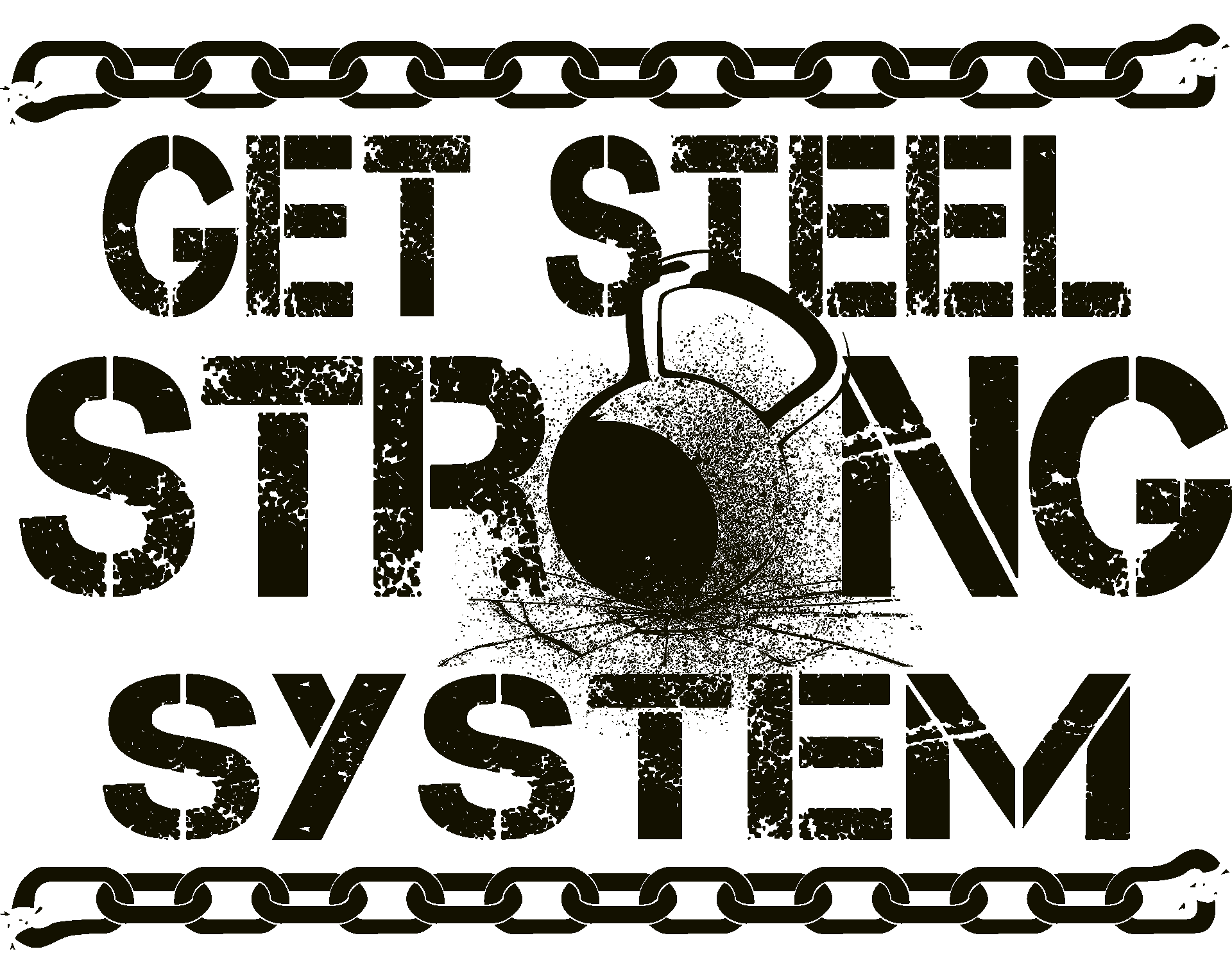 Our Signature Integrated Nutrition Counseling, Certified Personal Training Program, Mobility, and InBody scans. If you want to transform your body, this the program you want.  You've read the reviews, now get the body you deserve.  Get Steel Strong!
We'll analyze your body composition with out InBody 570
Test your fitness with our Functional Movement Screen and Energy System Benchmark
Hand Craft a program with our certified personal trainers
Help you eat better with our nutrition coaching program
Coach you through the whole process with one-one-one training.
Better Coaches … Better Results
Committed to safe and effective movement, and getting people into the best shape of their lives.
Our Coaches are in the top 1% of coaches in Virginia and DC area.  That's not a claim — it's a measurement from our rigorous 2-phase certification process.  We enforce this standard so our clients know that any coach that is on our floor is in the top 1% of our field.  Our clients expect the best at Sand & Steel and we have the processes to deliver the best every time.
Phase 1 – The Sand & Steel Level 1 Certification:  Our 8 stage exam tests technique and strength of 20 of the most challenging movements, scaling on 8 different exercises, identifying faults on movements like the squat and deadlift, workout programming, mobility, anatomy, and more. Less than 5% pass the Level 1 Certification.  And that includes all the "certified personal trainers" from ACE, NASM, NCSF, CrossFit, etc.  Those certifications are important, but they are not enough by themselves to coach at Sand & Steel.
Phase 2 – The Mentorship Program: All new coaches receive training from the owners directly and have three weeks of observations.  During the observations the new coaches receive constant feedback.  We not only set the bar high to work at Sand & Steel, we enforce that standard.  Only 20% of mentees graduate and pass the program.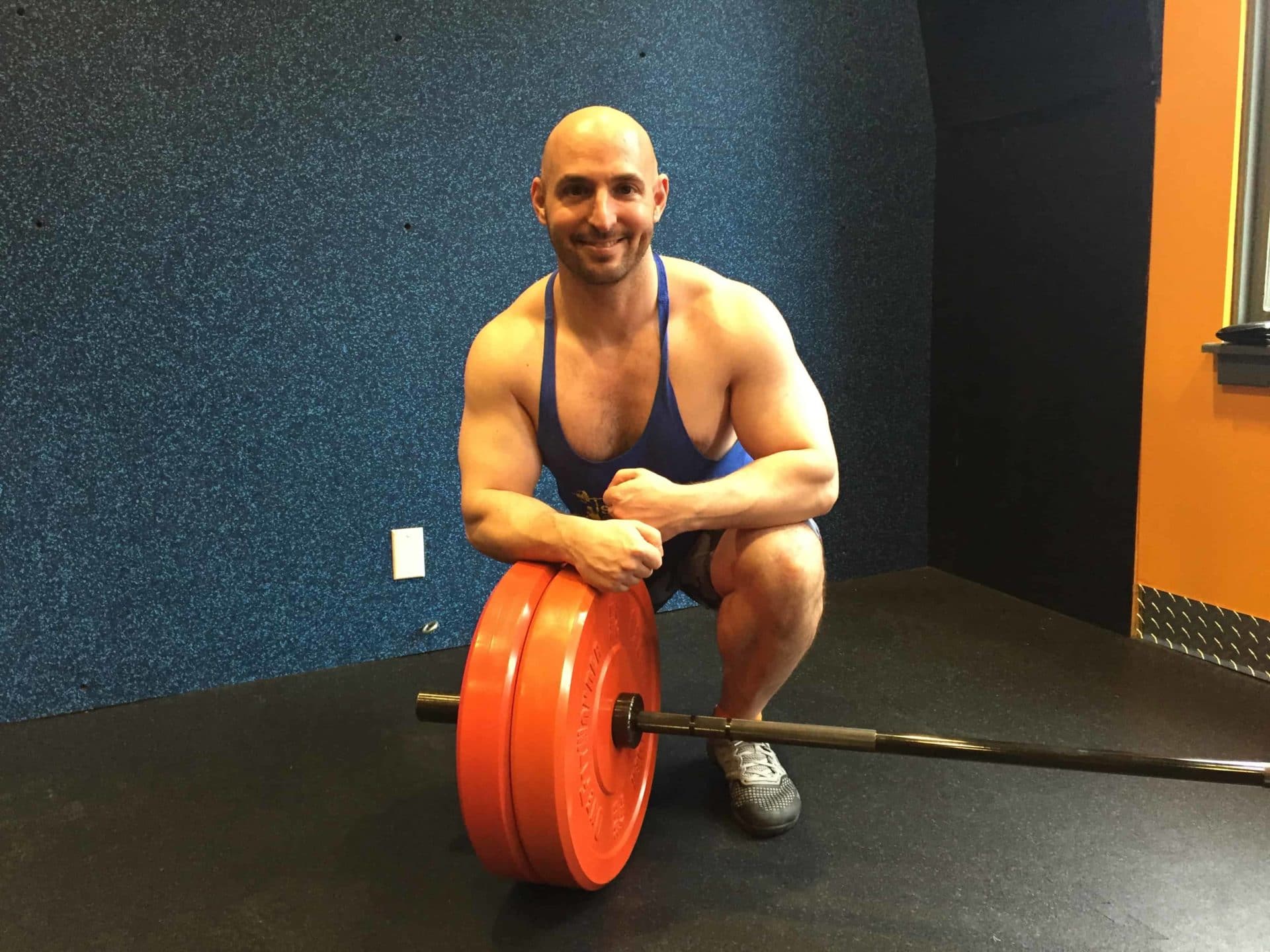 About Paul –  The Biomedical Engineer
Paul wrote the XT60, the trainer certifications, and about 80% of the workouts.  He is relentless in his pursuit for the perfect training experience.  He analyzes all the benchmarks, learns which programs work better, and places clients into the program that has the best track record for performance.
Certifications Include:
CrossFit Level 1 Trainer
CrossFit Gymnastics Trainer
CrossFit Powerlifting Trainer
RKC Hard Style Kettle Bell Certification
TRX Suspension Trainer Qualified
FMS (Functional Movement Screen) Level I and Level 2
Y-Balance Test Certified – Move2Perform provider
Precision Nutrition
♦ Weight loss ♦ Hypertrophy ♦ Strength Training ♦ Power Lifting ♦
♣ Flexibility & Mobility ♣ Muscle Activation ♣ Core Training ♣
♥ Beginner Training ♥ Endurance  ♥ CrossFit Gymnastics ♥
Certified Personal Trainers Alexandria VA
About Dawn – The Project Manager
Dawn is a project manager at heart.  When you come to Sand & Steel, the first thing you'll see is how flawless the experience is.  We are so good at training, because our coaches know exactly what is expected of them.  Our standards for cleanliness, timeliness, and client service rival five star hotels.
Certifications Include:
National Council on Strength & Fitness – Certified Personal Trainer
CrossFit Level-1
TRX STC Qualified
Hardstyle Kettlebell Certified (HKC) Russian Kettlebell Club
CrossFit PowerLifting
Muscle Activation Techniques Certified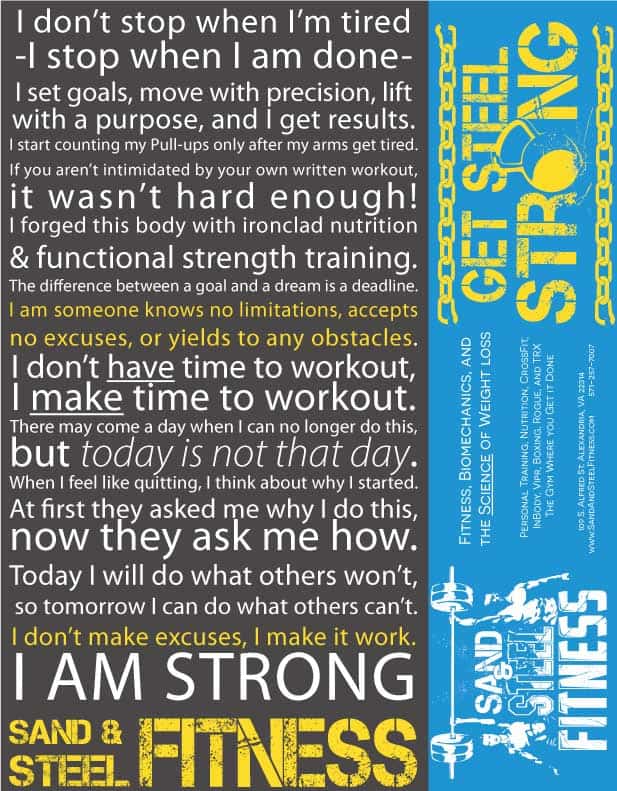 Strength, Durability, and Vitality
We love functional strength training, body building, CrossFit, TRX, Sandbags, and conditioning.
We take pride in scaling our workout's difficulty so it is just outside your reach. Every day you will get stronger, but every day the workouts get tougher.
We are teachers before we are trainers, and we will teach you to get stronger and live healthier.
At Sand & Steel, we love new equipment and new training methods. There is always something new to teach.
Workouts should be tough, but they have to be fun.
We employ constantly varied training and muscle confusion. We'll find your weaknesses, and train you to make you better.
We treat your body like the fine piece of machinery it is. Your body requires premium grade fuel to run properly, and we'll teach you to eat with a purpose – so you can prepare for your next workout and rebuild from yesterday's challenges.
We prioritize safety in all movements. We teach you the correct form, so you can minimize the risk of injuries. Healthy members are happy members.
That said, we will accept nothing but your absolute best in every workout. Be prepared to leave nothing in the gym.