Library of Exercises for the Personal Trainer & Bodybuilder
Our library of Bodybuilding and CrossFit Exercises includes exercises designed for CrossFitters, BodyBuilders, and of course Personal Trainer. The Bodybuilding Exercise List contains video demonstrations of Barbell, Bodyweight, Bosu, Clubbell, Dumbbell, Kamagon, Kettle Bell, GHD, Surge, TRX Suspension Trainer, TRX Rip Trainer, Viper, and many others.  We also feature instructions of many of the common CrossFit Exercises. For the Personal Trainer Exercises, our videos include tips of technique, advantages of the exercise, common movement faults, and scaling suggestions.


Loading Videos...
---
Barbells
Barbells are your strength training powerhouse.  Used for Bodybuilding Exercises, Powerlifting Exercises, Olympic Lifting Exercises, and of course CrossFit Exercises.  Because the plates of the Barbell are easily adjustable they allow for a diverse selection of weights.  Exercises like the low bar back squat, deadlift, front squat, bench press, standing press, clean, and snatch are some of the most practiced techniques to the barbell and bumper plates.
Bodyweight and Gymnastics Moves
With the right personal trainer in your corner, bodyweight exercises are extremely effective.  Some bodyweight exercises are extremely challenging and others are excellent for conditioning.  The work extremely well in providing a rapid transition between exercises.
Clubbell
Clubbells have been around for hundreds of years, but it wasn't really until Onnit and Scott Sannon started invested in their metal casting did they build a decent amount of popularity.  Many coaches have never seen these amazing conditioning tools.  They are equally excellent for repairing rotator cuff injuries.  Indian wooden clubs are very similar, just much lighter.
---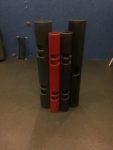 Viprs are powerful 3-dimensional balance and conditioning tools. They are great for building single leg balance and equally useful in a bootcamp setting.
---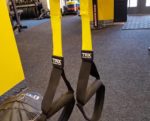 A swiss army exercise tool, the TRX Suspension Trainer is great for scaling bodyweight movements up or down. From the lunge to the pushup, there is a powerful TRX Suspension Trainer variant that will help you as a personal trainer.  When it comes to planks style movements, few pieces of exercises equipment can match the burn the TRX Suspension Trainer can deliver.