CrossFit KORE brings the sweat and the burn like no other class in our arsenal. We leverage the power of the TRX Gen 4, TRX Rip Trainer, Bosu, and Kettlebell into one sweat-soaking class.  CrossFit KORE is a scalable class designed for any athlete. CrossFit KORE provides unparalleled safety. It is a back-to-basics, functional training class that dials-in the intensity and scorches more calories than any other system.
What are the Workouts Like?
CrossFit KORE takes everything that makes CrossFit successful programming, variability, and intensity but leverages the power of the TRX Suspension Trainer, Bosu, and Kettlebell to do it.  The result: a more scalable workout for beginners with significantly more emphasis on core strength and unilateral control (e.g corrects imbalances left to right.)  CrossFit KORE workouts feature the TRX Suspension Trainer, Bosu, Kettlebell, and Rip Trainer.  Here are two workouts published on January 12, and January 14.
CrossFit Workout 1402
Mobility Warmup:
• Split Squat w/ M Deltoid Fly
• Split Squat w/ T Deltoid Fly
• Split Squat w/ Y Deltoid Fly
• Wall Slides
• T-Spine Rotation
• Overhead Squat
• Reverse Hugger
TRX Hips Conditioning
3 Rounds for time
• Hip Press 20
• Hamstring Runner 40
• Hip Abduction 30 reps
Scoring: Time
Kettlebell Total Body Conditioning
4 Rounds for Time
• 50 Two-Hand Kettlebell Swings 53/35
• 50 TRX Rip Trainer Squat Rows
Scoring: Time
CrossFit Workout 1403
Mobility Warmup:
• Chest Stretch
• Shoulder Distraction
• Front Rack Stretch
• Wall Slides
• T-Spine Rotation
• Kitchen Sink Stretch
TRX Total Body
3 Rounds for Time
• I's 25
• Sprinter Starts 50
• Side Lunge 30
• Kneeling Rollout 40
Scoring: Time
Kettlebell Swing and Rip Trainer Punch
4 Rounds for Time
• 50 Alternating Kettlebell Swings 35/22
• 25 Rip Trainer Punch
Scoring: Time
CrossFit KORE Workout Video
14 Minute EMOM
Bosu Saddle Jumps & TRX Crunch to Pike
Score Total Completed Reps
Scalable Fitness for Everyone with TRX & Kettlebells
Whereas many forms of fitness feature complex movements that can take years to learn and practice, CrossFit is about results from day 1.  CrossFit is approachable for every athlete because we can scale all movement to your level of strength and mobility.  CrossFit is always challenging because we scale it up as you build strength.  CrossFit works great for people with knee, ankle, and back injuries because the TRX Suspension Trainer provides assistance and control.
Total Body Fitness, Legs, Arms, Mobility & Core
CrossFit workouts include mobility, cardio, and strength.  Workouts target the entire body to provide you a rounded approach to fitness.   With workouts in endurance, strength, general physical preparedness, and balance, CrossFit TRX & Kettlebells provides an amazing platform to get in shape and stay in shape.
Master Kettlebells Exercises
The Kettlebell is one of the versatile pieces of equipment you can own.  From easier exercises like the goblet squat to expert level exercises like the rotational snatch, the Kettlebell is a key piece of equipment for strength and conditioning.
CrossFit

Taught by a TRX & Kettlebell Certified Pro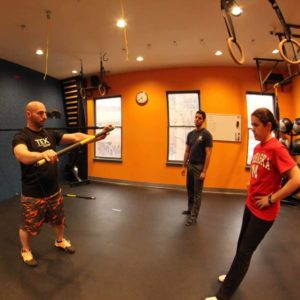 TRX Suspension Trainer Programming, Workouts, and Scaling. During the Seminar, we'll teach you how to perform over 20 TRX exercises such as the atomic pushup and the TRX Pike. We'll cover scaling options and cover points of performance for safe execution of these exercises.  Paul has been teaching TRX for over 10 years and taken the following courses taught by Frazier Quelch, the lead programmer for TRX:
Suspension Trainer Qualified by TRX Corp.
TRX Advanced Core Training 2013
TRX Advanced Rip Training 2013
TRX Partner Fusion Workout 2014
TRX Rip: Leaner, Faster, Stronger
TRX Training for Active Seniors
TRX Suspension Trainer Exercises
Have 45 minutes to learn about the TRX Suspension Trainer.  Paul teaches some of the basics to performing the following exercises in this video taped seminar.
Core and Hip Flexors Workout.  TRX Suspension Trainer: Pikes, Knee Sweeps, bodysaw with glute split, Left sideplank, right sideplank.  Rest for 90 seconds and repeat.
Hamstrings and Glutes Workout.  TRX Suspension Trainer: Alt Hamstring Curls, Hip Rise, Reverse Plank, glute bridge. Rest for 90 seconds and repeat
Chest, Arms, and Core.  TRX Suspension Trainer: Pushups, Bulgarian Lunge, Burpees
Online Fitness Class Required Equipment
TRX Suspension Trainer
Heavy and Light Kettlebell
TRX Rip Trainer or Homemade version (PVC, Two Exercise Bands, and Zip Ties)
Bosu, Balance Trainer, or any sort of thick balance pad (firm cushion)