For Your Old Town Alexandria VA Seminars and Meetings
Lectures, Workshops, and Classes by Professionals Trainers
Sand & Steel Provides 4 main services Personal Training, Yoga, Nutrition, and Mobility.  Within these 4 areas of specialization we can provide a wide range of interactive lectures, workshops, and classes.
Workshops on Powerlifting and Olympic Lifting
Lectures on functional training and how to use it properly with demos
Interactive Group Lectures on writing custom home workouts
Yoga Classes (alignment, flow, strength, or stretch)
Kinetic Stretching classes
Animal Movement and Flow Classes
Bodyweight and calisthenics classes
Demonstrations on kinetic taping and flossing
Interactive Group Nutrition Lectures
Lacross Ball and Strap Mobility Workshops
Group Mobility Screening to flag potential areas of weakness
Mobility lectures on what causes muscle and joint pain
Customized Presentations For your Next Seminar, Festival, or Workplace Meeting
We have a vast repertoire of materials and outlines for quickly generating customized presentations and workshops to suit any audience.  We teach fitness everyday to people in Alexandria VA and nationwide through our social media channels.
A Recognized Leader for Healthy Workshops in Alexandria VA
We have 137 five star ratings on Yelp, Google, and Facebook.  We have A+ Rating on the BBB and accredited BBB business.  We have won numerous awards from companies like Top Rated Local.
Yoga – We Teach it All From Recovery to High Intensity
From gentle, restorative yoga … to sweaty, muscle burning poses, we can deliver a unique and customized yoga experience.  I utilize multiple disciplines of Yoga (Iyengar, Yin, Hatha, Rocket, Bikram, and Astanga) to deliver a uniquely tailored experience for your company.  Yoga helps build strength, flexibility, and fosters better movement.  With the right scaling and modifications, everyone can benefit from yoga.
Fitness: e.g. Calisthenics, Bodyweight, and Movement in Alexandria VA
Teaches proper movement mechanics for exercises like planks, pushup, walkouts, squats, etc.  Utilizing the Functional Movement System, we can help you move better with less risk of injury.  Sessions utilize partners and provide a positive team working atmosphere.  We use gamification to have teams work together towards a common goal.
Mobility Through Partner Stretching and Guided Flexibility
Partner oriented stretching where you stretch with your co-workers to execute guided and team-based stretching.  Helps improve range of motion, relaxes tensions, and helps prevent injuries.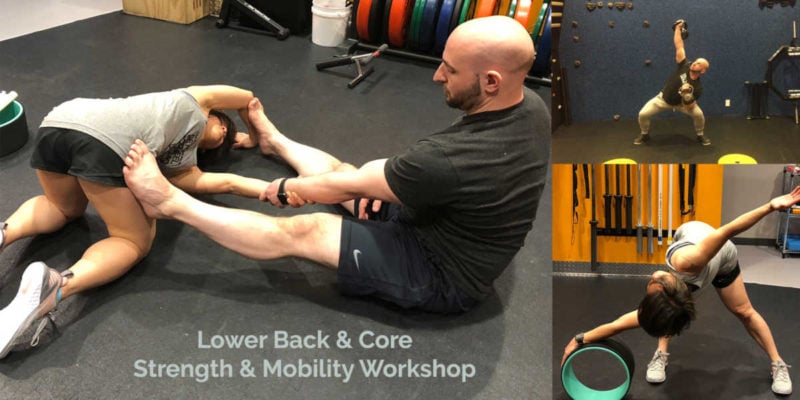 Interactive Group Programming for Strength Training
We help people in Alexandria VA build strength every day.  In our interactive group lectures on Strength Training we take viewers behind the scenes in how to program to build strength.  Where to work in stretches, how to warm-up, how much cardio to do, etc?  We break down the myths and expose the "bro-science."
Strength Training Alexandria VA. Fundamentals of Proper Technique
Nutrition and Healthy Eating in Alexandria VA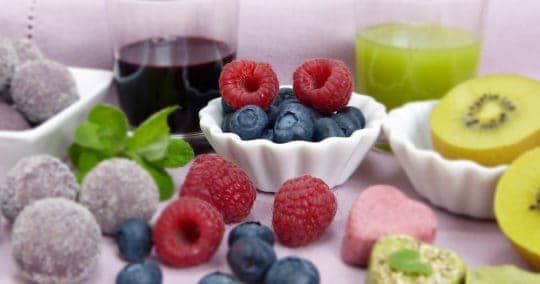 We cut through the fads and misinformation about how to build yourself a healthy meal plan.  Based on the Precision Nutrition methodology, we break-down the elements of how to select and balance meals to lose weight and maintain a healthy lifestyle.  The presentation focuses on simple, actionable advice.  Topics like: eat this — not that (and why), what to eat for breakfast, and how to calculate macro percentages.  More info available on our Nutrition Page.  As an example check out our recent article on the Ketogenic Diet.
About Coach Paul
With over 25 personal training and movement certifications, Paul is the personal trainer's trainer.  Paul has trained over 3000 clients and more than a 100 personal trainers over his 10 years as a mobility and strength coach.  He emphasizes safety and corrective exercises in all programming (strength, weight loss, conditioning, etc.)  His practice focuses on improving flawed movement patterns to prevent injury and improve skeletal-muscular function.  Paul employs a balanced approach in training utilizing his training Yoga, CrossFit, Powerlifting, and Movement Courses to systematically strengthen weakened muscles and mobilize joints and muscle tissue.  Move Better … Train Better.