Guest Post Form & Policies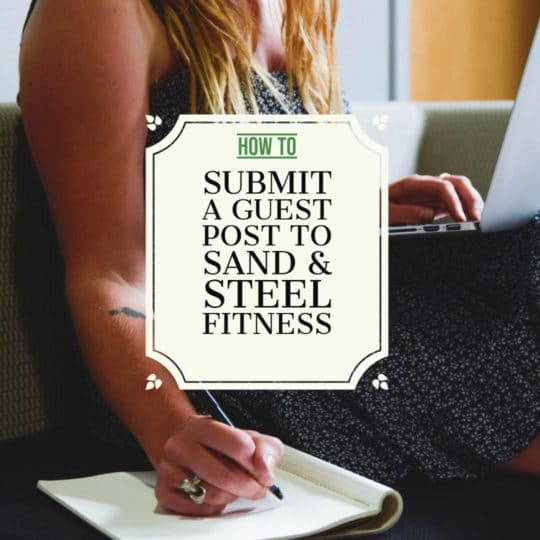 Sand & Steel's Blog Covers Fitness, Mobility, Nutrition, Physical Therapy, Yoga, and Corrective Exercises.
Guest Posting, Backlinks, Sponsored Posts, and Product Reviews
Guest Post Pricing, Links, and Advertisements
Guest Post Process
There are 3 steps to our guest post process.  We get between 50-80 submissions a week for guest posts.  If you do not follow the below process, your post won't be approved.  If you are interested in advertising, backlinks, or product review, please use the form above to make your inquiry.
Topics: If you want to see what kind of topics we approve, just check our blog.  Please make your own intelligent determination in selecting an article based on the kinds of articles you already see on our blog.
Sponsored Posts vs Guest Posts:  You can advertise for a product or service, but that's an advertisement, so select the sidebar ad.
Submit your Post for Review: Use the Form above, and double check that your post meets our Guest Post Standards.
Health & Fitness Write For Us Topics
Our guest blogging service and our Fitness Blog overall caters to only certain specific categories:
Fitness: weightlifting, bodybuilding, CrossFit, fitness gear, fitness clothes, etc.
Running: run technique, running gear, local races, etc.
Diets & Meal Plans: nutrition tips, meal plans, recipes, books, etc.  No weight loss supplements allowed.
Yoga: flows, styles, practice pointers, etc.
Bodyweight Training: Gymnastics, Animal Flow, Ido Portal, etc.
Mobility & Stretching: M|WOD, Corrective Exercise, etc.
Physical Therapy and Treatment Technique: Tennis elbow treatment, how to do Ober's Technique, Stretches for the Q/L, etc.
Popular Health Blog Topics we don't approve:
Cosmetics
Weight loss Supplements
Steroids
Guest Post Standards
FITNESS WRITE FOR US STANDARDS
Your guest blog post reflects on our brand and our business.  I expect to learn something new, the information better be researched, and it better be well-written with original videos and pictures.
Image Guidelines for Guest Posts
One Image in the resolutions of 1200 x 628 (Facebook size).
One image in square size 1200 x 1200 (Instagram)
Original images only that you took or made yourself (no stock photography permitted.)
Content Requirements for Guest Blogging
At least a thousand words covering a properly scoped project.
Your article must contain a power item (video, podcast, infographic, spreadsheet, etc.)  Something valuable enough that it would want to a personal trainer share it on facebook, etc.
Spellcheck and grammar check your document.
Specify the Longtail Keyword and use a program like Yoast or SeoReviewTools to optimize the page.
All content must be original, and may only appear on Sand & Steel's site.
Fees For Guest Posting
We will negotiate the fee overs the phone.  Guest posts generally cost around $100.  And yes, I'm sure you are a legendary writer, but it always takes us a lot of work to publish and edit a quality post.
Copyright for Guest Posts
Sand & Steel will own the complete copyright in your content (writing and media.)  You grant a perpetual, nonrevokable license to Sand & Steel to share, edit, revise, distribute any of the articles you submit.  All work you submit must be original content and media that you took with your camera.  We do not allow any sort of stock or GPL photos.
Paul's Favorite Drink
"Freshly ground coffee with 2 TBL of Organic Milk and 1 TBL of unsweetened chocolate."
Sample Guest Blog Outline
Yoga Asanas Pigeon (Eka Pada Rajakapotasana) Technique, Progressions, and Flows
500 words on Eka Pada Rajakapotasana(practice point, tips, and technique).  A video of the author demonstrating the pose.
500 words on progressions and regressions for Eka Pada Rajakapotasana
10 poses to flow into before Eka Pada Rajakapotasana (transition to pigeon)
10 poses to flow into after pigeon (transition from pigeon)
Guest Post Benefits
New Blog Posts are Shared to Our Newsletter
New Posts will be Featured on our Blog Homepage
1 Second Loadtime w/ Mobile First Architecture
Guest Post Options RECAP
Free Guest Blog Posts
Use the form above to submit your guest post to us.  We like well-written post on Olympic lifting, Yoga, Fitness, Meal Planning etc.  Quality counts though, and the better your article is, the better the chances that we will publish it.  Very strong articles may be featured on our homepage and shared on our social media channels.
Guest Blog Post Editing/Publishing Fee
Frequently, many authors need to assistance to get their articles up to Sand & Steel's standard.  The Guest Blog Post Editing Fee allows us to improve your post so that we can publish it.  Plus, edited posts are always promoted on our home and social media accounts.
Do-Follow Links vs Guest Post
If you all you really want is a do-follow backlink, just submit your request in the message above.  We don't work with every company, so be sure to include the website and page you want us to link to.
Guest Blogging Services -- Content Writer
If you run a guest blogging SEO company (we work with companies like OceanSeo, OutreachMama, HigherVisibility, etc) you are probably looking for strong copywriters to keep your clients happy.  Paul is the feature editor of Sand & Steel's blog and has a biomedical engineering degree and a Juris Doctorate.  We have several pricing options available for our copywriting service including a free option (we get a backlink, your client gets a backlink, and you get free content written by an expert.)
Product Review
We write product reviews for companies all the time.  Our product reviews feature rich snippet support, bar graphs, and more.  View Recent Product reviews here.   
---