If you are running a gym, bootcamp, or CrossFit Box, you are going to need Gym Management Software. We have been using EZFacility for four years, and here is what we think.

Gym Management Software varies significantly from company to company. Some of the more popular names in the Gym Management Software business include EZFacility, Glowfox, Mindbody, Woocommerce Bookings, and Wodify.
Choosing your Gym Management Software is complicated.  Every company makes a different product with different features, strengths, and weaknesses.  There is no perfect or even best overall Gym Management Software.  It's similar to writing an article on what's the best car?  There is no best car.
So the aim of this article is to help you decide whether EZFacility is a good piece of software for you and your business.1
View All Health and Fitness Product Reviews
EZFacility Gym Management Software
Aggregate Rating 90/100 2
Number of Features: 100%
App Quality: 80%
Trainer Access Control: 100%
CRM: 90%
Reliability: 100%
Credit Card Processing: 100%
User support: 90%
Reports: 100%
Client Reservation: 100%
Sales Reservation: 100%
Sales Portal: 40%
UX: 60%
Integrations: 20%
Summary EZFacility Review:
EZFacility is powerful and full of features that allow you to manage your gym.  EZFacility offers many configuration options. It has a complete CRM and a very easy to use reservation system.  We have been using EZFacility for four years and haven't found a better solution on the commercial market.
What's really important though is that EZFacility doesn't lose data, it doesn't fail to notify customers, it doesn't crash, etc.  It is expertly coded and very reliable.  There is nothing worse than losing customers because your software didn't perform.
While it's true some companies offer a richer UX and more integrations.  EZFacility might not be the best choice when it comes to offering initial online sales.  However, once you get customers setup in the user portal, your customers will find it simple to use.  And, it's simple for your customers to buy more sessions.
Number of Features – EZFacility Review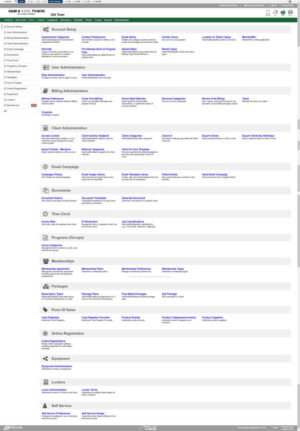 I can't even begin to attempt to catalog the number of features that EZFacility offers.  The ability to customize packages and pricing is very strong.  You will be able to sell your personal training or yoga lessons however you want to sell them.
App Quality – EZFacility Review
The EZ-Facility App (memberme+) provides clients with a fast way to book sessions.  It is a little limited in that you cannot purchase sessions.  However, we have a link to our portal which allows clients to buy sessions.  Having an app improves client booking speed.  Faster booking speed means more booked sessions.
Trainer Access Control – EZFacility Review
This is an easy 10/10 because you provide your coaches with as much or as little managment rights as you like.  You can restrict booking rights in different ways, hide client data, etc.
CRM – EZFacility Review
So the CRM in EZFacility is full featured and capable of storing most kinds of information.  It has some limitations in that the search functions are outdated (although there is a search).  Also, the CRM lacks a strong email function (in contrast to software like Active Campaign).  In addition, there is no integration.  So while you can store information, you can't easily access it on your phone for example.  To contrast, iCloud has a powerful CRM that you can access on any device.  It would be nice if I could look a client's contact information through a subscribed calendar.
On the plus side, in all the years that we have used the CRM of EZFacility, we haven't seen any contacts magically disappear.  Not sure how that happens, but we haven't seen it with EZFacility.
Reliability – EZFacility Review
EZFacility boasts a very high up-time.  It's very rare that the software isn't working.  EZFacility regularly makes updates to the software, and the updates don't really seem to make the software different or harder to use.
Credit Card Processing – EZFacility Review
We have used Paypal for Credit Card Processing.  We have also used Woocommerce with its various integrations like Stripe.  EZFacility uses a third-party company that charges a little more than they should.  EZFacility does allow you to choose your own credit card processor.  We chose to pursue this option.  Charges go through promptly.  Charges are very reliable. EZFacility also does a great job with automatic payments.
We only had one issue with software functionality (client got overcharged.)  EZFacility owned up to the mistake, and covered some of the expenses.  We wound up losing the client because of this mistake.  It was refreshing to see a company not try to blame the customer for their own mistakes.  More company's should be like EZfacility in this regard.
User Support – EZFacility Review
I haven't spoke with EZFacility all that much.  Dawn has had fairly significant contact with user support, training, etc.  She has no complaints and is able to make the technical changes she deems necessary.
Reports – EZFacility Review
The reporting function is kind of a strange issue.  On one hand, I'd say the lack of control of reports that EZfacility provides is a significant limitation.  HOWEVER, EZfacility's reporting functionality is far better than all other gym management software systems I have tried.  So my message to EZfacility is this… yes your reports are decent… but there is room to improve.  They could be a lot better (easier to generate, better organized, easier to view.)  But then again, EZfacility's reports are still better than other gym management software I have tried (such as Mindbody).
Sales Portal – EZFacility Review
EZFacility's sales portal is good once you have already integrated a customer.  E.g. customer repurchases.  In contrast, software like Mindbody and Woocommerce have a very strong front end.  To be fair, EZFacility recently took steps to improve their client facing purchase functionality.  KEEP GOING.
Once you have retained the customer, teaching them how to buy more sessions is very simple.  Woocommerce is a very heavy weight plugin and it slows down our website considerably.  It would be nice if EZFacility could make their front end better so that we wouldn't need Woocommerce.
Client Reservation – EZFacility Review
Clients can reserve their sessions in person, through the mobile app, and through the EZfacility Portal.  This part of the portal works very well.  It's very fast and easy to navigate.  It's on par with other high end gym management software applications.  On the administrative side, you have a good amount of options.
Client Reservation – UX
Umm… hmm.  Do you like green :-).  EZFacility UX (user experience front end for the admin) is in need of a refresh.  It looks dated and old.  But it does work.  It doesn't crash.  It is challenging to find the settings you are looking for though.  With experience, you will find them.  A good analogy is comparing EZFacility's settings to the Apple iPhone.  I almost always have to google setting son my phone to find out where setting X, Y, Z is.  The same thing applies to EZFacility… except that EZFacility doesn't move settings like Apple does.  Once you learn where the setting you need is, it's is easy enough to find.  Better online documentation or a settings search feature would be nice though.
The schedule design works.  It's a simple design that looks like something from the 80s.  However, you can customize the colors.  Once again, it works.  All of coaches have been able to understand it.
Client Reservation – Intergrations
I'm sure you know by now, the lack of integrations is EZFacility's Achilles heel.  I am not sure how many people have the technical savvy to use integrations.  Lots of people buy Jeeps, but never take them off the street too.  I personally would hook EZFacility into our website, my cellphone, email software, etc.  EZFacility doesn't advertise it has integrations.  Can I ding EZFacility for not having integrations?  Hard to say.  If a company doesn't advertise or market it's good at feature X, is it fair to give them a lower rating because you subjectively want it?  Should you give a Ferrari a low rating because it's trunk space suck or it has terrible gas mileage?  My vote is no.  So EZFacility's lack of integrations isn't factored into this review.
EZFacility Review – Bottom Line
Bottom Line: EZFacility offer a very robust platform that offers strong administrative flexibility.  While we have considered using other gym management software applications, we haven't found a solution we have liked better.  We use EZFacility for personal training, and it works very well for that for function.  It easily scales for more personal trainers.  You can provide them with granular control options.  The Memberme App works well and it's fast.
Second Thoughts:  At $320/month EZFacility is on the expensive side.  When you are considering your gym management software, $320/month might look very expensive.  However, EZFacility doesn't skimp on features.  There aren't hidden charges or extra fees.
This review applies only to EZFacility TMS/TCMS Software.  I haven't used the other software packages that EZFacility sells.  EZFacility 4.0 or EZLeagues. ↩
Intergrations Not Included in Score.  I chose not to include EZFacility's lack of third party integrations like Zapier into it's overall score.  EZFacility doesn't advertise that it has great integrations or any integrations at all.  I personally find that annoying … I wish I could integrate Wordpress and EZFacility, but it's not currently possible.  I don't think it's fair to downgrade a review of a company based on what it doesn't do.  If integrations are extremely important to you, I'd recommend considering another Gym Management Software product like WooCommerce Bookings. ↩