This in-depth CrossFit Shoe Guide will help you make the right decision as to which shoes / sneakers are best for your CrossFit classes. Whether you are just starting out or been CrossFitting for years, this guide provides a great deal of first-hand information not available anywhere else. Inside, we review seven types of shoes for CrossFit: trainers, lifters, inserts, hybrids, road running shoes, trail running shoes, and barefoot shoes. We cover the categories and provide you with specific model recommendations based on our experience.
About the Reviewer / Author
The first thing you should consider when reading any review is who is writing it. I CrossFit, practice yoga, and I run both on the trails and on the street. I take care of my feet and have incredible balance from doing so. I'm 5'4″ and 175 lbs. I wear a men's 9 wide and generally prefer sneakers having a wider width.
And unlike 95% of the other sneakers guides out there, this article is written by a Level 3 CrossFit coach with 10 years of experience coaching CrossFit Classes. The article also isn't sponsored in any way, nor did I receive any sneakers in exchange for featuring them in this article.
I wrote this article, because I love CrossFit and I want to share my 12 plus years of experience with you. I'm 43 years old, and I'm in the best shape of my life. Why? Because I'm disciplined in my training, have an amazing community at Sand & Steel, and I'm committed to learning as much about CrossFit as I can. I hope you find this article helpful!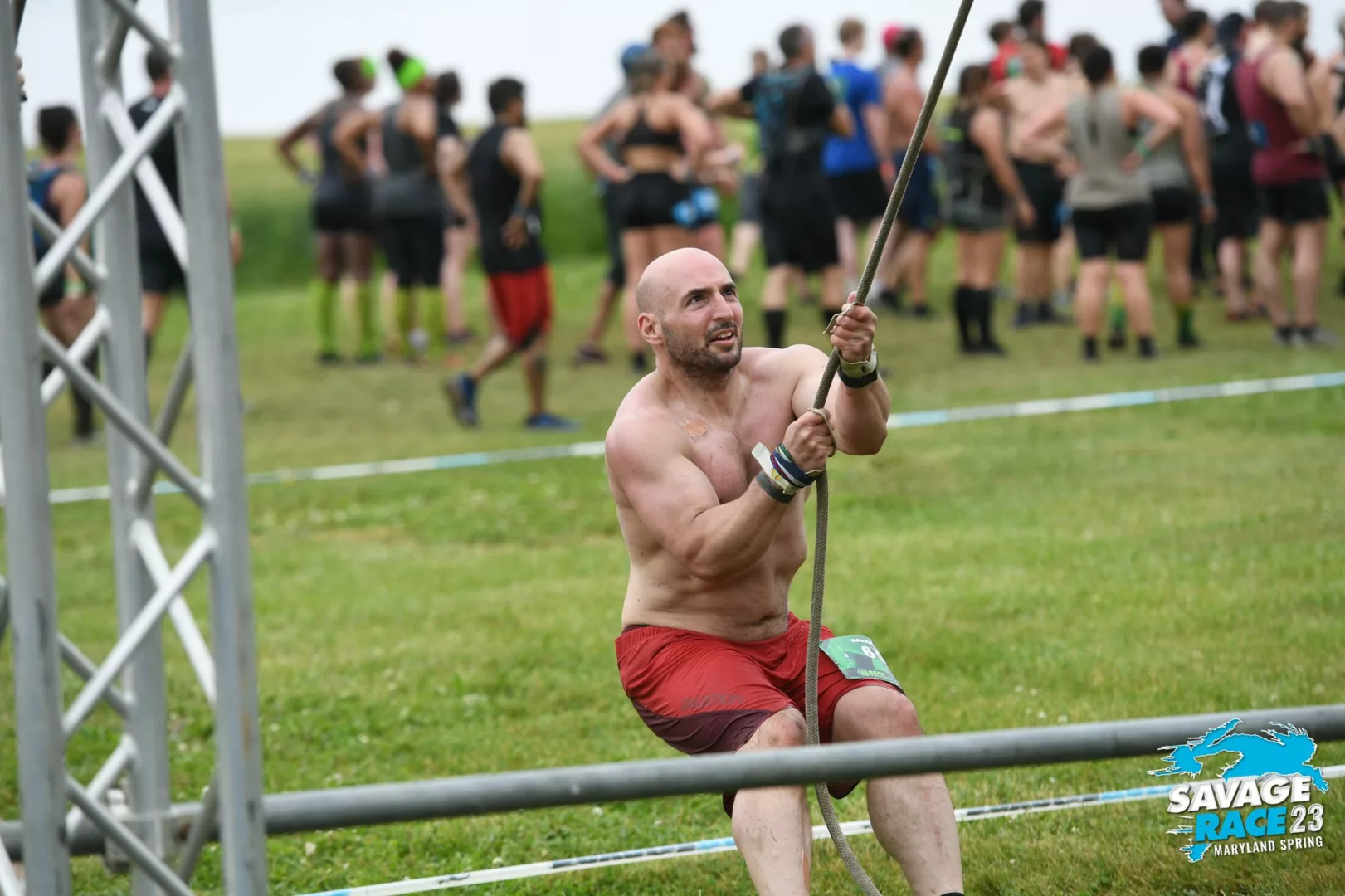 CrossFit Training Shoe ("Trainers")
Trainers are your bread and butter CrossFit shoe. Trainers are absolutely essential for CrossFit. CrossFitting without trainers is like playing soccer without cleats. I mean you can do it… but you are just exposing yourself to more risk of injury and leaving a great deal of performance on the table. Running shoes and general sneakers don't have the necessary density in the foot bed to perform weight lifting correctly. They also don't have the right kind of support for weight lifting either.
What Trainers Should I Buy and How Much Do They Cost?
In my opinion (and I have CrossFitted in well over 100 pairs of sneakers) there are only three choices in 2023.
Nobull Trainers
With millions of people CrossFitting, the CrossFit shoe market is quite competitive. As of the date of publication of this article, the Metcon 8, Nano X2, and Nobull Trainer are the best shoes I've used to date.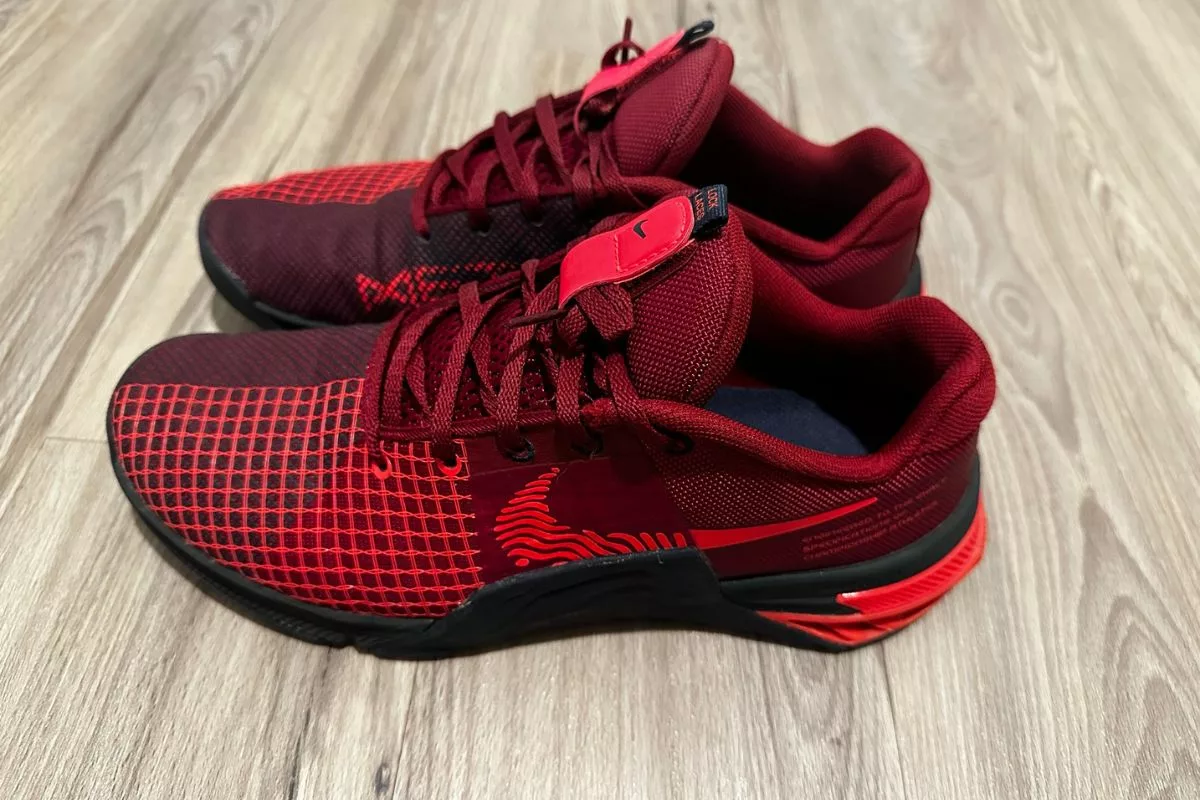 Nike Metcon 8
Of all the shoes available, I think the Metcon Amp 8 is the single best shoe right now. It balances everything properly and is my choice for a heavy weight lifting workout when I can't wear my lifters.
The fit on the Nike Metcon 8 is a little snug on the uppers. I wear "ultra-light" to "light" running socks with them and they fit just fine.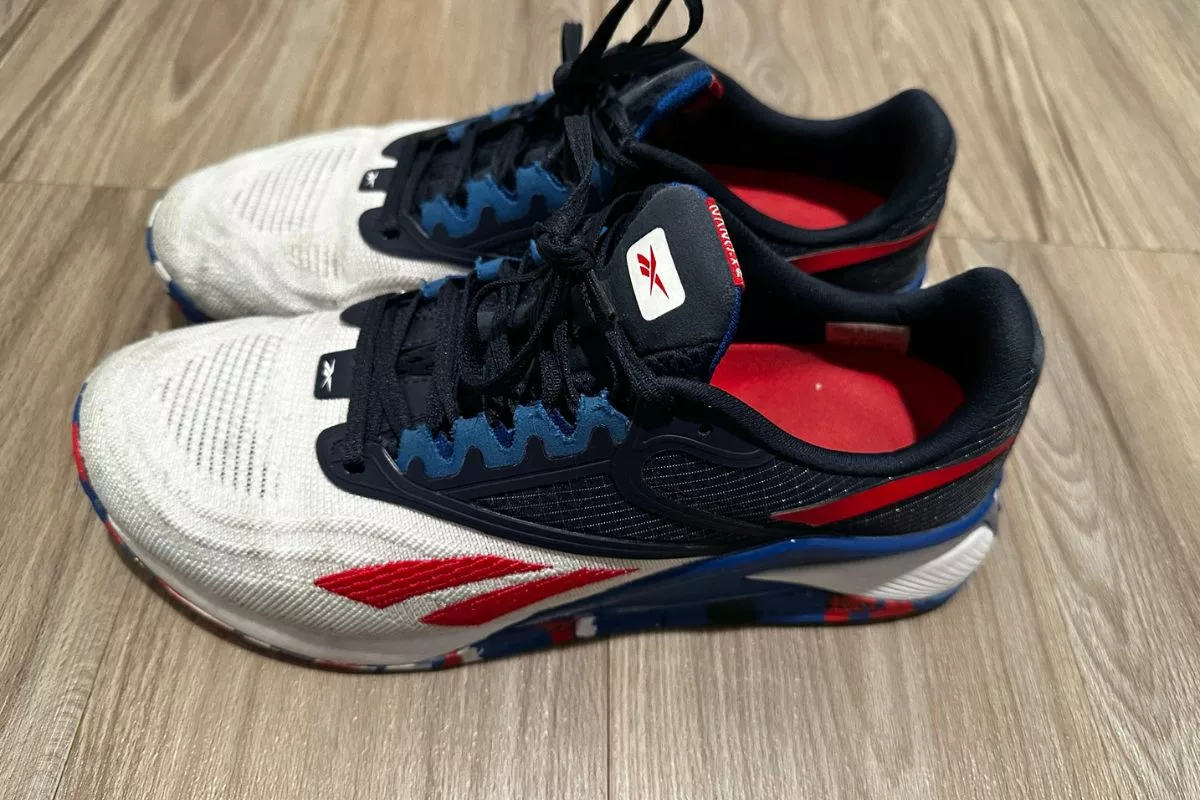 Reebok Nano X3/X2
The Reebok Nano has been with us for 13 generations and has at times been the best trainer available. It has also been terrible at times. The most recent Nanos are the best ones I've used and they bring back the love I had for the 3s and 4s.
Compared with the Nike Metcon 8, the Nanos are my choice for conditioning based workouts like box jumps, double unders, and lighter lifts. That's not to say you can't lift heavy in the Nano's, I just prefer the Metcons.
Reebok markets the Nano X3 has a revolutionary shoe with it's compressive heel for running. The technology works if you are a bad runner. Good running form has the athlete mid-foot strike and kiss the floor with his or her heel. It's not necessary to make a compressive heel if you are running correctly. Most poor to moderate runners heel strike, in which case the Nano X3 is a little more forgiving.
The Nano X3 is not a running shoe, it's a swiss army shoe, and its good at that particular role.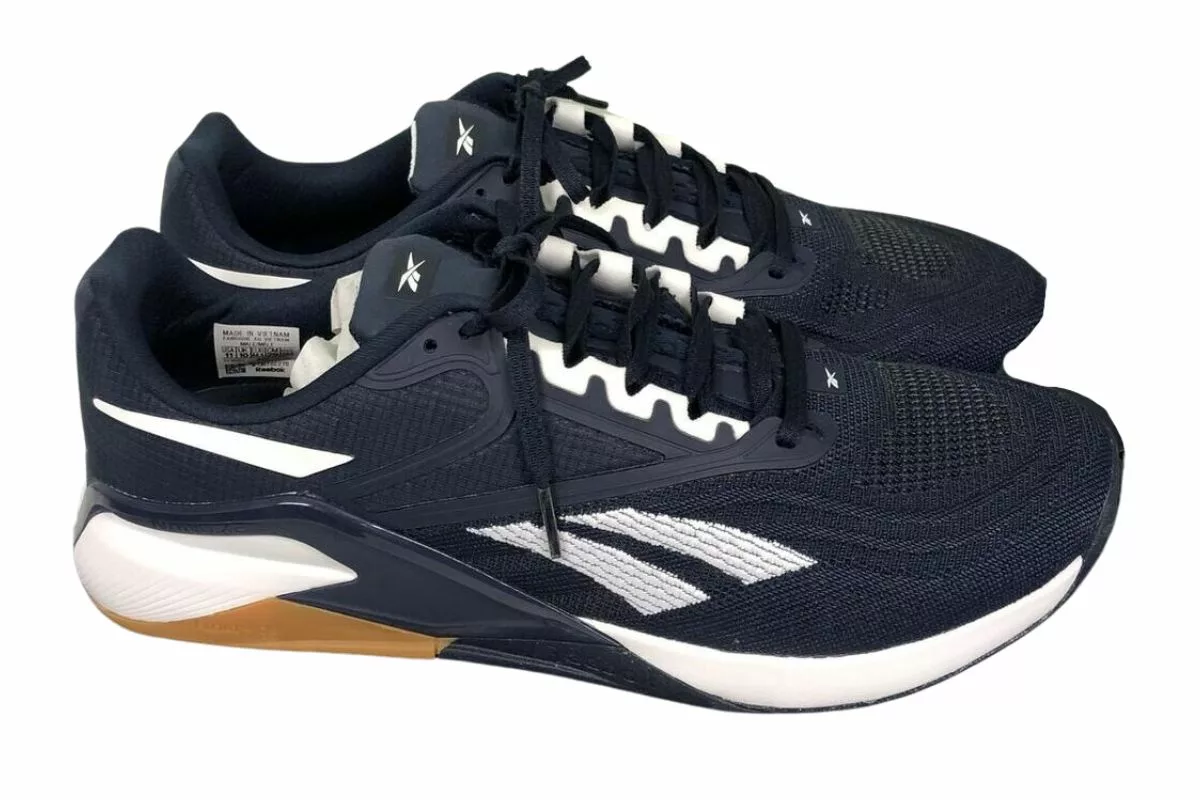 Reebok Nano 2
I haven't tried the Nano 2s, but from what I've read, they are similar in design and technology to the Nano 3s. I'm not 100% sure why Reebok decided to take a step backwards with this shoe (although the Nano 3s were very impressive when they first came out.) If I wasn't happy with the fit of the X3 or Metcon 8 (or hated the design), I'd try out the Nano 2.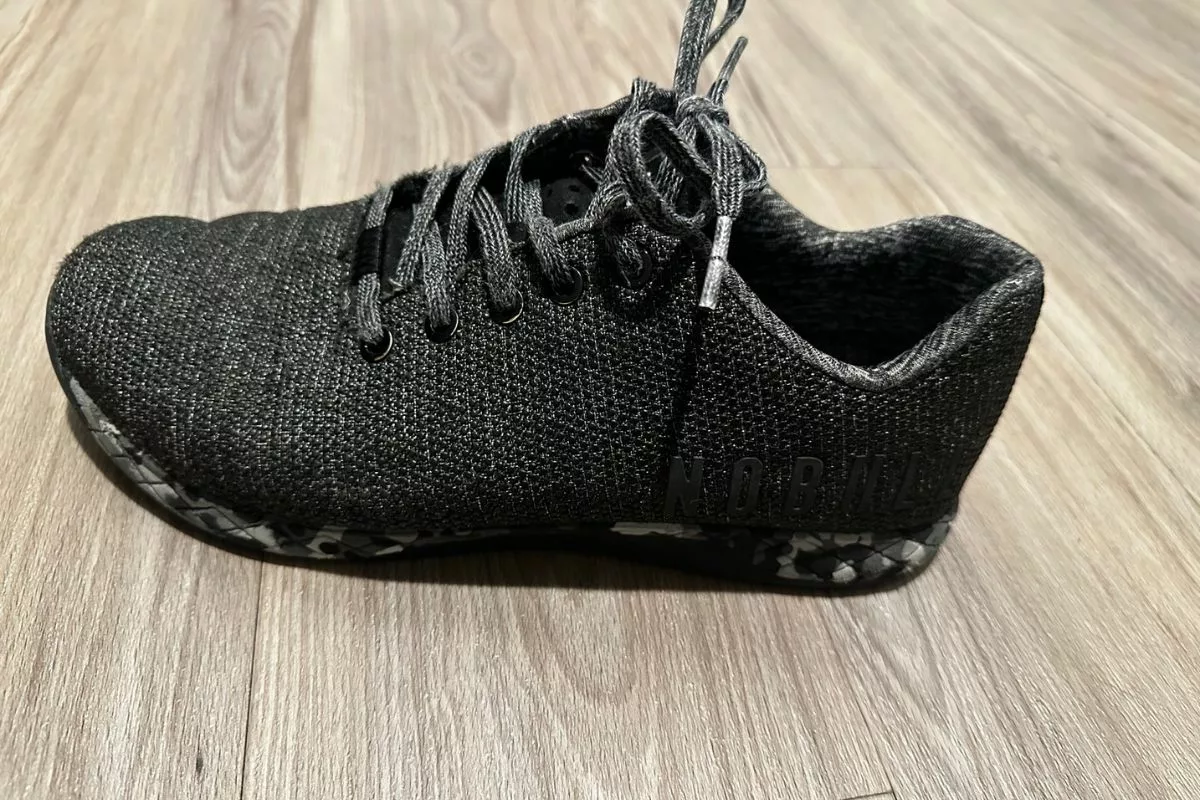 Nobull Trainers
The new Official shoe of CrossFit… only third on the list? The current generation of their trainers uses older technology. Maybe 3-5 years old. When they came out, they were the best shoe around. Better than the Metcons and Nanos of that time. But, Reebok and Nike did not rest on their laurels and they built a better CrossFit shoe.
What about the Trainers+? Nobull makes a trainer+ shoe with more advanced technology. The toe box and top is very narrow. The shoe is actually far superior to the regular trainer, but it doesn't fit me and doesn't fit people with normal width feet. If you have narrow feet, it might be your best choice.
TYR Trainers (CXT-1)
I haven't worn these shoes and I don't know anyone who has them. So I can't comment on them. I suspect they might be similar to the CrossFit Nano 2.0. I've read good things overall, so they are definitely worth your consideration.
Innov8
I bought a few pairs of Innov8s about 4-5 years ago (around the time Reebok was making the dreadful Nano 5's and Nano 6's). I've never been impressed with the Innov8s and haven't used them since. They are not used by many athletes at our gym. I don't know if Innov8 has improved their CrossFit shoes, but I'd be surprised if they were on par with the Metcon 8 or Nano X2/X3.
Lifters
Nobull Lifter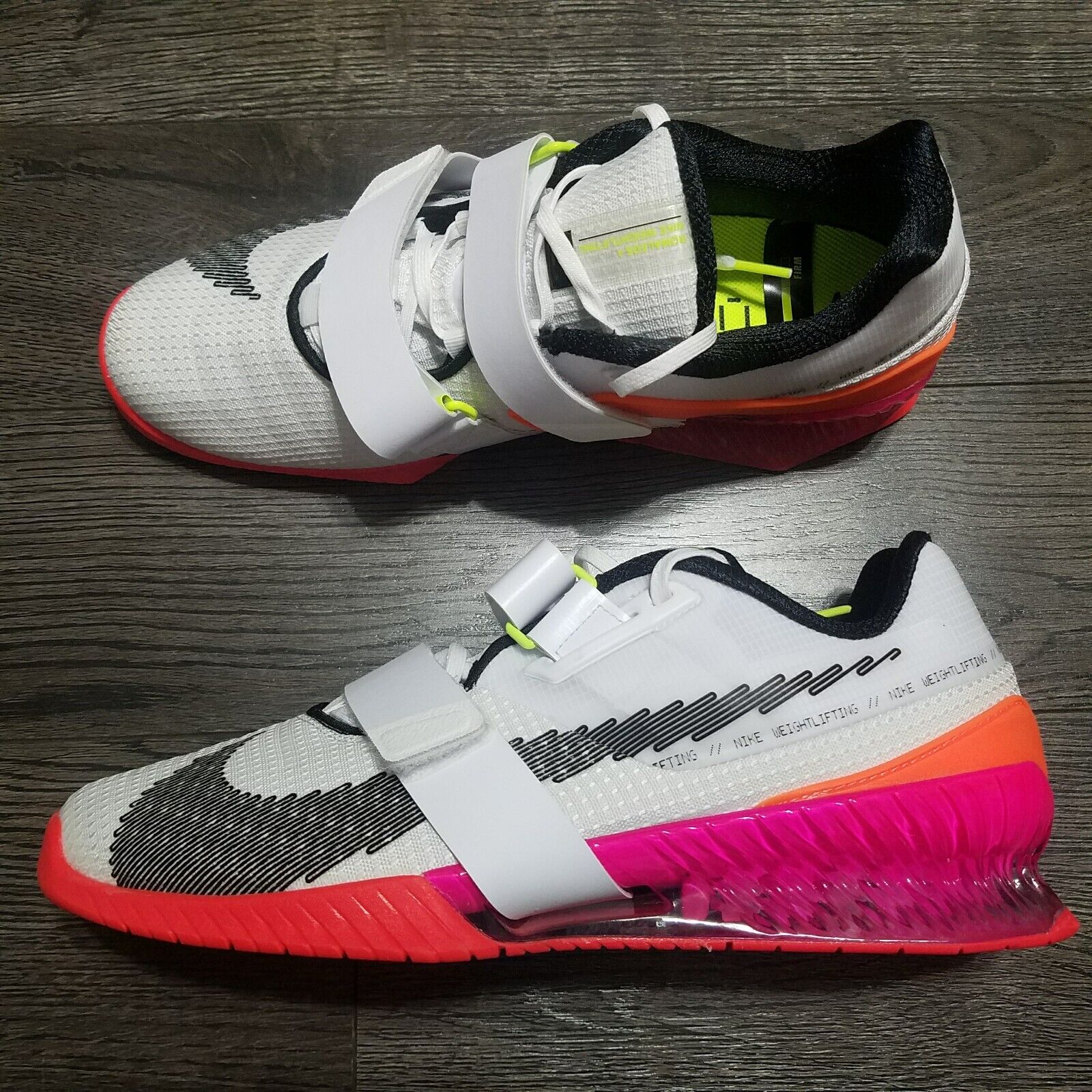 Nike Romaleos 4
I have been lifting in the Romaleos for many years. They have consistently provided everything I've wanted in a lifting shoe… with the exception of the $200 price tag. Are they worth it? Yes. If you want to lift better at the back squat, front squat, clean, jerk, or snatch. Lifters are much more stable than trainers and far more effective and helping you deliver power to the bar. I have the 3s and they are really good. Although I believe most people prefers the 4s and 2s over the 3s.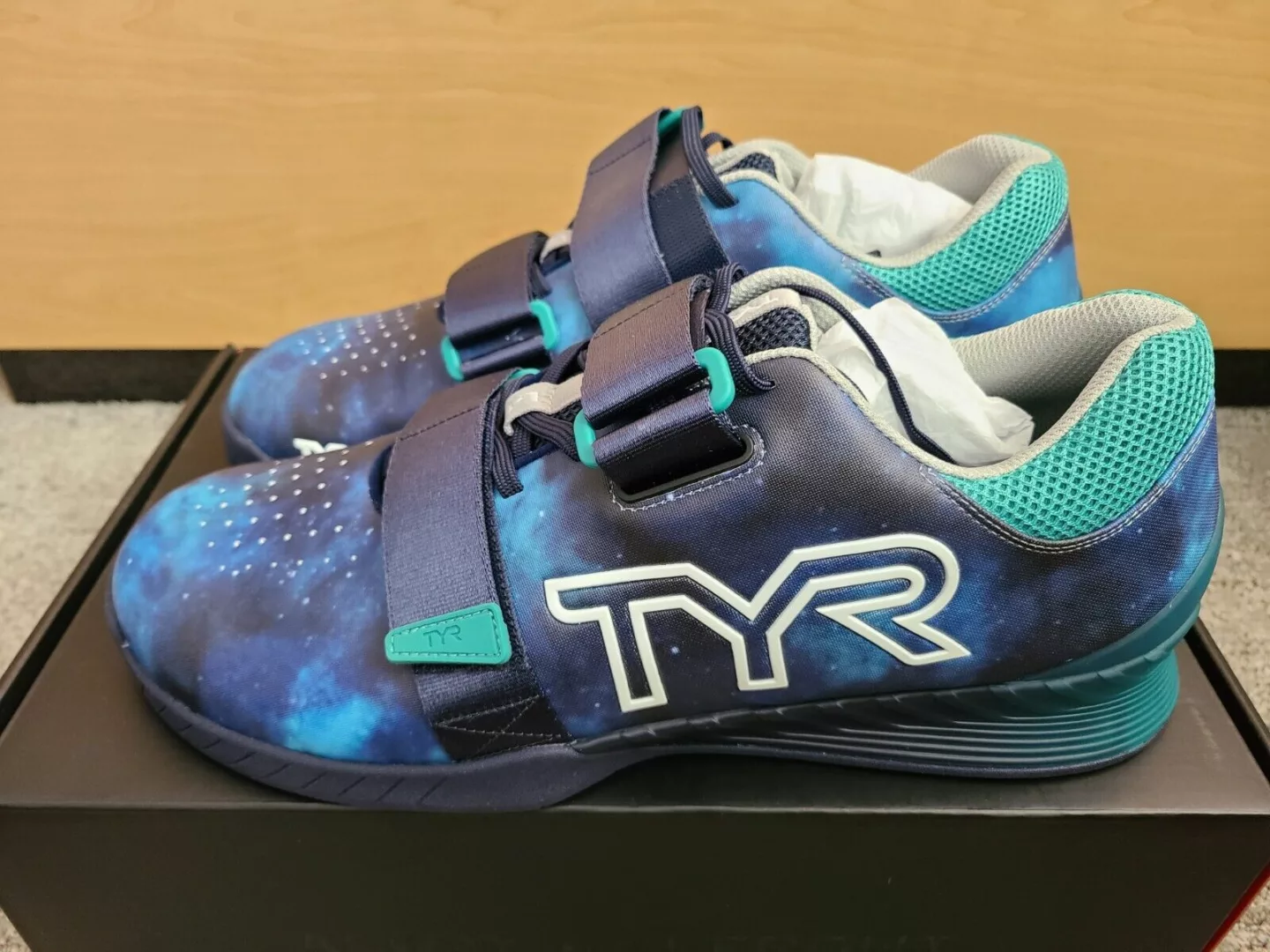 TYR L-1 Lifter
I haven't tried the TYR model yet, but I did just order them! From what I've read, they are slightly softer and more flexible than the Nike Romaleos. They also have a special wide toe box which sounds great to me. I just ordered them in Wodapalooza Purple. Definitely a love or it hate it design. The TYR L-1 Lifter comes more conservative colors as well. I'm expecting great things from these shoes. I suspect they'll be better in CrossFit based workouts, but not quite as good as Romaleos for heavy back squats. We'll see.
Nobull Lifter
The Nobull Lifter is a newer model weight lifting shoe. They came out maybe 3 years ago. If the Romaleous and the TYR didn't fit me, I'd try out these. When they first came out they were like $225. The newest model is at a jaw dropping $299. I know that sounds like a lot, but these one of the nicest looking sneakers / shoes I have ever seen. I might have to try them on at the CrossFit games. From the reviews I've read and the pictures, these shoes seem to have a narrow toe box, so they probably will never be a shoe I'll purchase.
Reebok Legacy Lifter III
I had the Legacy Lifter Is for a while. I picked them up at a discounted price. In truth, I never really liked them. In nearly all comparisons, I found my Nike lifters to be a better shoe for me. Maybe the new Lifter III is better. There are many people who like them.
Adidas Powerlift III and V
Narrow toe box. I cannot even get my feet into these shoes. The people I know who use them have bunions. I don't know why shoe companies continue to make narrow toe shoes. So unless you are sporting some super skinny feet, I'd recommend you try something else.
Do Win / Innov8 Fast Lift
Do Win makes a less expensive lifting shoe. One of the members in my gym have them and they really enjoy them.
I don't know anyone sporting the Innov8 Fast Lifts, so I don't have any first hand information to share.
Inserts – Versalift & Hyperlift
These are inserts for your trainers. They are specially designed to decrease the ankle mobility requires for a full depth squat. They also improve power delivery with heavier lifts. They slip into your shoes very quickly and they do not move around.
They are great for a workout that has heavier barbells and another exercise that prevents you from picking your lifters. Front Squats and Double Unders for example.
They aren't a replacement for dedicated lifters, but they do halfway decent job at improving the power delivery of standard trainers. Highly recommended especially if you have limited ankle range of motion or tight calves.
I can't really see much of a difference between the Hyperlift and Versalift. They are both good.
Hybrids
Running is a part of CrossFit. Get over it. Running is in the Games every year, and it's been a part of CrossFit since 2001. None of the trainers above are good for running. They all suck for running about equally. The shoe companies know this and are trying to build a shoe that can do it all. It hasn't been done successfully, and I don't think it ever will. In truth, I don't think it's possible to build a good hybrid shoe. The needs of the running and CrossFit are simply too divergent. What you can do is buy a good pair of running shoes for run-based CrossFit workouts and good pair of trainers for everything else.
So what about the Hybrids?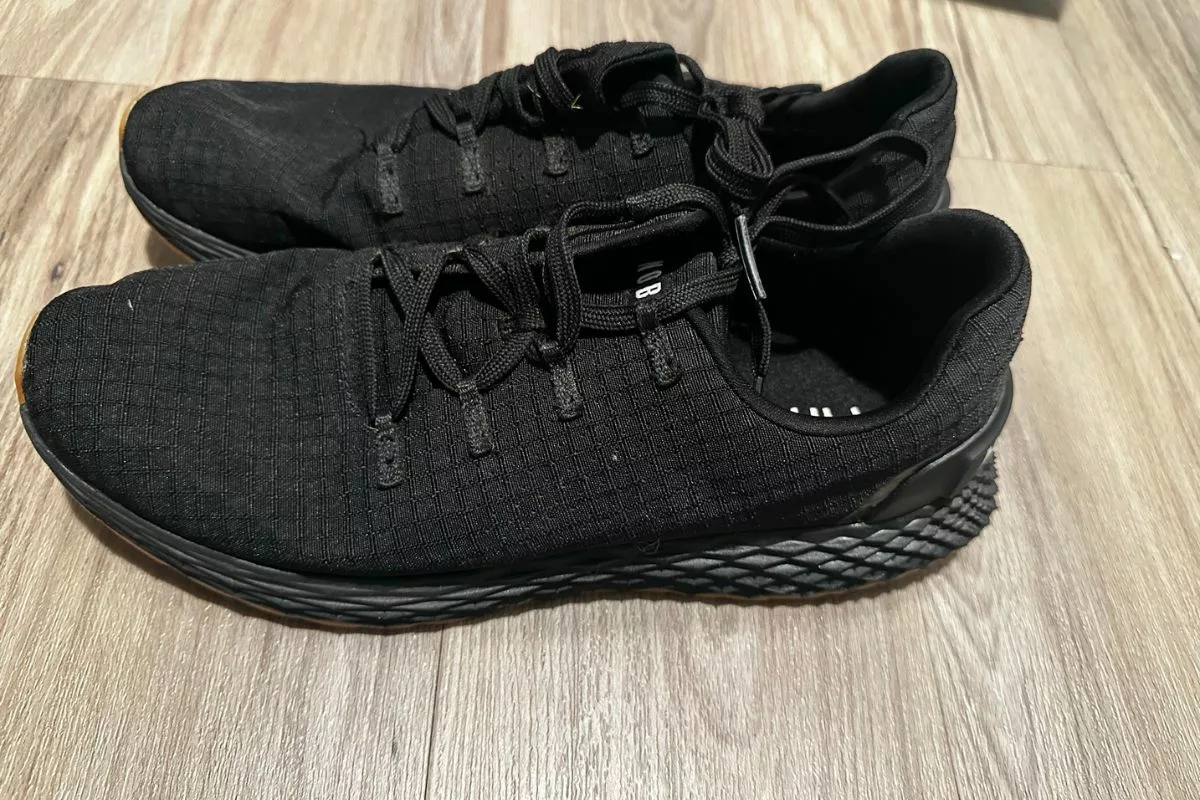 Nobull Ripstop Trainer
The Nobull Ripstop runner looks great, but it's a weak running shoe compared to brands like Brooks and Saucony. It's much more of a running shoe than a trainer as well. The only major thing I can add is that the top of the shoe has materials that resist damage from rope climbs. Rope climbing in your running shoes is a mistake. I bought them, wore them twice, and haven't worn them since :-(. They do look pretty sweet though.
Road Running Shoes
Brooks Adrenaline GTS 22 / 23
Nike Free Run 2018
There are many brands of road running shoes – each designed for various reasons. For CrossFit, you'll be looking for a stability control shoe with moderate cushioning. I've tried many different running shoes (I've run plenty of 10Ks and half-marathons.)
Brooks Adrenaline GTS
The Brooks Adrenaline GTS is a legit running shoe by all margins. It competes with the best running shoes on the market from Nike, Hoka, Saucony, New Balance, etc. It performs adequately for lighter weight lifting exercises and fine for gymnastics workouts.
Honestly, I don't think you need to consider other brands of running shoes for CrossFit workouts. I've tried all of Hokas offerings, but none were as good as the Brooks. If I were going to look at a new brand, I'd probably check out Nike first. I'd probably buy the Pegasus first since it comes in a wide width. For races, I'd like to try the new Vaporfly 3, but it'll probably be too narrow for my feet. I know a lot of people that run in them, and they are very fast. They probably won't be a great shoe for run based CrossFit workouts because of all the cushioning though.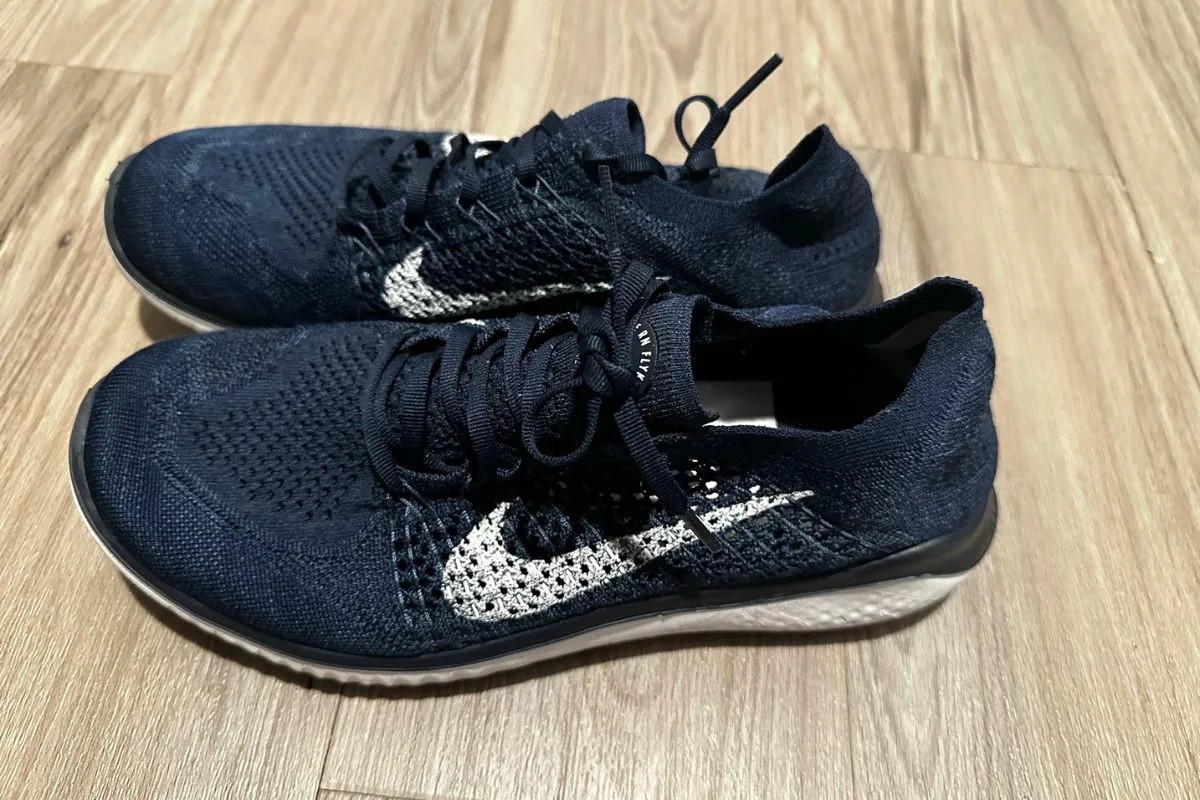 Nike Free Run Flywire
I have the Nike Free Run 2018 and they fit nicely. They are a very fast shoe with minimal cushion. They are another good choice for run based CrossFit workouts, although I prefer the newer Brooks models.
Trail Running Shoes
You don't need trail running shoes for CrossFit, unless you are planning on doing some trail running or obstacle course races. If you are planning that kind of training (which pairs great with CrossFit btw), my favorite two sneakers for trail running are the Brooks Cascadia 17s and the Salmon Speed Cross 6s.
Barefoot Shoes
What about the barefoot sneakers like Xero and Vivobarefoot? Strong pass. Your CrossFit box has a very solid, concrete floor. Barefoot shoes have a strong place in your closet for helping your feet function better. In my experience, they just don't have enough support to handle the plyometrics involved with CrossFit training.
Yes, human feet would function better barefoot. On natural surfaces and on natural activities, I think barefoot shoes have a solid place as a training tool. CrossFit takes place on a cement slab. That's neither a natural surface nor a natural activity. Some of my members wear them and they like them. From what I've seen, most members experience a performance drop from moving from a trainer to a barefoot shoe. So honestly, I can't recommend them.
Conclusions
The first shoe to buy for CrossFit is the trainers (the Metcon 8s or the Nano X3's). Then I would buy some Versalifts for $30. From there, it's a tie between lifters and road running shoes.
Have some personal experiences with these shoes? Please leave us a comment below.