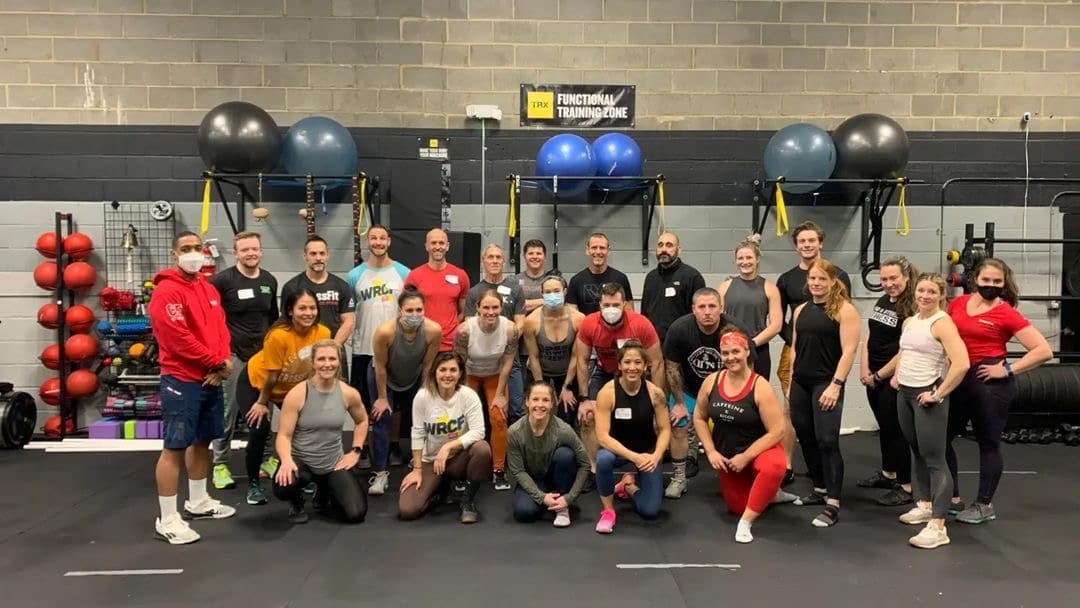 Scaling Beginner and Advanced CrossFit Classes
Do you want to get in shape quickly? We have Beginner accessible classes every day. We know you've heard by now that if you want to get in shape quickly — you need to join a CrossFit Box. But if you aren't in shape — how can you get in shape safely? Is CrossFit safe if you are a total beginner?
Yes, because of a principle called scaling. Scaling is a training principle of CrossFit where we preserve the intended stimulus of the workout, but we modify the load, reps, or technical requirements of the exercise to make it better for you. Scaling is also called adjusting or modifying a workout.
To successfully provide a workout that is accessible to beginners and advanced athletes, we consider the scalability of the workout from the outset of its design. Here is the same workout in three different levels.
Rx Level
For Time:
21-15-9-6-3 Reps
• Barbell Front Squats
• Burpee Chest 2 Bar Pullups
Time Cap: 20 Minutes
Barbell Weight: 155 ♂ / 125 ♀
Intermediate
For Time:
21-15-9-6-3 Reps for Time
• Barbell Front Squat
• Burpee Pull-Ups
Time Cap: 20 Minutes
Barbell Weight: 105 ♂ / 80 ♀
Beginner
For Time:
21-15-9-6-3 Reps for Time
• Dumbbell Front Squat
• Burpee + 3 Hanging Knee Raise
Time Cap: 20 Minutes
Dumbbell Total Weight: 50 ♂ / 40 ♀
Through the principles of scaling, we can safely coach a workout with different level athletes, because each athlete gets a scaled version of their workout. Basically, the Level 1 workout is lighter and easier to learn than Level 2. Level 2 is lighter and easier than Rx. Rx means "as prescribed with no scaling."
Beginner Athletes
New to CrossFit, deconditioned (e.g. very out-of-shape), one more mobility restrictions or previous injuries. Unfamiliar with barbell technique and bodyweight exercises may be challenging.
Intermediate Athletes
Familiar with some scaling options, six months or more recent CrossFit experience, in shape, knowledge on how to manage mobility restrictions of previous injuries.
Rx Level
One or more years of CrossFit experience. Able to perform all major bodyweight exercises and able to complete workouts with the prescribed time limits at the Rx level.
Progressing to the Next Level
All athletes progress to the next level at their own pace. For some workouts you might be at level 1, other workouts you might be at level 2. During the warmup, you'll have a chance to practice the exercises used, and determine a good scaling for your workout.
During the warmup and skill work the coach will tell you how many reps of a given exercise you should be able to complete unbroken or within a given time. Please follow your coach's advice and adjust your reps and load accordingly.
What Rank Are You?
Did you know you can view your CrossFit Rank right in the Zen Planner App? Yep. Just click Attendance and you can see your Current Rank and how many more sessions you need to qualify for the next Rank Test.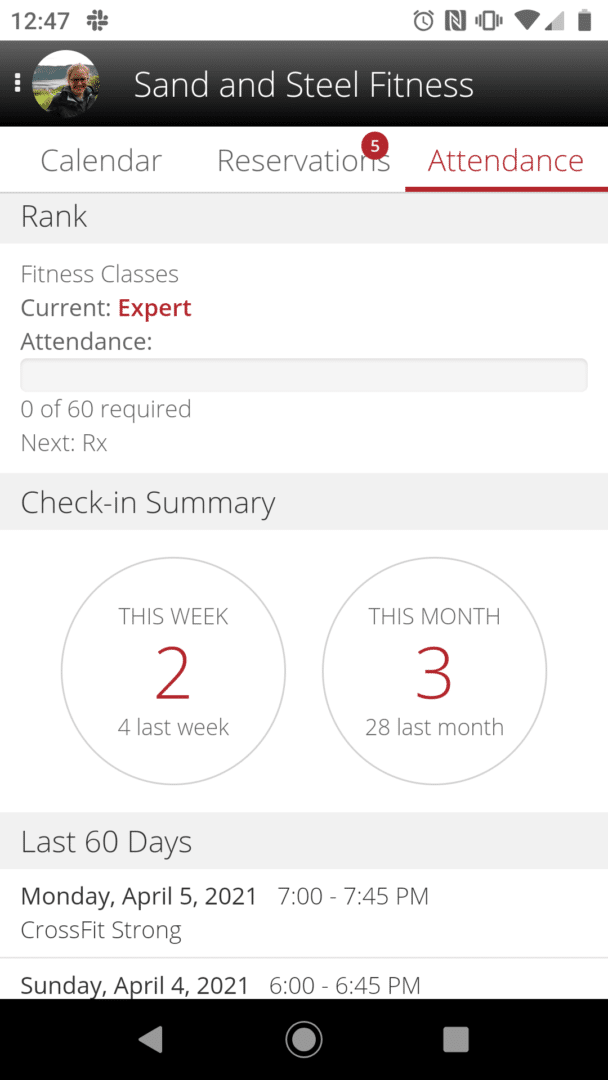 Can I Make My Own Adaptions for the Scaling?
Yes, but always talk with your coach first before applying any custom scaling to a workout. We want to make sure you are safe. You can always scale reps, distance, or load so that you can safely and effectively complete a workout.
Where Can I Preview CrossFit Sand & Steel's Workouts?
There are three ways you can view our workouts before you come to class. CrossFit Beginners should definitely check this out to prepare for the workout.
Subscribe to our Newsletter WOD list and you'll be emailed them every day at 9PM.
Members have access to our workouts through SugarWOD.
You can view them on our Workout of the Day Page.