I started at Sand & Steel Fitness back in July 2020, just after gyms started opening back up, and I have never been more impressed or more motivated to keep coming to a gym.
Just a little back story…I have had multiple memberships with big box gyms, personal trainers, local workout clubs, etc. I would stay motivated for a time but inevitably something would cause me to stop, whether it was getting tired of working out, injury, or some other excuse. In the year I have been at this gym I have never once felt that I wanted to stop. I have continued to progress from personal training which worked on my mobility moving to classes which has helped me gain endurance and strength.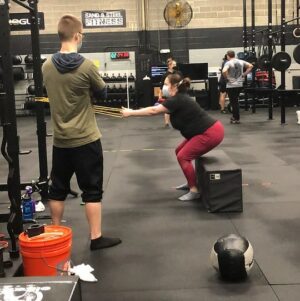 July 2020 was probably the lowest point of my fitness level due to several factors: stress at work, COVID-19, and poor physical conditioning from years of inactivity. I would get out of bed in the morning and everything would hurt: my back, feet, hips, etc. As some gyms were beginning to reopen during COVID-19, my husband and I debated whether to join a gym or buy our own equipment for home. We ultimately decided to pursue a gym that offered personal training so we could work on some mechanics before considering classes, and we contacted Sand and Steel based on their reviews and offerings. 
This is Me at a Full CrossFit Metcon Class
To start off, we both met with Paul for the Gym Tour and Consult where he explained everything that the gym offered and showed us around so we could familiarize ourselves with the equipment. When we decided to sign up, the process took a member-focused approach to determine what we (individually) wanted out of the experience This included discussing prior injuries, mobility issues, and our fitness goals. This was a good sign, because it was tailored to the individual, versus my previous experiences that was a one-size fits all approach. Personal training allowed me to start working on my mobility, as I was unable to even perform a proper squat due to back/hip pain. Every personal trainer I worked with was able to break down all exercises to a level that I was comfortable with and was physically able to do. This attention to proper form and movement isn't isolated to one-on-one personal training; coaches take the same approach for classes too. If the member can't (whether due to injury, fitness level, or mobility) the coach will scale down to an appropriate exercise that you will be able to perform safely, while targeting the same muscles groups as the original exercise.
This gym delivers on it's promise that anyone can join this gym and make strides to becoming stronger, more fit, and healthier. It was one of the best decisions that I could have made, and I cannot recommend this gym enough!
Here is a video of me sassing Paul (the owner and one of the class coaches)
What do I like most about Sand & Steel?  They get me.  They know it's hard for me, they are patient, and we are all friends inside and outside of the gym.  They have kept me safe for my first year, and they keep pushing me to get better.