25 CrossFit CrossFit Workout Programming Examples.  A comprehensive article covering almost every type of CrossFit workout we do in Alexandria VA. If you are a CrossFit Coach you'll find this article very helpful for adding variation to your CrossFit Classes.  If you're new to CrossFit, this article will help you understand the various types of workouts available to your CrossFit Coach.  We cover esoteric workouts like Fight Gone Bad & Death by Reps.  Workouts standards like Tabata and Hi-Low are explained in detail.  And of course we'll share programming tips on fancier variations such as AMRAP with Buy-in.
25 CrossFit Workout Programming Examples
When programming a CrossFit workout, a skilled has many different options available at his or her disposal.  At the heart of every CrossFit workout is safety and efficacy.  But a really good workout has something more.  Something that makes the workout exciting to do, tough to finish.  Sure you can all workouts as 4 sets of 10 reps, but where is the fun in that?  When workouts are fun, you can push harder.  And pushing harder, driving intensity, through intelligent programming choices is what makes good programming special.  So here are the top 25 types of workouts that we do.
Our CrossFit Membership and Workout Plans
---
RFT Rounds for Time: CrossFit Workout Program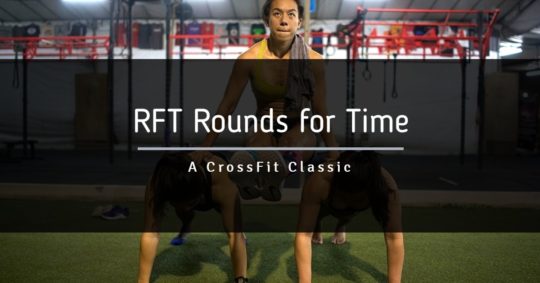 RFT: Rounds for Time
Probably the most basic CrossFit Workout – Rounds for time require you complete multiple rounds.  Each round has the same exercises and the same reps.
Scoring: The amount of time to finish all the rounds.
There are hundreds of amazing Rounds for Time workouts.  I've listed some of my personal favorites.

Helen
3 Rounds for Time:
Run, 400m
21 Kettlebell Swings, 1.5/1 pood
12 Pull-ups
Nancy
5 rounds for Time:
Run, 400m
15 Overhead Squats. 95# ♂ /65# ♀
Christine
3 Rounds For Time
Row 500m
12 Deadlifts (bodyweight)
21 Box Jumps (24"/20")
Nasty Girls
3 rounds for time of:
50 Squats
7 Muscle-ups
135 lb Hang power cleans, 10 reps
Heavy DT
5 rounds for time of: • 12 deadlifts • 9 hang power cleans • 6 push jerks Men use 205 lb., women use 145 lb.
---
RFT: Same Exercise with Varying Reps (e.g. 21 – 15 – 9)
Generally 2 or 3 exercises with varying reps per round.
Fran made this sequence super popular with CrossFits 21-15-9.  Other common sequences are 30, 20, 10.  Longer variations might be 21, 19, 17, 15.  We see this workouts in CrossFits in Alexandria all the time.
Scoring: The amount of time to finish all the rounds.
Fran: CrossFit Girl
21-15-9 reps, for time of:
Thruster, 95# ♂ /65# ♀
Pull-ups
Annie: CrossFit Girl
50-40-30-20-10 reps for time of:
Cindy XXX
Complete as much as possible in 20 minutes of:
10 Pull-ups
20 Push-ups
30 Squats
15 Pull-ups
30 Push-ups
45 Squats
20 Pull-ups
40 Push-ups
60 Squats
25 Pull-ups
50 Push-ups
75 Squats
30 Pull-ups
60 Push-ups
90 Squats
---
Subscriber Only Content
This remainder of this article (there is about 90% more workouts below) is subscriber-only content, so if you are enjoying, please login so that you can access the rest of the article for free.