5 Pro Tips on finding a powerlifting Gym in Alexandria VA.  Powerlifting gyms, Olympic lifting gyms, and CrossFit gyms are different than joining a mainstream gym like Onelife Fitness or Gold's Gym.  Most of these gyms don't have an "open gym" membership, and those that do usually offer limited hours.  Here's how you find the best powerlifting gym when travelling to a new city.
Tips on Finding the Best Powerlifting Gym in Alexandria VA

Gyms in Alexandria VA and other similar cities like Arlington, Fairfax, and really all of Northern Virginia try to optimize their Google search rank for just about every terms you can imagine.  Some gyms are better than others at this.  So while Google can be helpful with search phrases like:
Powerlifting Gym Alexandria VA
CrossFit Gym Northern Va
Olympic Lifting Gym Near Me
Often, you won't find the best the gym on top.  Rather you'll find the gym with the most optimized website on top.  Google can still help you though with their image search.
Tip #1 Use Image Search for Gyms in Alexandria VA
Nearly all gyms in Northern Virginia are on Google and Yelp.  They all have reviews like the ones you see below.  You can view images of your new potential gym.  How a gym is laid out (especially for powerlifting, CrossFit, and Olympic lifting) will tell you a lot about the main services a gym offers.  How many squats racks do you see?  Do you see CrossFit gear like Olympic rings in the pictures, etc.
Also, look at where these pieces of equipment are in the gym.  Are they back corner of the gym?  Or are they upfront where members will use them.
Tip #2 Look at the Certifications that the Owners Have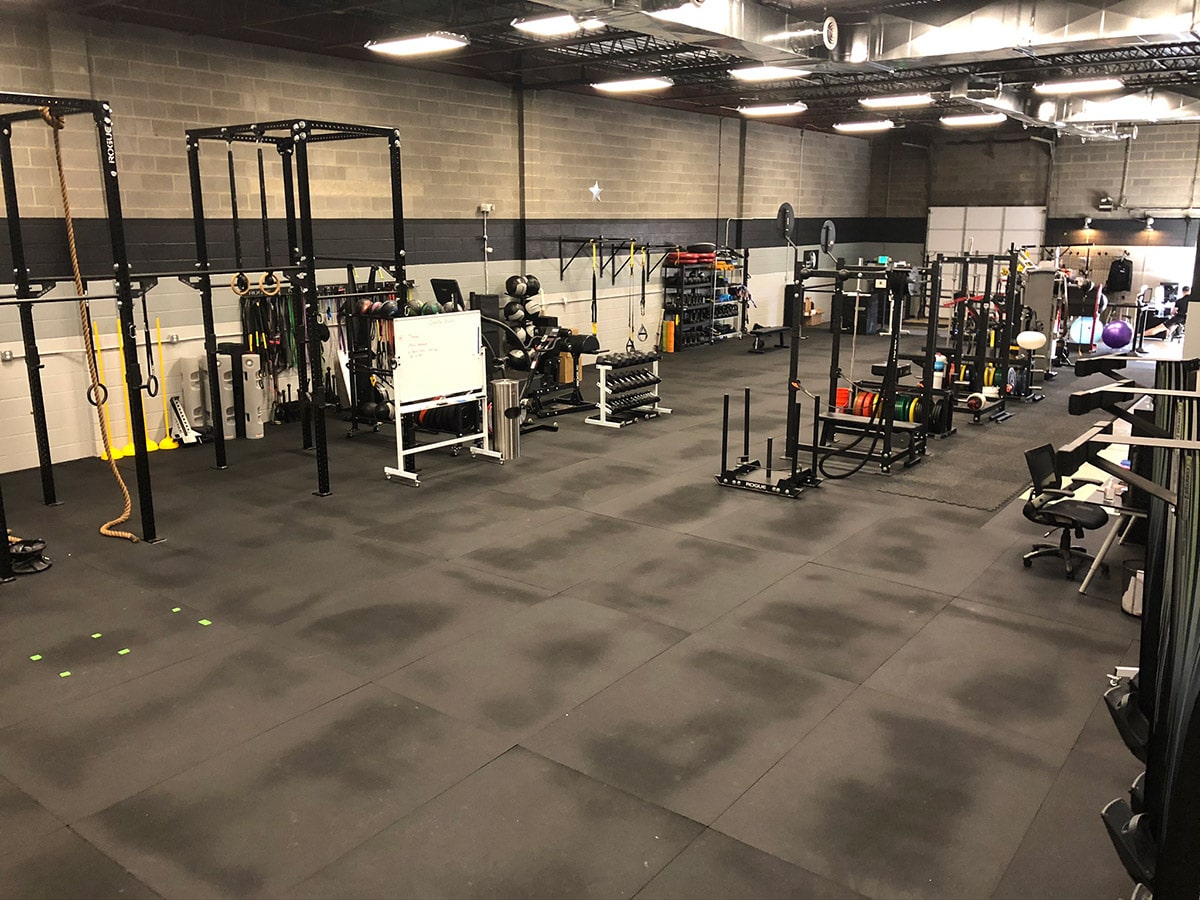 Owners that are passionate about a type of fitness (such as Powerlifting) will have certifications in the type of fitness their gym offers.  In our Alexandria VA, we hire coaches with CrossFit, Powerlifting, and Olympic lifting certifications.  For Powerlifting: CrossFit Powerlifting, USA Powerlifting, and Starting Strength are ones to took for.  CrossFit: CrossFit Level III or IV are your premium certifications.  Olympic Lifting: Catalyst Athletics or USA Weight Lifting are your best ones.  Or if you are looking for mobility, Kinstretch, FRC, and Ready State are some of the premier Mobility Certifications.
Tip #3 Check The Gym's Online Calendar for Open Gym or Class Times
A Powerlifting gym that offers Open Gym will have both Powerlifting Classes and Open Gym.  They may even offer a barbell club such as our gym in Alexandria VA.  Nearly all gyms in Alexandria Virginia utilize an online scheduling system like Zen Planner to allow you book and cancel reservations.  If you don't see a Powerlifting Class or Open Gym service, it's time to move on to your next local gym.
Tip #4 Clear Pricing for Open Gym, Barbell Club, and Classes
Gyms in Alexandria always put their best selling memberships first.  We sell more personal training than any other type of membership.  So we list that first on our prices page.  Second, Third, and Fourth are our classes, open gym, and barbell club memberships.  If the kind of membership you are looking isn't popular (and therefore not on the top of the gym price list), then the gym won't prioritize you as a member.
Barbell Club, Open Gym & Fitness Classes
[easy-pricing-table id="130086″]
Tip #5 Check The Gym's WODS for Current Programming
Most gyms in Alexandria VA will feature a WODS page or listing of past / future workouts.  Our future workouts are available on workout of the day page.  Our workouts for July are featured in the table below.  A gym that can't show you the past two weeks of programming they did, probably isn't a gym that you want to join.  If they tell you their instructors have it, or they don't keep track of it — keep looking for another gym.
| Date | Workout Name | Workout Description | Exercises |
| --- | --- | --- | --- |
| 7/23/2020 | Beyond Stretch: Shoulder Correctives | This beyond stretch session is all about strengthening your shoulders to protect you from injury. Well be doing corrective exercises to isolate small muscles in the shoulders to make them stronger. | Muscle-Up |
| 7/18/2020 | Strong: Bench Press 3x3 | Bench Press for load: #1: 3 reps #2: 3 reps #3: 3 reps | Bench Press |
| 7/18/2020 | CrossFit Class: Lynne | 5 rounds for reps of• Benchpress bodyweight (max reps)• Pull-ups (max reps) | Bench Press, Pull-up (Kipping) |
| 7/18/2020 | CrossFit Class: Row 2000m | Row 2000m | Row |
| 7/16/2020 | Strong Powerlifting Gym: Box Squat 5x5 | Box Squat for load: #1: 5 reps #2: 5 reps #3: 5 reps #4: 5 reps #5: 5 reps | Box Squat |
| 7/16/2020 | CrossFit Class: Annie | 50-40-30-20-10 reps for time of:• Double-Unders• Sit-ups* See Notes for Scaling Options | Jump Rope (Double Unders), Sit-up |
| 7/16/2020 | Beyond Stretch | Shoulders, Chest, and Back | |
| 7/15/2020 | Strong Powerlifting Gym: Leg Tuck | Increasing Rep EMOM Round 1: 1 RepRound 2: 2 RepsRound 3: 3 Reps | |
| 7/15/2020 | CrossFit Class: Renegade | For 18 Minutes:1:00 TRX Cycle Jumps1:00 Renegade Rows L1:00 TRX Hinge1:00 Renegade Rows RCount the number of the times you break form. Lowest score wins: | Row |
| 7/14/2020 | Strong Powerlifting Gym: Push Jerk 3x3 | Push Jerk for load: #1: 3 reps #2: 3 reps #3: 3 reps | Push Jerk |
| 7/14/2020 | CrossFit Class : Bosu Metcon | 14 Minutes: EMOM1:00 Bosu Saddle Jumps1:00 TRX Crunch to TRX PikeCount Total Reps completed | Burpee Box Jump Over |
| 7/13/2020 | Strong Powerlifting Gym: Snatch Balance 5x5 | Snatch Balance for load: #1: 5 reps #2: 5 reps #3: 5 reps #4: 5 reps #5: 5 reps | Snatch Balance |
| 7/13/2020 | CrossFit: Pauls Trifecta | 21-15-9 For TimeWall Balls 14 /10DB Thrusters 25/15Burpees | Burpee, Thruster, Wall Ball Shot |
| 7/11/2020 | Strong Powerlifting Gym: Deadlift 5x5 | Deadlift for load: #1: 5 reps #2: 5 reps #3: 5 reps #4: 5 reps #5: 5 reps | Deadlift |
| 7/11/2020 | CrossFit | 12 Minute Time CapsRow 2K MetersAMREPS Med Ball Over the Shoulder Clean (40# Rx) | Clean, Row |
| 7/11/2020 | Row 2000m | Row 2000m | Row |
| 7/9/2020 | Beyond Stretch | Hips Quads Hamstrings Lower Back | |
| 7/8/2020 | CrossFit Class: Hope | Three rounds of: Burpees, 75 pound Power snatch, Box jump, 75 pound Thruster, Chest to bar Pull-up. | Burpee, Power Snatch, Box Jump, Thruster, Chest-to-Bar Pull-up |
| 7/8/2020 | Gymnastics: Handstand Walk: Max Distance | Handstand Walk: Max Distanceor Optional Savasana | |
| 7/7/2020 | Bench Press 3x5 | Bench Press for load: #1: 5 reps #2: 5 reps #3: 5 reps | Bench Press |
| 7/7/2020 | Bench Row | 6 Minutes to complete100 Reps Per Side | Bench Press, Row |
| 7/7/2020 | Kettlebell Swings | For Time100 Kettlebell Swings 53 /35 | Kettlebell Swing |
| 7/6/2020 | Back Pause Squat 3x3 | Back Pause Squat for load: #1: 3 reps #2: 3 reps #3: 3 repsPause is for 5 seconds | Back Squat |
| 7/6/2020 | CrossFit Class | As many rounds as possible (AMRAP) in 20 minutes: 15 BurpeesMax reps pull-ups.One point per pull-up -- pull-ups most be unbroken. | Burpee, Pull-up (Kipping) |
| 7/4/2020 | Strong Powerlifting Gym: Snatch Extension 5x5 | Snatch Extension for load: #1: 5 reps #2: 5 reps #3: 5 reps #4: 5 reps #5: 5 reps | |
| 7/4/2020 | Strong Powerlifting Gym: Snatch Pull 5x5 | Snatch Pull for load: #1: 5 reps #2: 5 reps #3: 5 reps #4: 5 reps #5: 5 reps | Snatch Pull |
| 7/4/2020 | CrossFit Class: Lynne | 5 rounds for reps of Benchpress bodyweight (max reps) Pull-ups (max reps) | Bench Press, Pull-up (Kipping) |
| 7/2/2020 | Beyond Stretch | Mobility: Toes, Feet, Ankles, and Calves Balance TestFront and Back Scales Ankle CARSS shin CARS Toe CARS Big Toe Stretch with Block + Pails and Rails Lacrosse Ball Smash of all Feet Lacrosse Ball Smash of all Calves Lacrosse Ball Smash of all Shin Thai Goddess Stretch + Pails and Rails Inversion and Eversion Isometrics and Eng. Seated Crossleg HoldTiblias variation of Hero Pos eBand Assisted Single Toe Raise Hurdler Calf Pails and Rails Front and Back Scales Balance Test | Back Scale |
| 7/1/2020 | Strong Powerlifting Gym: Lunge Strength and Mechanics | For Reps 10 Minute EMOM- Rip Trainer lag Pole Lunge- Step Back Row | Row, Walking Lunge |
| 7/1/2020 | CrossFit Class: Rip Trainer Plyo Lunge | For time 50 Left Rip Trainer Plyo Lunges 50 Right Rip Trainer Plyo Lunges | Walking Lunge |
| 7/1/2020 | Strong Powerlifting Gym: Front Rack Lunges 5x5 | Front Rack Lunges for load: #1: 5 reps #2: 5 reps #3: 5 reps #4: 5 reps #5: 5 reps #6: 5 reps | |
| 7/1/2020 | Beyond Stretch | Couch Stretch Bow Pulling Pose Quad Roll | |
Powerlifting Workouts, Olympic Lifting, CrossFit, and Beyond Stretch