Governor Northam has updated the regulations affecting Northern Virginia gyms.  All members and coaches should review these guidelines immediately.
---
Executive Order 67 for Northern Virginia as it Applies to Gyms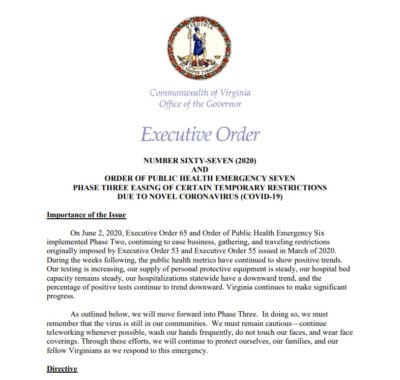 In relevant part, as it applies to our Members in our Gym in Northern Virginia
Members must maintain a minimum distance of ten feet apart during all activities except where necessary for the physical safety of an individual.
Members must maintain a minimum distance of six feet from all other people while they are in the waiting area.

All equipment that cannot be thoroughly disinfected between uses cannot be used (e.g., climbing rope, exercise bands, etc.).

Members must wear a face mask at all times that you are not actively exercising.  All members must have a face-mask on when they enter our gym.
Executive Order 67 applies to coaches as well:
Coaches must maintain at least ten feet of physical distancing between each other at all times.
Coaches must wear face coverings over their nose and mouth at all times.
All equipment must be thoroughly cleaned and disinfected after each use.
Your Safety Remains Our Highest Priority
We will ask any member in violation of these rules to leave the gym immediately.  We have a duty and obligation to all of members and coaches to minimize the potential spread of COVID-19.
New York's Travel Ban Applies to Sand & Steel's Members
If you travel to or have any family members who have visited: Alabama, Arkansas, Arizona, California, Florida, Georgia, Iowa, Idaho, Kansas, Louisiana, Minnesota, Mississippi, New Mexico, North Carolina, Nevada, Ohio, Oklahoma, South Carolina, Tennessee, Texas, Utah, or Wisconsin within the last 14 days, we will need to suspend your membership.  This rule will apply as long as New York keeps it in force.
Additionally, if you have been within 6 feet of anyone with a confirmed positive COVID-19 case, we will need to suspend your membership.
To determine if you have symptoms suggestive of COVID-19, please take the Mayo-Clinic Self Assessment.  If the tool suggests you might be at risk, please consult your doctor to request a COVID-19 test before returning to Sand and Steel Fitness Gym.