*NEW*
RSVP for our Obstacle and Mud Run Seminar
September 29th at 2:00pm
---
Current Team Members
Paul
Lisa
David
Tranise
Angela
Obstacle and Mud Running Training Schedule:
Week 1. One Mile run ➤ 50/50 setups ➤  5 x 20 pushups and dips ➤ Four 100 yard dashes ➤ final one mile run.
Week 2. Sand Bag Run
Week 3. Kamagon Run
Week 4. Vipr Run
Week 5. Infinity rope, farmers handle carry, slam ball carry and slam, Jacobs ladder.
Obstacle Course Mud Run
As of September 2, 2015, Sand & Steel will be having a new class in preparation for the October 10th Savage Race.
Link to register for the Race.
Link to register for the Class.
Costs for the Savage Race increase as time goes on, your total cost with the discount right now is $87.00.  Heat time is 12:00, make sure you select "Sand & Steel Fitness" as your team name.
Sand & Steel Tank Tops
We offering our tank tops at a special price of $15 for members that have registered for this race.
---
If you've been wanting to run a mud run for a long time, but have some anxiety about preparation and training, then this is your opportunity to join a team, make friends, and make it a memorable experience.
Our class, "Intro to Mud Running" will teach you how to prepare for a Mud Run as well as train you to run it.  By the time the Run comes (October 10, 2015), you'll be in prime shape to run it.
---
Meet your Coaches
Paul Roberts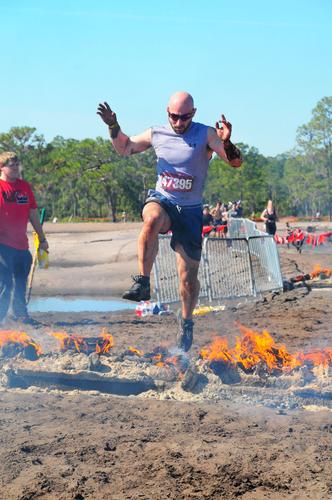 With over 8 mud runs under his belt — including 2 Tough Mudders, and 3 Warrior Dashes — head coach Paul Roberts will be organizing the preparation and training for Sand & Steel Athletes to complete this event.  Paul has over six years experience in trail running preparation and backpacking.
"I'm not a good runner. I've been a runner for over 30 years and I've never been great at long distance running." Laughs Paul. "But I am great at obstacles, and you'll be full prepared for all the balance and upperbody effort required.
"I am going to take all the stress out of your first mudrun"
I'll teach you what to wear, what to bring, and how to prepare for this race. Speaking of which, it's not a race, it's a team event. We are going to run together, and we are going to celebrate and drink some beers afterwards and enjoy being fit and alive."
Rachel Garmon, also a veteran of the Tough Mudder and the Warrior, Rachel brings with her several years of half marathon and full marathon training.
Class Costs
Intro to Mud Running will be a class like any other class, meaning that you'll be able to take it using your existing class membership.  If you're not already a Sand & Steel member, you can register on the signup page to take this class.  Class costs vary depending on how many you take, but they cost anywhere between $5-$25/each.
---
Class Logistics
The class will meet at Sand & Steel Alexandria and we'll run from the gym along the streets.  We'll plan two longer runs over the weekend that have some woods and hills in them.  Our Tuesday morning class will leave at 6:30AM (so arrive earlier than 6:30), and our Wednesday evening class will leave 6:00PM.  You can take one or both classes (and mix and match with CrossFit and our other classes.)
Mud Runs always in involve water, so we are going to run, rain or shine.  We have a shower available for after the run as well.
You enroll in the class just like any other class, through the EZfacility portal.  New clients, we'll automatically send you registration instructions when you optin to the mailing list.
Qualifying for the Class
Mud Runs are an intermediate fitness level activity, and we want you to be safe when running it.  For this reason, we are going to require you obtain a minimum Roberts Fitness Benchmark score of a 45 to participate.  If you haven't taken the Roberts Fitness Benchmark yet, you can register for one through the contact-us page.
Event Cost
We are currently working out pricing to run as a team.  You can plan on the per person cost being between $70-$90.  Based on popular demand, we are running the Savage Race in Maryland
The Savage Race is 6.5 miles, and we plan on running a leisurely pace of around a 9 minute mile.  We'll be carpooling for the race, and leaving Sand & Steel Fitness at 6:00AM.  The Race is about 90 minutes away, so we'll have plenty of time to be ready for 12:00PM Heat.
Registration will be under the team name "Sand and Steel"  We'll be running in the 12:00 heat.
Can I take the Class without Registering for the Event?
Yes.