It's a Big Day for Celebrations!
What are we celebrating?  🍸 Sand & Steel Turns 5! It's hard to imagine, but Dawn and Paul Incorporated Sand & Steel 5 years ago.  It's been amazing journey and we are excited to celebrate this day with all of you.  Help us celebrate @ The People's Drug in Alexandria Old Town.
It also happens to Paul's 39th Birthday. 🎂 And he has promised to take a full night's off from working. 
📈 Sand & Steel Raises $816 for the Equipment Drive.  New equipment includes a Women's Power Lifting Bar, Fat Bells, Power Webs, and more.  If you haven't already donated, please do.  We have some awesome equipment want to buy so that we can train you better.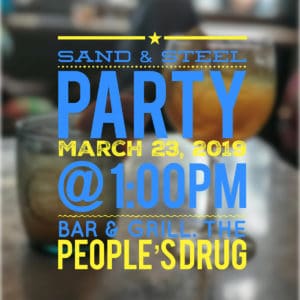 ---
Party Information
The People's Drug in Alexandria
March 23, 2019.  1:00PM. 103 N Alfred St, Alexandria, VA 22314.
---