How to Be Financially Successful as a Personal Trainer and Yoga Teacher.  Paul discusses the 10 key traits that successful personal trainers and Yoga Teachers have in common, plus common pitfalls that can sink their career before it starts.
I'm writing this article from the perspective of an employer who has trained and hired over a hundred personal trainers and yoga teachers.  I've seen people do really well and I've coaches completely fail.  This information applies universally, so I thought I would share it with coaches world-wide.  This is Paul's guide to becoming the number-one coach at your gym.
A recent job applicant applied for a coaching position and raised some concerns about how he can be financially successful at Sand & Steel.  Afterall, we have really great coaches, and he wanted to make sure he would get enough clients to support his family.  A justifiable concern to be sure.  In particular, he asked:
"P
aul if I start @ Sand & Steel.  Will you automatically assign clients to me?  I want to leave Anywhere Fitness because I don't like having to compete with other coaches."
I told him that we don't assign clients to new coaches.  You have to earn them, and here how…
More Personal Trainer Alexandria Resources
At Sand & Steel, our clients come first.  As a business, when you prioritize client results and client satisfaction you succeed.  Hence, we believe that the client should have the option to book with whichever coach he or she feels can best support their goals.  We have found that 95% of the time, clients do best when they book with multiple coaches, because they learn how to master skills from multiple coaches.  Moreover, when coaches work together to support the client, the client benefits.  A client that gets great results, tells his or her friends, writes us great reviews, and makes referrals.  Everyone wins.
We also believe in a meritocracy at Sand & Steel.  The coach or coaches that are doing the best job, should get the most clients and earn the most money.  Who better to decide who the best coach is than our clients?
How to Succeed as a Personal Trainer
The best tip I can provide to you is, "Consider your actions from the owner's perspective."  While every gym is a little different, I think the following 10 points are almost universally true.  Your future boss needs:
Coaches that are going the extra mile to retain clients.
Coaches that take the time to keep the owners informed about client issues, and provide suggests on how to resolve them.
Coaches that spend the time to prepare for their sessions by reviewing the workout and client folder.
Coaches that continually spend time learning and improving their craft.  @ Sand & Steel, we pride ourselves on being professionals and learning as much as we can to help our clients.
Coaches that go out of their way to help the gym provide a better client experience,
Coaches that make it a priority to support the gym's client acquisition process.  Most gyms have to constantly generate new clients, be a part of the effort.
Coaches that help the owners do their job better.
Coaches that take new certifications to improve their craft.  If you are sitting on your laurels, your competition is catching is up.
Coaches that take ownership of the success of the business.  Be a team player, and help the gym do better.
Coaches that respect procedures and help build their gym's brand.
Five Habits that Will Sink your Personal Training Career:
All business have systems in place to protect their employees and the business.  Shrewd business owners place "silent-alarms" in their business to catch employees that try to cheat the system.  A word of advice, your boss has probably seen every scheme you can contrive.  Your reputation is your most valuable asset, so please protect it.
Coaches that try and burn their own path against the culture and processes of a gym.  This doesn't work anywhere, so go with the flow, or find another source of employment.
Coaches who forget that personal training is a customer service industry.  Go out of your way to be kind to clients.  Client's repay kindness with loyalty.  "Attention Clients… don't think that means I'll go easy on you :-).  I'm still going to bring the heat and push you to meet your goals … I'm just going to do it with a smile."
Coaches that forget that you have to earn a client's respect and trust.  It doesn't matter how big your arms are, how cut your abs are, or even how many certifications you have.  Respect and trust are earned on every session.  So put in the work and preparation, and your clients will thank you.
Coaches that don't take responsibility over their client's results.  You are the coach, it's your responsibility to help the client.  Don't make excuses for yourself or the client.  The client came to the personal training studio to get help.  Own it, and make sure you deliver.
A Few Tips to Personal Trainers and Yoga Teachers Looking for Job at Sand & Steel:
A positive attitude and a strong work ethic are two of the most important skills you can have at our gym (or any other gym.)  When new clients ask me who I would recommend they should book with, whom do you think I suggest?  It's the coach that is currently doing items 1-10 the best.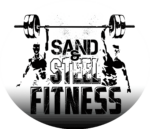 Here's the rub… if my coaches are firing on all eight cylinders on items 1-10, the gym brings in tons of clients, our clients are happy because they are getting results.  I understand (and so does your boss at Gym XYZ) that you have responsibilities to your family.  Your boss has those some responsibilities, plus a responsibility to all the coaches that work for him or her.  But there always those people who just want to sit back and let me do all the work.  In fact, the harder I work, the less they do.  You know those kinds of people, and yes we have stacked the deck so coaches like those won't be successful at Sand & Steel.  Don't let that person be you.  Be the kind of person that embraces hard-work, looks to help your gym in the areas it needs help, and takes responsibility for helping clients succeed.  At the end of the day, you are responsible for your destiny and success.  While you may think that's competing for clients with your fellow coaches, it's not.  We are a team, and our business succeeds or fails as a team.
---
Additional Resources