Here are your six finalists for the Spring 2023 Weight Loss Challenge. We are real people with full time jobs and commitments just like you. Our community is stronger with more positive, supportive people, so sign up today.
Our Fall 2023 Weight Loss Challenge starts this August.
Our Finalists
Alex Morales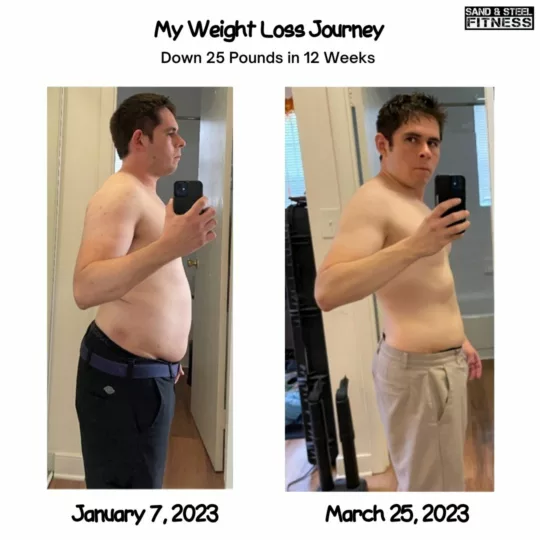 Read Alex's Story
Our featured athlete for this post is Alex Morales. Alex lost a total of 25 pounds and improved his rolling mile time on long runs by about 4 minutes a mile. As his coach, I've been exceedingly proud watching him getting thinner every week. His improvement in CrossFit and support to newer athletes is commendable.
The Sand & Steel Weight Loss Challenge Finale is April 1, 2023 at 10AM. It is open to all members, please come out and support our athletes!
Alex, the Sand & Steel Fitness community thanks you for all that you bring to our CrossFit gym. We wish you the best of luck this Saturday. – Coach Paul
Weight Loss Challenge (WLC): Goals
Lose 10 pounds in three months, fit in all the size Small shirts I got from each 2022 Spartan Run.
WLC: Challenges
Coping with hunger between meals and with avoiding food items that have been part of my diet for years (alcohol, bread, candies, cheese, chips and restaurant foods). Figuring out how to hit macros while maintaining my caloric intake goal of 1483 kcal/day (not counting calories gained from exercise/being awake).
WLC: Strategy
Start by making better dietary habits such as eating more vegetables, food better food substitutes for current dietary habits (swap white rice with quinoa) and removing: alcohol, bread, corn products, cheese, candies/sweets and eating more vegetables. Use Nutrition Lab to learn how make better food choices (when I'm away from home or need to snack on something) and learn how to manage my caloric intake/nutrients/macros. Try to exercise at least 30 minutes each day, ideally going to the gym at least 4 times a week.
WLC: Results
Started at 184.5 lbs. (as measured during Dr. Appointment on 1/6/23). As of 3/25/23 – 159.6 lbs.(as per home weight scale, generally not super accurate, – the InBody Scan will decide my fate).
WLC: Conclusion
After about a month of this challenge, I immediately noticed that I had more energy throughout the day. I started hitting new PR's for the majority of the lifts we've been doing. When I run, my feet don't fall asleep and I haven't cramped, even during the longer trail runs we've been doing. During gymnastic style movements, I can do harder scaling options (toes to bar instead of hanging knee raises; getting closer to hand stand walks). I fit in every size small shirt I've bought. I've become accustomed to my new diet and have no trouble avoiding the food items I set out to remove (with the exception of quesadillas after our RockNRoll Half Marathon). I have a much easier time figuring out what I should be eating when I feel hungry or when I'm at a restaurant and consistently feel satisfied by each meal without feeling bloated.
WLC: Parting Thoughts/Advice
Nutrition Lab was a big help in figuring out how to tailor my meals and food choices to accomplish my goals. Honestly, some of it is common sense (candy/bread = bad; kale/broccoli = good), but figuring out how to put everything you need into one meal in a way that is satisfying and filling is a challenge. Once I got the hang of piecing meals together, it was a matter of taking on the mental challenge of staying away from those bad food items. Aside from gunning for the grand prize (since my old gym bag broke and this new one looks fancy), the support I get from everyone at the gym and from my family has been essential in motivating me to stick with new diet. Working with people who want to improve themselves and who support your self-improvement have made this challenge highly rewarding and exceptionally memorable.
---
Doug Hurson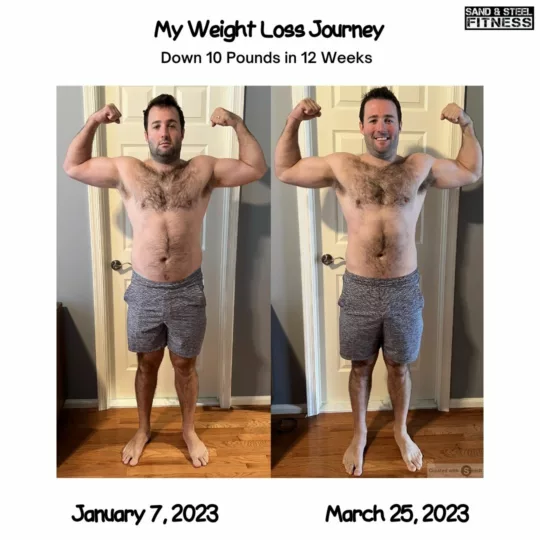 Read Doug's Story
Doug Hurson is our second WLC finalist. Doug is also our reigning top performing CrossFit athlete. He also is the first person to help others, support beginner athletes, and step-in whenever our community needs additional help.
I WAS happy to say in November 2022 that I had closed the performance between Doug and myself. Well… Doug reopened it. Fueled by better nutrition choices and 10 less pounds of body fat, Doug is crushing it on all workouts.
Losing 10 pounds of fat without losing any muscle is challenging as you get leaner, but Doug's consistency in the kitchen made it happen. Congratulations on all your accomplishments. We wish you luck in the Finales. -Coach Paul
Starting Weight (1/6/2023): 196.4 | Final Weight (3/25/2023): 182.7
This challenge was not a competition between me and my gym mates/friends, but rather a challenge against myself. Could I stick to a strict diet, all while trying to hold onto or gain as much muscle as possible, and lose my target net weight of 15 lbs?
Well, unfortunately I came up a bit short of the net 15 lbs of weight loss, but overall I succeeded when it came to overall body composition change.  My body fat percentage went down over 6%, and I gained about 2 lbs of muscle during the process. I think it's safe to say that I lost 15 lbs of unwanted body weight, and gained a couple pounds of extra good weight, so I am happy with the overall results.
Dieting is hard, but if you look at it as a lifestyle change, it's a bit easier to get used to. Instead of thinking "I need to do this only for x amount of time and then I'm done" rather than saying "okay let's make a large, healthy lifestyle change for the long run" it's much easier to stick to it on a regular basis. If you are able to change your entire food ecosystem, it becomes a new norm, and is much easier to stick to.
Now, I will say that I personally like to drink whiskey, and will never fully give up a couple drinks here and there, but it went a long way in this challenge. I found most success during the period of time, about 45 days, where I didn't drink at all. This was where I lost the most fast, and gained the most muscle. Now with two ski trips with friends, and a couple birthday parties, this didn't last the whole 90 days, but I'm okay with that. I've never been in a place where I miss alcohol or NEED to drink, but I find myself thinking about a casual nightcap much less than I used to.
My target weight loss by June is 20 lbs, and although I think it will be tough to get there, I think I can get under 180lbs, which I haven't seen on a scale since 2021 (consequentially after another weight loss challenge where I lost 19.2 lbs, 4% body fast, but also 3.9 lbs of muscle). It was a difficult time in my wife's family's life, and consequently the weight came right back after I stopped the crash diet. At least now I'm 10 lbs heavier of muscle and lower body fat percentage then I was then.
Overall I think I can take a lot away from this and add it into my everyday lifestyle moving forward. I'm looking forward to continuing my body comp journey, and I look forward to everyone else's success!
---
Stephen Gunderson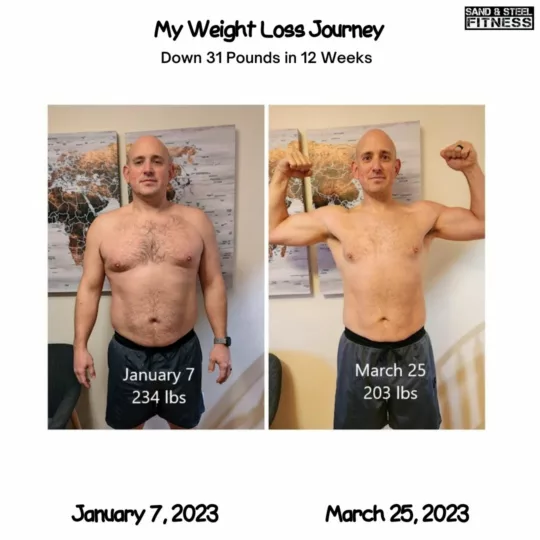 Read Stephen's Story
31 Pounds lost in 90 Days – Stephen Gunderson shares his tips and strategy for taking our Weight Loss Competition (WLC) by storm.
Stephen Gunderson started with Sand and Steel about 2 years ago. He has consistently gained strength and improved technique. Inspired by our the results he saw from our 2022 Weight Loss Challenge, Stephen signed up for our 2023 competition with his eye on victory.
Stephen attended every WLC session, consistently applied the provided materials, and approached this competition with the same diligence he does in all our classes. And the results? A staggering 31 pound weight drop.
Stephen is a serious contender to win our 2023 Spring Weight Loss Challenge, but he is up against some serious competition. Congratulations on your transformation and your improvement to your health. Thank you for paying it forward and being an MVP at Sand & Steel. We are humbled and inspired by your progress.
Results: 234 lbs to 203 lbs. Total loss of 31 lbs
My Story:
I've made several attempts to lose weight over the years, with varying degrees of success. Like most people, every time I stopped dieting, the weight would come right back. Now with my impending 40th birthday and two small kids at home, it's time to make permanent changes before it's too late. The Nutrition Lab lesson that talked about metabolic syndrome really resonated with me and opened my eyes to the urgency of losing weight.
I started with a two week break from all added sugars, white bread/pasta, and alcohol, just to reset my body and break the addiction. After this, I started to slowly add some of these things back in moderation. I focused my diet on lean protein, vegetables, fruit, and whole wheats. I continued doing CrossFit 4 to 5 times a week and started to add in some running towards the end.
What Worked for Me:
Use an app – I used MacroFactor, which was the key to the entire thing for me. It gives you calorie and macro targets and adjusts your targets every week based on your weight and food intake. The updates helped me adjust my intake downward and stay on track as I lost weight.
Don't guess at portion sizes – I used a food scale and/or measuring cups for everything. It is extremely easy to overeat by accident if you're not measuring and paying close attention to nutrition labels.
Stop the mindless eating – I was a big mindless snacker before. Stopping this and being intentional about every meal and snack cut out hundreds of calories per day instantly.
Protein Powder – I was never big into protein powder before, but the high protein targets that MacroFactor gave me almost forced me to use it to hit my goals. I have been using it almost every day now in order to get lots of protein with minimal calories, fat, and carbs.
The top 10 things I ate a lot of during this challenge:

Lean ground turkey and chicken for burgers, taco meat, etc.
Seafood – tuna, salmon, shrimp, and mahi
Greek yogurt
Egg whites
Oranges
Dried edamame, chickpeas, and green peas for crunchy snacks
Dave's Killer Bread, thin sliced
PB2 powder mixed in oatmeal and smoothies
Chickpea pasta
Halo Top ice cream!
The Future
This change needs to be permanent for me. I still have some more weight to lose to get to my personal goal. Once I get there, I plan to continue using MacroFactor as I shift into maintenance mode. Keeping an eye on my calorie and macro targets will help me maintain this weight and prevent myself from going back to bad habits. I am looking forward to focusing on fitness gains and getting better at CrossFit as I start to eat more calories again in maintenance mode.
---
Henry Henderson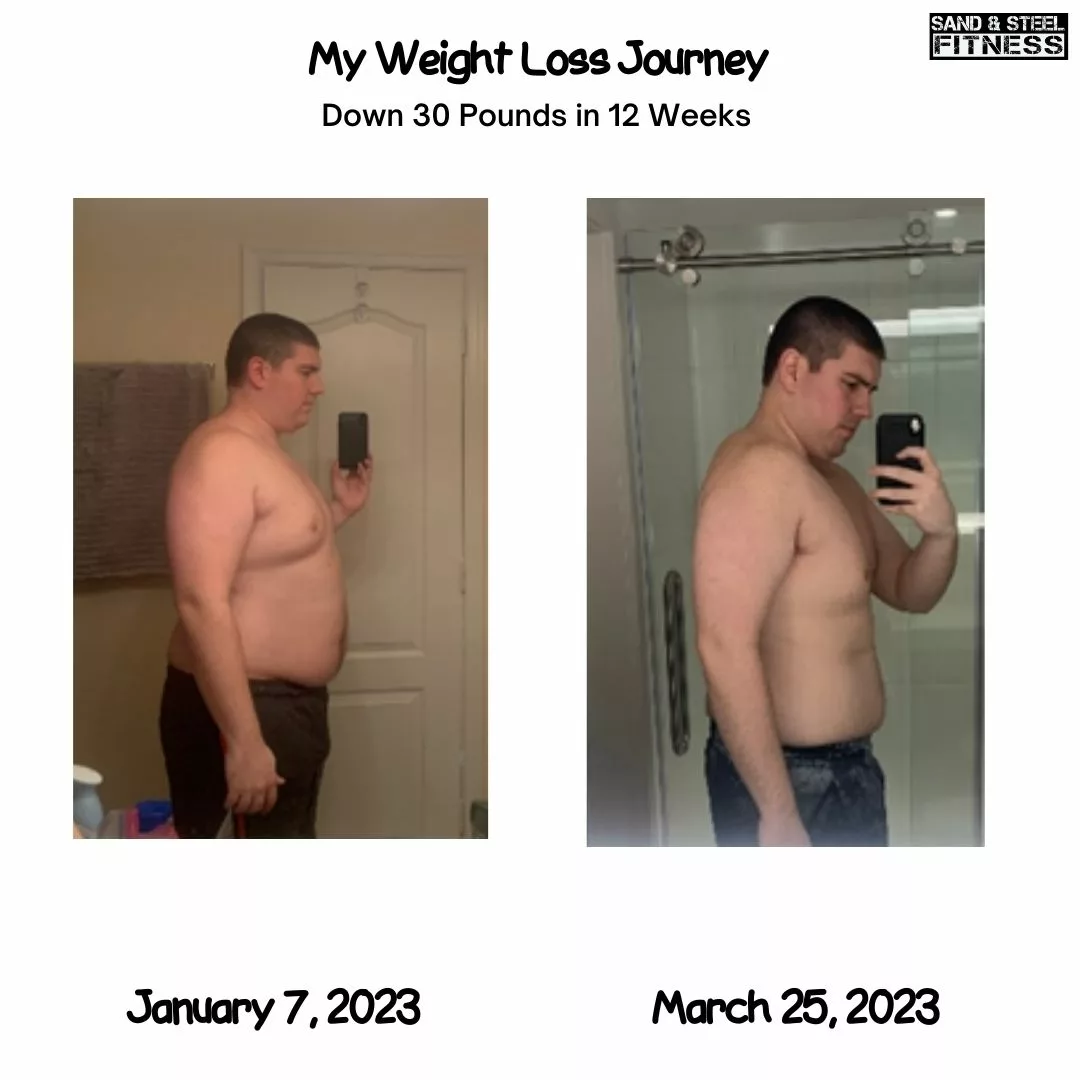 Read Henry's Story
Training at Sand & Steel is more than just looking better… it's about improving your overall health and wellness. Henry explains:
"When I started at Sand and Steel 3 Months ago I was Prediabetic, my A1C was high and my doctor said I was on the path to insuling resistance."
"During the weight loss challenge I lost 30 pounds and a total of 8% body fat. My A1C is normal, my blood pressure is down, and I am no longer prediabetic."
Money can buy a lot of things, but it cannot buy you better health. Sand & Steel's strong community and quality coaching gave me the motivation to put in the hard work needed to effect this change.
But I'm not done yet… I plan to enter the Fall 2023 WLC challenge and lose another 30 pounds.
Age: 27
Occupation: Law Enforcement/Emergency Medical Technician
Goal: Receive better scores on my physical fitness tests and lower my A1C
Before:
Starting Weight: 288 lbs
Starting % body fat: 36.2
Starting InBody score: 64
Doctors Evaluation: Pre-diabetic
A1C is high and could lead to insulin resistance
After:
Finishing Weight: 258.8 lbs
Finishing % body fat: 28.2
Finishing InBody score: 80
Doctors Evaluation: No-longer pre-diabetic
A1C is within normal range,
Blood pressure is down
 Overall experience:
I started the weight loss challenge because I was severely overweight and on track to be pre-diabetic. I was a college athlete who graduated right before the covid shutdown. I was still eating like an athlete, not working out as much because gyms were closed. Eventually it started to affect my work and I knew I needed a change. I went from a keto maintenance diet to a more well –balanced and nutritional diet. I cut out all seed oils, drastically decreased my portion sizes, and tried to limit the amount of fat I had. My biggest challenges I had during the WLC was managing snacking during late night work sessions and decreasing the amount of times I ate out. However, both became much easier as the WLC progressed. My biggest accomplishments through the WLC was being able to differentiate between highly processed and inflammatory foods, dropping to an 8 min mile pace, and finally knowing what the feeling of "full" is. Not only has the WLC helped me with my job and allow me to help the community, it has also helped my health.
My WLC is not over however. I am halfway to my goal weight but I still have another 30 lbs to lose. I plan on continuing cutting out alcohol from my diet and maintaining the same diet plan I am currently on. I hope to come back to the WLC next year but with the goal of gaining muscle because I will have reached my target weight!
---
EJ Thompson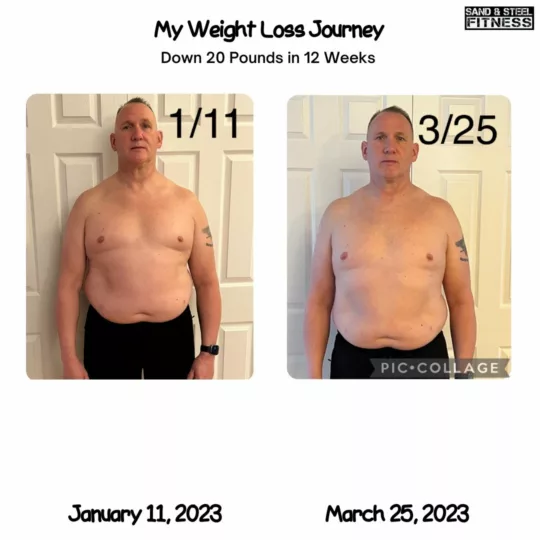 Read EJ's Story
I hate looking at pictures like this of myself and I'm my hardest critic. Comparing the pictures from beginning of the contest, and the one taken today with a week to go, I see little physical changes. However, there is more than the visual changes to a positive weight loss journey.
At the beginning of this challenge, I had set a few goals to achieve. One of the goals, like most others in the challenge, was to lose weight. When I did the InBody Scan on January 7th, I weighed 249 pounds and the last InBody Scan on March 10th, I weighed 229.4 pounds. Due to relatives visiting and St. Patrick's Day, I found myself not being compliant with my weight loss journey and per my scales, I gained four pounds. However, I was able to lose three of those pounds and hopefully I will lose more this final week.
Another goal was to improve my nutrition and my sleep pattern. I learned the impact of proper nutrition and adequate sleep on one's performance. I found that the days where I had both proper nutrition and sleep were days that I set a personal record. And the days that I lacked sleep and/or proper nutrition, the workouts were grueling for me. Another challenge that I overcame was difficulty and spending a lot of time determining my meals with the correct macro ratios. Now I have a better understanding of inputting my daily diary with the appropriate macronutrient percentage. Also, life is going to happen, i.e, birthdays, relatives visits, holidays, and other special occasions, it's okay to celebrate and then return working towards your goals.
I found that by improving my nutrition, and losing close to two pounds per week, my gym performance level increased to the point I'm beginning to do Intermediate Level Scaling, which I determined during the CrossFit Open 23 when I did the 23.1 at Foundations(Beginners) Level and did the remaining two workouts at the Scaled (Intermediate) Level. By transitioning to do some Intermediate Level Scaling, I reached another goal.
So comparing both pictures, I see minimal physical changes. However, losing shy of twenty pounds, improving my nutrition, and focusing on getting adequate sleep, I see bigger changes in my performance. I just need to remind myself that my weight loss journey is a marathon and not a sprint.
---
Sean Dunphy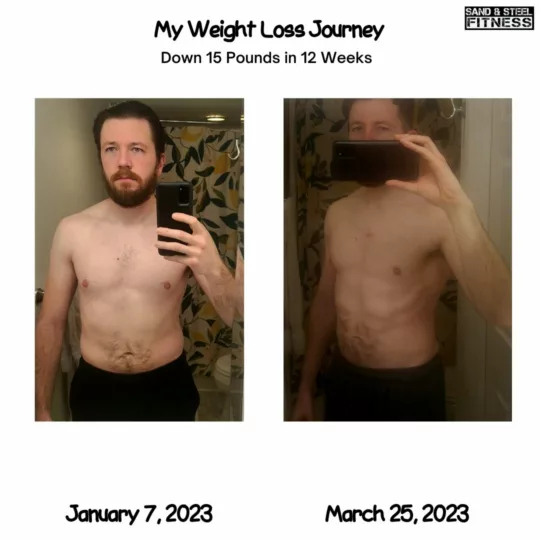 Read Sean's Story
Challenges: Three major challenges born of time constraints, cramming too many calories in the evening, not getting enough sleep, and only building meals for nutrients not flavor.
Strategy: Build a meal schedule based on my typical routines to spread out calorie intake. Research and develop 3 mobile compliant snacks and weeknight dinners. Improve meal prep strategy to save 30 minutes during weeknight. Use habit tracking software to keep discipline on bed time and measure nutrition compliance.
Results: -11 % Body Fat, 15 lbs lost, Introduced four snacks and four meals, increased average sleep from 5.5 to 7.25 hours.
Conclusion:– Timing made an enormous difference to workout performance. Learned a lot more about how to apply nutrition
Parting Words: This is my second weight loss challenge, and third time through the Sand & Steel nutrition program. With every iteration I have learned how to make nutrition more enjoyable and accomplishable, which aids in surpassing my goals, and significantly lowered the stress about how I felt about my body.