Here are your six finalists for the Spring 2023 Weight Loss Challenge. We are real people with full time jobs and commitments just like you. Our community is stronger with more positive, supportive people, so sign up today.
Our Fall 2023 Weight Loss Challenge starts this August.
Our Finalists
Alex Morales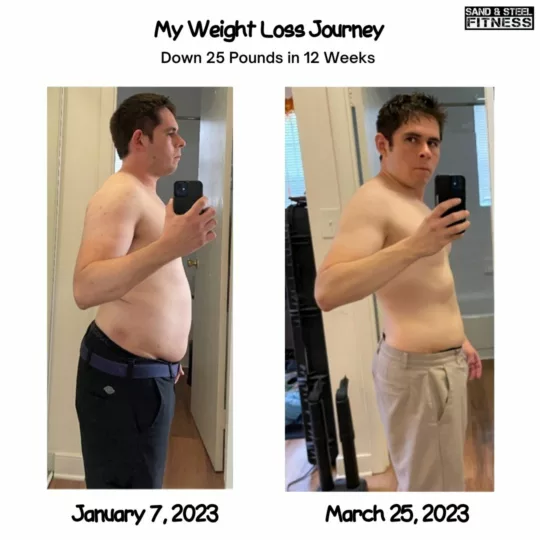 Our featured athlete for this post is Alex Morales. Alex lost a total of 25 pounds and improved his rolling mile time on long runs by about 4 minutes a mile. As his coach, I've been exceedingly proud watching him getting thinner every week. His improvement in CrossFit and support to newer athletes is commendable.
The Sand & Steel Weight Loss Challenge Finale is April 1, 2023 at 10AM. It is open to all members, please come out and support our athletes!
Alex, the Sand & Steel Fitness community thanks you for all that you bring to our CrossFit gym. We wish you the best of luck this Saturday. – Coach Paul
---
Doug Hurson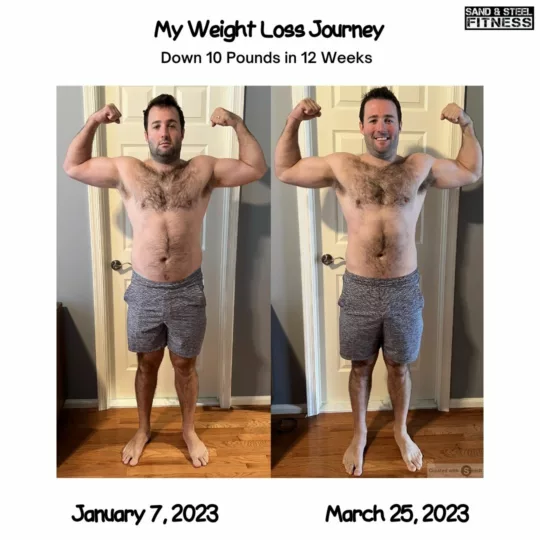 Doug Hurson is our second WLC finalist. Doug is also our reigning top performing CrossFit athlete. He also is the first person to help others, support beginner athletes, and step-in whenever our community needs additional help.
I WAS happy to say in November 2022 that I had closed the performance between Doug and myself. Well… Doug reopened it. Fueled by better nutrition choices and 10 less pounds of body fat, Doug is crushing it on all workouts.
Losing 10 pounds of fat without losing any muscle is challenging as you get leaner, but Doug's consistency in the kitchen made it happen. Congratulations on all your accomplishments. We wish you luck in the Finales. -Coach Paul
---
Stephen Gunderson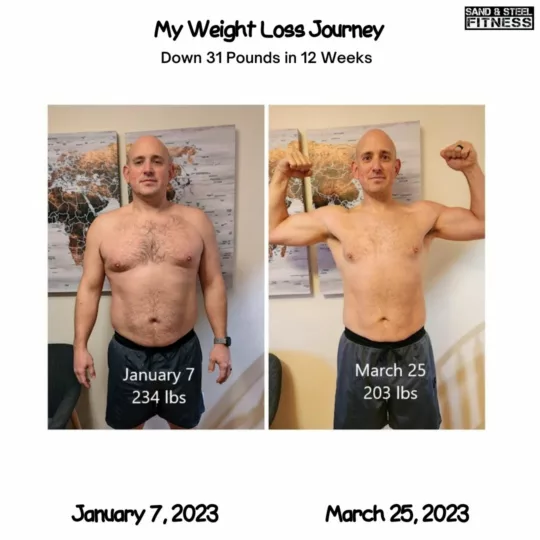 31 Pounds lost in 90 Days – Stephen Gunderson shares his tips and strategy for taking our Weight Loss Competition (WLC) by storm.
Stephen Gunderson started with Sand and Steel about 2 years ago. He has consistently gained strength and improved technique. Inspired by our the results he saw from our 2022 Weight Loss Challenge, Stephen signed up for our 2023 competition with his eye on victory.
Stephen attended every WLC session, consistently applied the provided materials, and approached this competition with the same diligence he does in all our classes. And the results? A staggering 31 pound weight drop.
Stephen is a serious contender to win our 2023 Spring Weight Loss Challenge, but he is up against some serious competition. Congratulations on your transformation and your improvement to your health. Thank you for paying it forward and being an MVP at Sand & Steel. We are humbled and inspired by your progress.
---
Henry Henderson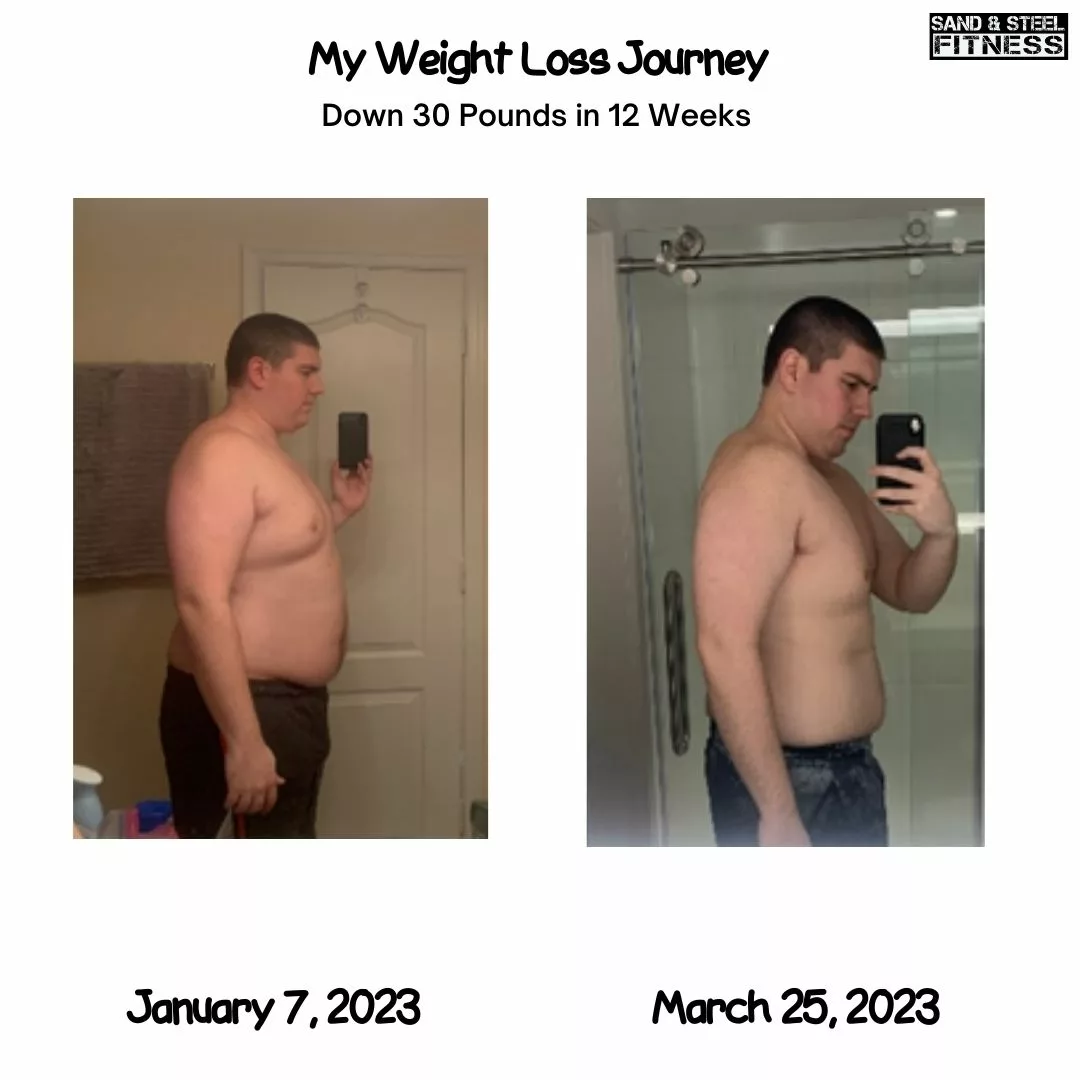 Training at Sand & Steel is more than just looking better… it's about improving your overall health and wellness. Henry explains:
"When I started at Sand and Steel 3 Months ago I was Prediabetic, my A1C was high and my doctor said I was on the path to insuling resistance."
"During the weight loss challenge I lost 30 pounds and a total of 8% body fat. My A1C is normal, my blood pressure is down, and I am no longer prediabetic."
Money can buy a lot of things, but it cannot buy you better health. Sand & Steel's strong community and quality coaching gave me the motivation to put in the hard work needed to effect this change.
But I'm not done yet… I plan to enter the Fall 2023 WLC challenge and lose another 30 pounds.
---
EJ Thompson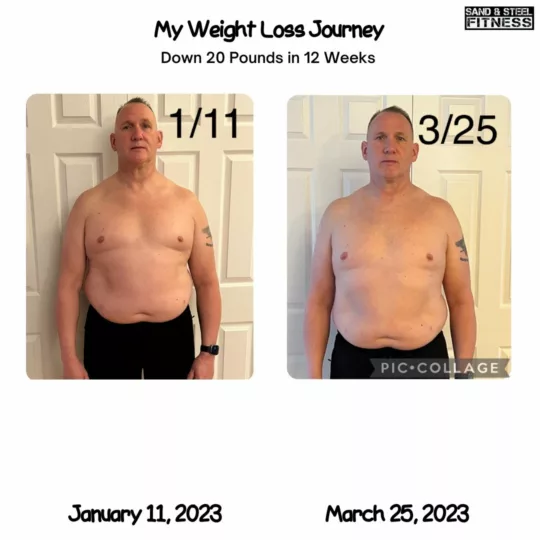 ---
Sean Dunphy