[vc_row type="in_container" full_screen_row_position="middle" scene_position="center" text_color="dark" text_align="left" overlay_strength="0.3″][vc_column column_padding="no-extra-padding" column_padding_position="all" background_color_opacity="1″ background_hover_color_opacity="1″ column_shadow="none" width="1/1″ tablet_text_alignment="default" phone_text_alignment="default" column_border_width="none" column_border_style="solid"][vc_column_text]
Mobility, Flexibility, and Partner Stretching
[/vc_column_text][/vc_column][/vc_row][vc_row type="in_container" full_screen_row_position="middle" scene_position="center" text_color="dark" text_align="left" overlay_strength="0.3″][vc_column centered_text="true" column_padding="no-extra-padding" column_padding_position="all" background_color_opacity="1″ background_hover_color_opacity="1″ column_shadow="none" width="1/1″ tablet_text_alignment="default" phone_text_alignment="default" column_border_width="none" column_border_style="solid"][vc_video link="https://youtu.be/Fo3kwdvTS8g"][nectar_btn size="medium" button_style="regular" button_color_2="Accent-Color" icon_family="fontawesome" url="https://live.vcita.com/site/sandandsteelfitness" text="Get Started" icon_fontawesome="fa fa-child"][/vc_column][/vc_row][vc_row type="in_container" full_screen_row_position="middle" scene_position="center" text_color="dark" text_align="left" overlay_strength="0.3″][vc_column column_padding="no-extra-padding" column_padding_position="all" background_color_opacity="1″ background_hover_color_opacity="1″ column_shadow="none" width="1/2″ tablet_text_alignment="default" phone_text_alignment="default" column_border_width="none" column_border_style="solid"][text-with-icon icon_type="font_icon" icon="steadysets-icon-zoom-in" color="Accent-Color"]
What is a Mobility Training?
[/text-with-icon][vc_column_text]
Diagnostics of where your range of motion and muscle control is limited.
Excellent for rehabbing injuries for knees, backs, shoulders, ankles, etc.
Targeted mobility and flexibility exercises and progressions to improve your mobility
State of the art mobility equipment and methods
All areas of mobility tested and improved from grip strength to ankle mobility.
We find the stiffest and weakest areas and provide systematic methods to improve control and motion.
[/vc_column_text][image_with_animation image_url="59953″ alignment="" animation="None" box_shadow="none" max_width="100%"][divider line_type="No Line" custom_height="15″][text-with-icon icon_type="font_icon" icon="steadysets-icon-atom" color="Accent-Color"]
Our Mobility Training is based on:
[/text-with-icon][fancy-ul icon_type="font_icon" icon="steadysets-icon-atom" color="Accent-Color" alignment="left" enable_animation="true" delay="250″]
Functional Movement Screen Level I and II certification and equipment,
Muscle Activation Technique's Jump Start Program
Kelley Starrett's Supple Leopard,
Bob Anderson's Stretching Techniques
Kit Laughlin's Stretching and Flexibility,
Mobility WOD Certification and equipment,
Move2Perform Y-Balance Test certification and equipment,
Yoga Movement Patterns
Gray Institute's Three Dimensional Movement Analysis and Performance System.
[/fancy-ul][vc_column_text]
Mobility, Flexibility, and Partner Stretching
[/vc_column_text][vc_column_text]
If you want to play your sport better with more power, less injuries, and improved coordination — mobility training is what you need. Improve your range of motion, build control, and maximize resistance to injury with our all-in-one Mobility service.  Flexibility, Corrective Exercises, Range of Motion, and Partner Stretching.
Paul Roberts
[/vc_column_text][/vc_column][vc_column column_padding="no-extra-padding" column_padding_position="all" background_color_opacity="1″ background_hover_color_opacity="1″ column_shadow="none" width="1/2″ tablet_text_alignment="default" phone_text_alignment="default" column_border_width="none" column_border_style="solid"][vc_column_text css=".vc_custom_1507087105630{border-top-width: 5px !important;border-right-width: 5px !important;border-bottom-width: 5px !important;border-left-width: 5px !important;padding-top: 5px !important;padding-right: 5px !important;padding-bottom: 5px !important;padding-left: 5px !important;border-left-color: #0095da !important;border-left-style: solid !important;border-right-color: #0095da !important;border-right-style: solid !important;border-top-color: #0095da !important;border-top-style: solid !important;border-bottom-color: #0095da !important;border-bottom-style: solid !important;border-radius: 3px !important;}"]
Mobility and Flexibility Stretch
[/vc_column_text][/vc_column][/vc_row][vc_row type="in_container" full_screen_row_position="middle" scene_position="center" text_color="dark" text_align="left" overlay_strength="0.3″][vc_column centered_text="true" column_padding="no-extra-padding" column_padding_position="all" background_color_opacity="1″ background_hover_color_opacity="1″ column_shadow="none" width="1/2″ tablet_text_alignment="default" phone_text_alignment="default" column_border_width="none" column_border_style="solid" offset="vc_hidden-md vc_hidden-sm vc_hidden-xs"][nectar_btn size="medium" button_style="regular" button_color_2="Accent-Color" icon_family="fontawesome" url="http://www.sandandsteelfitness.com/mobility-paper-download-page/" text="Download 6 page article" icon_fontawesome="fa fa-child"][vc_column_text]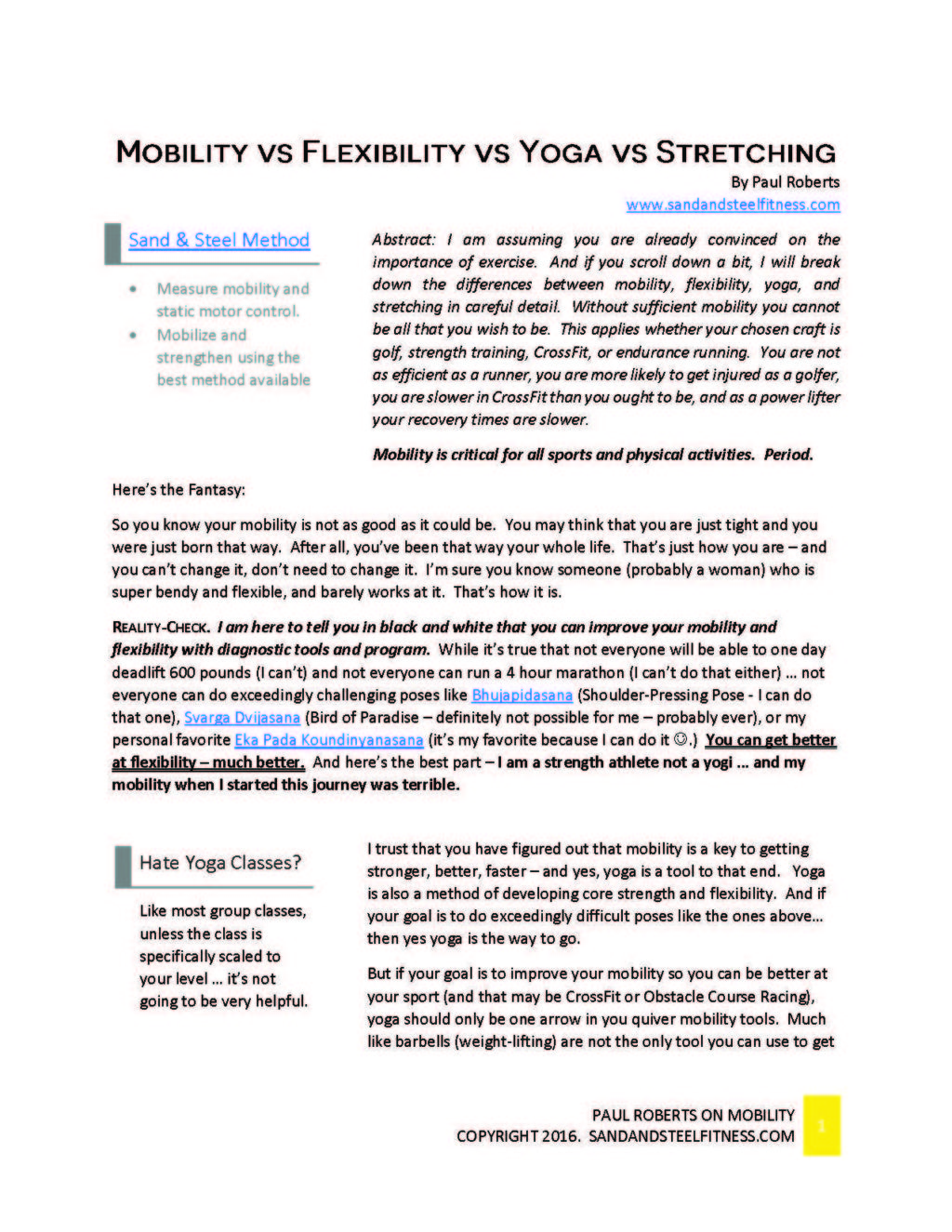 [/vc_column_text][/vc_column][vc_column column_padding="no-extra-padding" column_padding_position="all" background_color_opacity="1″ background_hover_color_opacity="1″ column_shadow="none" width="1/2″ tablet_text_alignment="default" phone_text_alignment="default" column_border_width="none" column_border_style="solid" offset="vc_hidden-md vc_hidden-sm vc_hidden-xs"][recent_posts style="default" category="mobility-and-flexibility" columns="2″ title_labels="true" posts_per_page="4″][/vc_column][/vc_row][vc_row type="in_container" full_screen_row_position="middle" scene_position="center" text_color="dark" text_align="left" overlay_strength="0.3″][vc_column centered_text="true" column_padding="no-extra-padding" column_padding_position="all" background_color_opacity="1″ background_hover_color_opacity="1″ column_shadow="none" width="1/1″ tablet_text_alignment="default" phone_text_alignment="default" column_border_width="none" column_border_style="solid" offset="vc_hidden-md vc_hidden-sm vc_hidden-xs"][vc_column_text]
Sample Mobility/Flexibility Workouts
[/vc_column_text][carousel script="owl_carousel" desktop_cols="1″ desktop_small_cols="1″ tablet_cols="1″ mobile_cols="1″ column_padding="10px"][item id="1476641151-2-88″ tab_id="1476641775360-9″ title="Item"][vc_column_text][table id=9 /][/vc_column_text][/item][item id="1476641151-1-34″ tab_id="1476641775084-8″ title="Item"][vc_column_text][table id=8 /][/vc_column_text][/item][/carousel][vc_column_text]Mobility, Flexibility, and Partner Stretching[/vc_column_text][/vc_column][/vc_row]