Book Review of Bodybuilding Anatomy 2nd Edition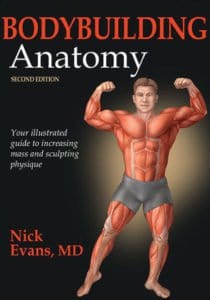 Book Title: Bodybuilding Anatomy 2nd Edition
Book Description: In this new edition of his best-selling book, Dr. Nick Evans provides 100 primary exercises, along with 104 variations, to ensure you achieve the results you need when, where, and how you want. You'll also go beyond the exercises to see the results in action. Illustrations of the activated muscles in the most popular poses show you how each exercise is fundamentally linked to competition.
Book Author: Nick Evans
Book Edition: 2nd Edition
Book Format: Paperback
Date published: 2015-03-15
ISBN: 1450496253
Number Of Pages: 240
Amount of New Materials -

30

Quality of illustrations and printing -

90

Correctness of information presented -

90
Summary
Positives:  Very concise tool that focuses on proper execution of movements. I didn't find any real errors in the explanation of proper lifting form. The book is organized well and grouped by muscle group. The devotion to consistent formatting throughout, makes the book very effective to locate the information needed. Excellent resource for an upcoming bodybuilder or anyone looking for concise advice on proper lifting technique.
Negatives: Nothing in the book is really revolutionary. If you are a strength coach, you won't likely learn anything new in the book. But if you do, perhaps you should have known it…. Strength Training Anatomy also by Human Kinetics does offer a lot of the same information. There isn't any programming information in the book. That's not really a mistake, it's just how the book is scoped. There is also no nutrition information… again there are plenty of books on that topic as well.
Overall:  The book is an excellent resource for a person with one or two years of lifting experience. It's well suited for use in a gym. While it's not an exhaustive work on all the movements, much of the key ones are in there. My clients thought the book was great, and many of them asked to borrow it for a few days after flipping through the pages. I personally thought it's consistent referral to the names of the actual muscles (and not just the common names… e.g. quads, abs, shoulders, etc.) is helpful for any trainer, as it's challenging to remember all the names of the muscles in the human anatomy.
Comments Rating
( reviews)
Bodybuilding Anatomy Book Review
The following review contains a comparison of Bodybuilding Anatomy by Nick Evans to other Anatomy books in the series.   This book, like most Human Kinetics books, is very well illustrated and concise in its explanations.
But is it as good as Strength Training Anatomy by Delavier?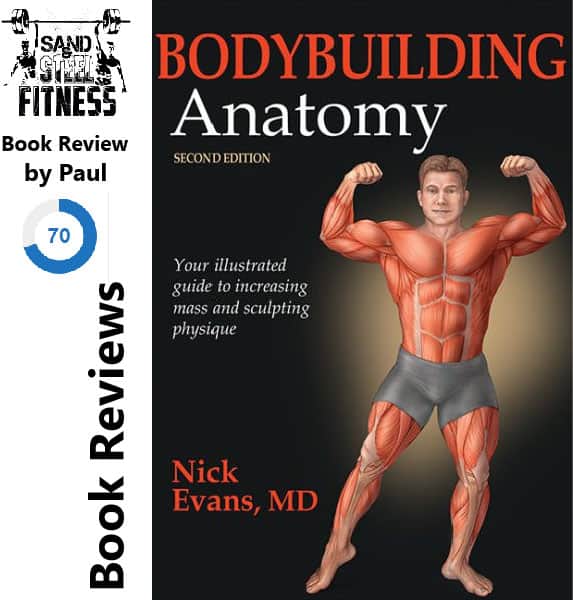 No, it's not.  Strength Training Anatomy 3rd Edition is a magical book, one I have not seen Human Kinetics replicate in any of their attempts.  It's like that amazing movie that has 4 sequels, but none are as good as the first one.
But as an anatomy book to explain what muscles should be firing and for basic tips on how to do exercise correctly, this book is handy.  It's concise explanations are great, and the general public would be well served to read this book.