Valentine's Day Special. Cupid's Revenge Workout and Partner Yoga. Your Loved One Trains Free… now through Valentine's Day. Personal Training & Yoga!
Purchase Tickets on Eventbrite
Valentine's Day Special Events
Loved One Trains Free.  Personal Training and Yoga.  Applies to new clients and existing clients … Just email us to confirm when they are coming with you.
Our Winners
David Y.: Overall Best Performance Men
Emily  M.: Overall Best Performance Female
Chris K.: Best Male Performance Over 50 Category
Donna B: Best Female Performance Over 50 Category
Honorable Mentions
Tamsin
Kathy K.
Daniel S.
Mike H.
Jesus C.
Mikhail Z.
Prizes
Winners Receive a $25 Gift Certificate for yourself, and $100 Gift Certificate for a loved one.1
Runner Ups Receive $15 off Gift Certificate.
Claiming Your Coupons:
Download one of the images or videos you see on this page (or share the page itself).
Share the video or image to Facebook, Pinterest, Twitter, or Instagram.
Tag @sandandsteelfitness.
Receive your coupon by email.
Cupid's Revenge Workout
Cupids Revenge is an amazing Metabolic Conditioning Challenge. The athlete must complete 3 rounds of 50 box jumps, 10 Sumo Deadlift High Pulls, and 20 Lunges before completing as many GHR Knees 2 Elbows before time runs out. The top 4 finishers will receive a pair of coupons worth $125 for new sessions. Available now through Valentine's Day!
Cupid's Revenge AMRAP Workout Highlights
Valentine's Personal Training.
  Paul has cooked up a new Sand & Steel Themed Workout for February.  Cupid's Revenge AMRAP Workout.  We have scalings for everyone.  (Yes, even if your partner doesn't know the difference between a squat and deadlift.)  Cupid's Revenge does require you to be able to jump up at least 3 inches, so if you have severe knee problems, this might not be a good workout for you.
Valentine's Day Partner Yoga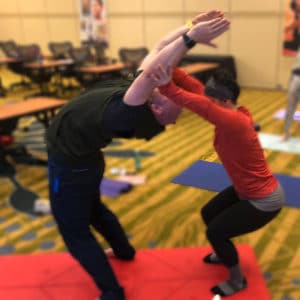 Valentines Yoga.  Partner's Yoga is available February 1 – February 14.  We build you a custom flow featuring partner based poses designed to build strength and mobility.  No Yoga Experience is required.
Scheduling.  After you purchase your ticket, go to Get Started to reserve a date and time.  Once you set a time, we can't accommodate reschedules.  12-hour notice is required to schedule.  A liability waiver will be required.
Existing Clients.  Should use their existing personal training or yoga sessions to book their session.
Purchase Tickets on Eventbrite