Sand & Steel Fitness to offer free CrossFit Classes and Yoga Classes to Team Red White and Blue (TRWB).  All TRWB members are eligible, but preference will be provided to veterans.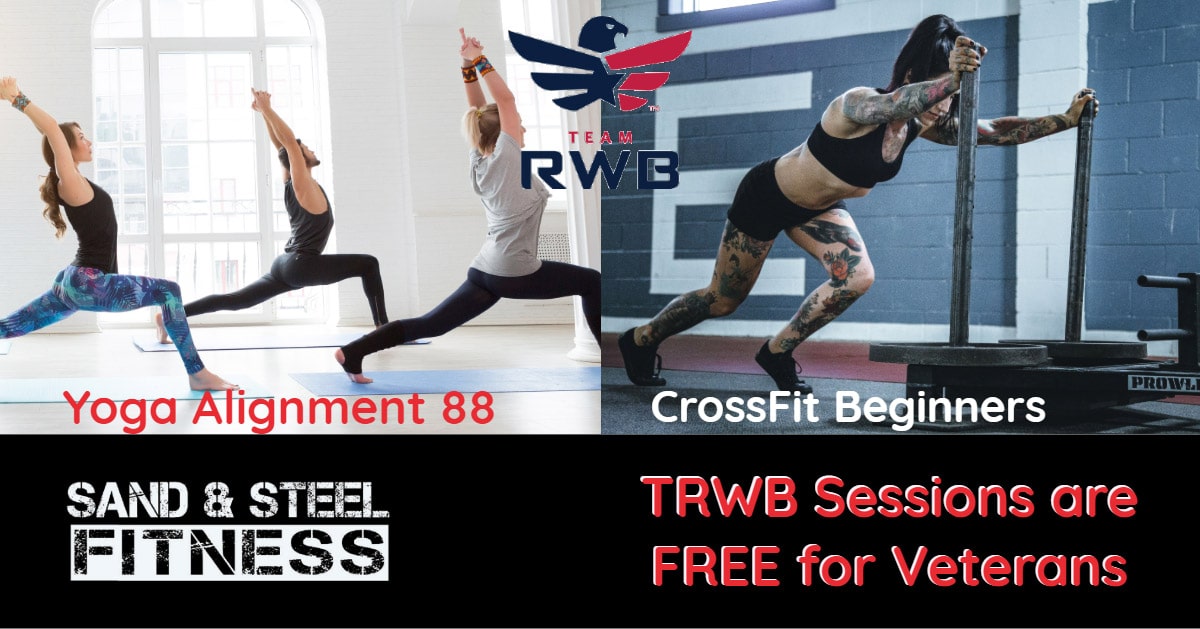 Sand & Steel Offers Free CrossFit & Yoga Classes to Washington DC Team RWB Veterans
Register for TRWB Free Classes
Thanks to the efforts Team RWB leaders Chu Pak, Kevin Coleman, & Dustin Sanderson, all TRWB members (Active Military, Veterans, Spouses, etc) living in Washington DC, Springfield VA, and Alexandria VA can take free Yoga Alignment and CrossFit Classes at Sand & Steel Fitness.  You can register for Team Red White & Blue here.
Free Class Descriptions for TRWB Washington DC Veterans
Fitness Levels for Free Classes.  TRWB classes are specially designed for veterans that may have mobility challenges do to past injuries.  They will be coached at a more challenging level, because Sand & Steel Fitness knows you have the mental toughness it takes to complete a more challenging workout.  That said, like all workouts at Sand & Steel, safety of movement is paramount.  The workouts will be scaled to your level and modified for any past injuries you have.
Learn More about Sand & Steel CrossFit Classes.  Sand and Steel's CrossFit classes in Alexandria VA follow Main Site (CrossFit.com's) programming very closely.  CrossFit extensive research on programming and it's track record for improving fitness cannot be overstated.  When properly scaled by a qualified coach, CrossFit classes are challenging, engaging, and gold standard for getting in shape quickly.
Learn More about Sand & Steel Yoga Classes.  Sand and Steel's Yoga Alignment 88 Class. Master the 88 base poses of yoga. Each base pose in yoga has 10-20 variations. We systematically find the best variation for you during the alignment yoga class. We start with the base pose, and scale the difficulty up or down so that you have a perfectly scaled pose to your unique body.  Alignment 88 is uniquely designed to be challenging even for certified yoga teachers, while still being approachable to the absolute beginner.
Free Class Requirements for Team RWB Members
CrossFit Class Requirements Footwear.  Please review's Sand & Steel's article on appropriate footwear for CrossFit Classes.  We do sell grip socks at our retail store if you don't have time or finances to buy higher end shoes like Nobulls or Metcons.
Yoga Alignment 88 Yoga Mat Requirements.  You'll need to bring your own Yoga mat to our classes.  We do have a yoga mat rental service ($5/day) if you forget to bring your mat.
Get your Free TRWB Membership at Sand & Steel Fitness
Free Class Eligibility.  All Team RWB are eligible to take free CrossFit classes and Yoga classes at Sand & Steel Fitness.  Membership preference will be afforded to Air Force, Army, Coast Guard, and Navy veterans.
RSVP for your classes.  TRWB members must RSVP for their classes at least 6 hours in advance.  All classes marked (TRWB) are free to Team Red White & Blue members with a TRWB Membership.
Military & Law Enforcement Discount
Active military, FBI, CIA, and Law Enforcement are eligible for 15% off personal training rates.  Government credentials are required.
Getting the Most out of your Free TRWB Membership at Sand & Steel Fitness
We encourage all TRWB members to fill out a New Member Intake Form.  This form helps us understand your movement history, experience, and goals better.  It helps us craft better workouts around your body.