Effective August 9, 2021, Sand & Steel will require proof of COVID-19 vaccination to enter the gym. The policy is simple: No Vaccine — No Service.
In addition to the vaccine requirement, Sand & Steel employs high capacity HEPA filtration air handles, Biopolar Ionization Fans, Foggers, Floor Sprayers, and generous social distancing to minimize the risk of COVID-19 spread. Face masks are not currently required, but all requests for face mask use by our staff will be honored in private sessions.
COVID-19 Vaccine Form
Use the above form to upload a copy of your vaccine card or exemption letter. You can alternatively show a copy of your card to any of our coaches.
View More COVID-19 Resources
Vaccine Policy Implementation
We have added a custom field into our scheduling software to track whether you have provided us with proof of COVID-19 vaccination. You must provide a copy of your vaccine card to Dawn, Amanda, Cindy, Max, or Paul on or before August 9th. You can alternatively upload a copy of your vaccine card via this form.
100% Compliance – We are Stronger When We Do This Together
"I had COVID-19 in December and it was terrible," Paul explains. "I have had friends die from COVID-19 and I have seen small businesses destroyed by this virus. We have built an amazing CrossFit community at Sand & Steel and we need to work together to protect it. I asked you last year to come together as a community and follow our progressive mask policy. Our Face Mask Policy was highly successful when used in conjunction with our Hepa Filtration and Bio Polar Ionization Fans. There wasn't one case of COVID-19 spread at Sand & Steel," Coach Paul.
But we are not past COVID-19 yet. A new threat has emerged, and the Delta strain is on our doorstep. The delta strain is 40-60% more contagious than the alpha strain.1 It has a breakthrough rate of 22% against the vaccine.2 As eloquently put by President Biden, "We have a pandemic for those who haven't gotten a vaccination. It's that basic, that simple. If you're vaccinated, you're not going to be hospitalized, not going to the ICU unit, and not going to die."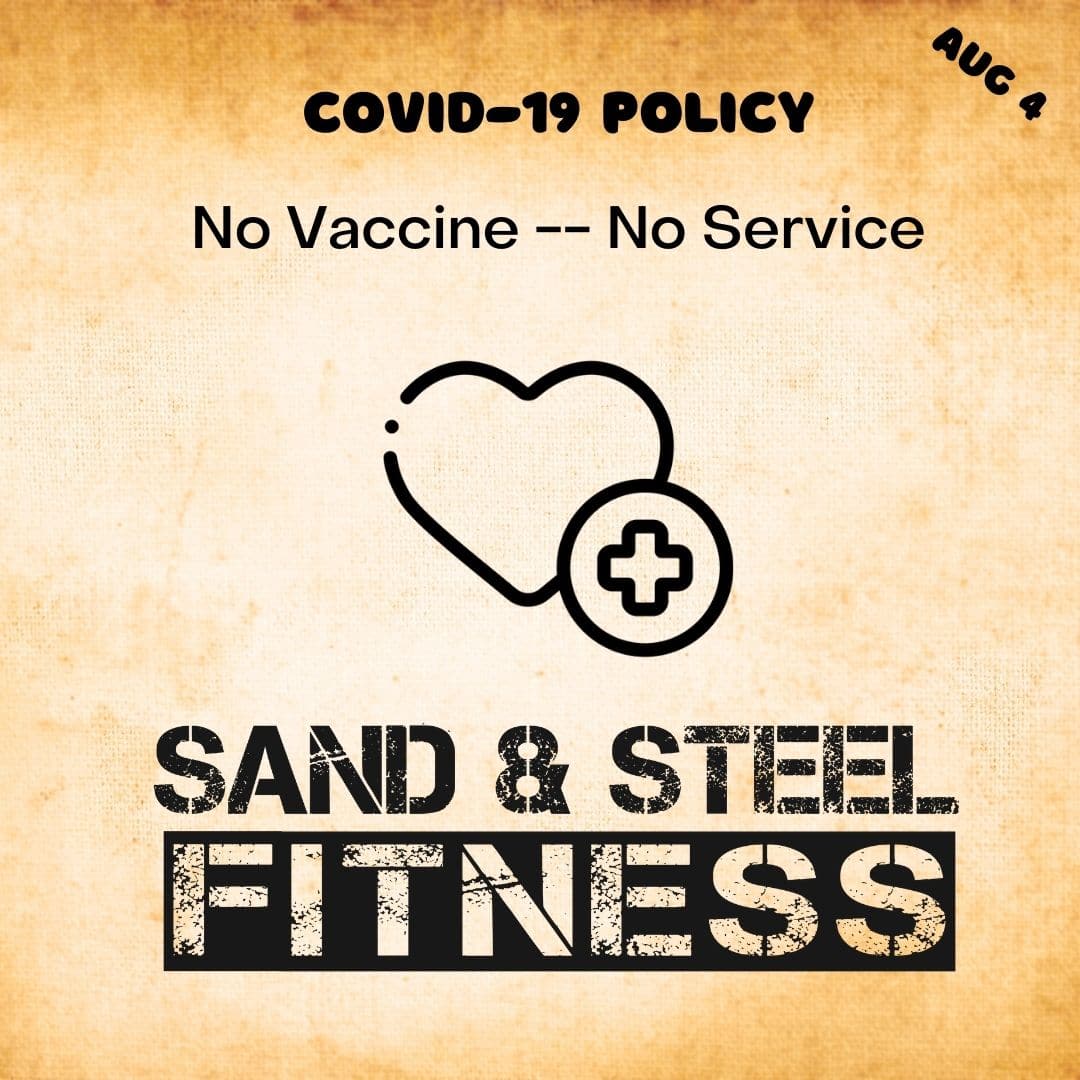 I need everyone to come together once more and keep COVID-19 out of Sand & Steel.
It's not complicated … if everyone does their part by getting the vaccine, we all benefit from decreased exposure to the COVID-19 virus. -Coach Paul
Can't I Just Wear a Mask if I Don't Want to Get a Vaccine?
It depends on why you haven't gotten the vaccine. The vaccine is free and readily available in Virginia. We only recognize two reasons for not getting the vaccine: a bonafide religious exception, and a documented health issue signed by your physician.
There are no exceptions for people at "low risk" of getting COVID-19. We know that younger people are less likely to get COVID, but younger people can still transmit the virus to older people. We have members in their 60s and 70s at Sand & Steel. When you choose not to get the vaccine, you choose to put other member's health at risk. We cannot allow you to put other members' health at risk.
No More Honor System
Most businesses in Virginia follow this BS honor system that reads something like, "Face masks are required unless you have the COVID-19 vaccine." We all know that system isn't working.
Virginia has a vaccination rate of about 67%-80%. But when you look at how many people are wearing masks in Alexandria, VA — it's like 5%. We both know the truth … people are saying they have the vaccine so that they don't have to wear a mask. This COVID-19 vaccine honor system is flawed, and as a community, we owe it to each other to do better.
Exceptions to the Policy
We realize that there is a small section of the population that cannot get the vaccine for health or religious reasons. We will consider your request for an exception to our mandatory vaccine policy. Just fill out the form at the bottom of this page.
Both Presidents Agree That This Vaccine Will Save Lives
Former President Trump and current President Biden disagreed on almost every important issue in the United States, and nearly everything about COVID-19. But one thing they could agree on is that vaccines work. President Trump brought us the vaccine, and President Biden is seeing to its disbursal and delivery. So why haven't you gotten it yet?
Is it Right for a Gym to Require Their Members to Get a Vaccine?
Sand & Steel is a place you come to get healthy. We keep Sand & Steel as clean as possible and as safe as possible. You have a choice as to which gym you go to. If you don't agree with our vaccine policy, we will put your membership on hold while this policy is in effect or cancel your membership with a prorated refund.
My Apologies to Those Whom This Policy Offends
If you are in the group of people that believes the vaccine doesn't work, think it causes infertility, autism, contains embedded tracking code, whatever then you have my sincere apologies. I know this policy will anger and upset you. I am sorry for that. I don't make this policy lightly … I have spoken with many of our members, and everyone I spoke with told me that they would feel safer in the gym if we required proof of vaccination. All of my coaches told me they would feel safer if everyone was vaccinated as well. As a company, we have to follow the science and recommendations of the CDC and other leading infectious disease experts. The message is clear to us, everyone that can get the vaccine should get the vaccine – no exceptions.
Privacy and Pro Choice
Our state governments have been requiring vaccines for a very long time. School districts nationwide require vaccinations. Many employers require proof of vaccination. Public safety is paramount. If everyone is vaccinated, the collective risk to the whole is substantially reduced. We may be the first gym in Virginia to require COVID-19 vaccination (just like we were the first to require face masks), but we won't be the last. New York City just announced it will COVID-19 vaccination for indoor activities. 3 We hope our fellow businesses in Alexandria, VA will follow our example and require all their members to require vaccination. The more people that are vaccinated, the faster we can put COVID-19 behind us.
That said, if you need to cancel or put your membership on hold because of this policy, just let us know. You will get a prorated refund and you are welcome back when you get the vaccine, or the delta strain outbreak is under control.
Policy Expiration
This policy will be in effect until September 9, 2021 unless otherwise extended or updated beforehand.
---