Our gym in Northern Virginia is open. Join us in keeping a cleaner, healthier gym. Learn more about how you can help

As a powerlifting gym in Northern Virginia featuring personal training, CrossFit, and an Open Gym membership, we have built several original policies to help keep you and everyone else that attends safe when you train at Sand and Steel Fitness.
A Cleaner Gym in Northern Virginia
Since reopening after COVID-19, our members and staff have done a fantastic job as a team in keeping the gym clean for everyone.  For those who are first coming to Sand and Steel Fitness, we implement a leave no trace policy.
Put equipment back where you find it;
Wipe every down every surface you touch.
A Healthier Cleaner Gym in Northern Virginia
Many states have been slow to allow gyms to reopen, because they know gym staff can't keep up with cleaning after the hoards of members that attend.  Sand & Steel Members are part of a community of powerlifters and CrossFit athletes that value having a safe place to train.  This is our home and we welcome you to come see it.  Book a gym tour or sign-up for a free class.
Population Caps for Northern Virginia Gyms
Virginia says we can take up to 50 people per hour.  We say that is too many to be safe.  We only allow 10 people per hour.  That is about 500 square feet per person.  Everyone has access to their own squat rack and has plenty of space to workout effectively while maintaining their social distance.
Cleaning Your Barbell
We have a barbell cleaning station in the center of the gym.  We use terry cloth towels and the Simple Green Disinfectant to wipe down your barbell.  Dry your Barbell after you clean it.  Barbells rust immediately if you don't dry them thoroughly.  For other equipment, we have anti-bacterial wipes and cleaning spray bottles.  If everyone pitches to keep it clean, our gym stays cleaner for everyone.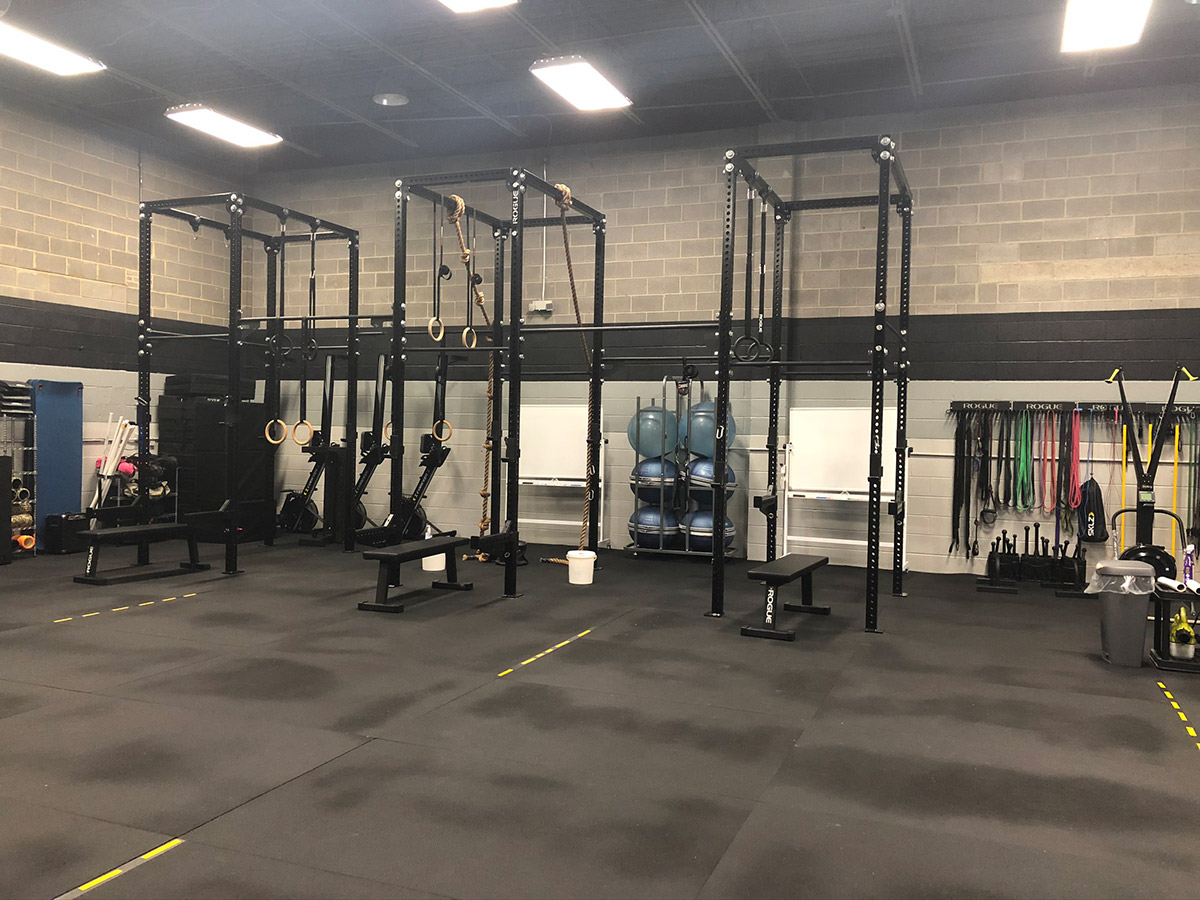 Keeping Gym Mats Clean
If you are working out on the floor and sweating on the floor, be sure to spray some Simple Green D on the floor and dray it with a paper towel.  Simple Green D contains a disinfectant.  If everyone cleans the mats, then everyone can have a disinfected mat to workout.
The Sand & Steel Gym
A strength, weight loss, and mobility gym. We provide 4 main services: Personal Training, CrossFit & Specialty Classes, Semi-Private Training, and Open Gym.
Personal Training: one-on-one private personal training.  Strength training, weight loss, fitness tests (ACFT), CrossFit Foundations, Feetness, Private Yoga, and Private Mobility.
Fitness Classes: CrossFit, Powerlifting, Butts & Guts, Arms OCR, Beyond Stretch, and Yoga.
Semi-Private Training: Nutrition Lab, CrossFit Performance Lab, CrossFit Foundations, and Mobility Lab
Open Gym Membership: designed for lifters looking to do their own Powerlifting, Olympic Lifting, CrossFit, or Conditioning Based Workouts.
Northern Virginia Gym COVID-19 Requirements
Governor Northrup has set forth the minimum and recommended standards for gyms in Phase 3 Guidelines.  Please follow all the recommended guidelines for Gyms in Northern Virginia.
Improving on the Recommended Standard
We have installed a TRX Training Zone to coincide with the launch of Open Virginia Phase #3.  We have invested in commercial floor sprayers and foggers which help us clean all the surfaces in our Northern Virginia Gym.  We have set up cleaning wipes stations across the floor.  We have hand sanitizing gel in all key locations.  All restrooms are well stocked with cleaning and sanitizing supplies.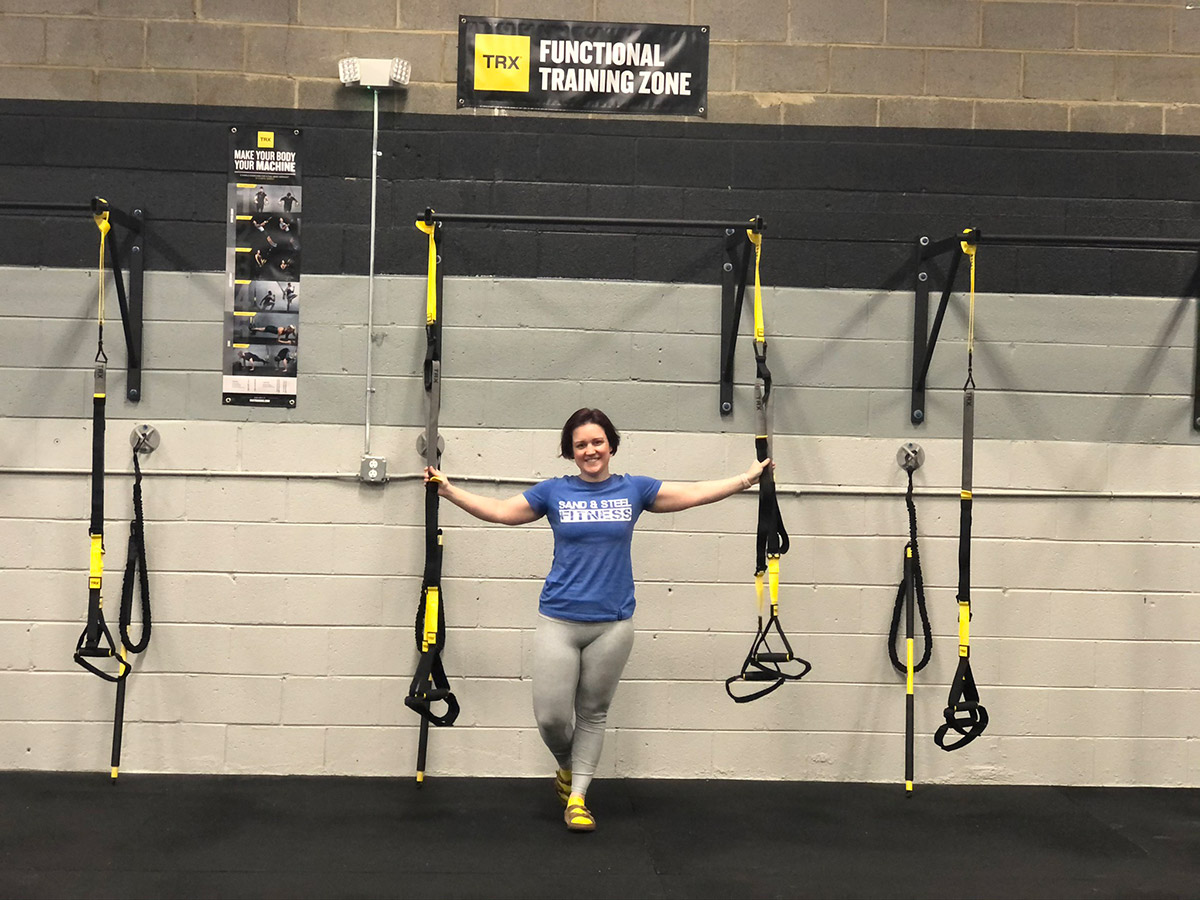 An ALX Promise Certified Gym in Northern VA
ALX Promise requires a higher standard of care when it comes to maintaining a clean, safe gym.  We were first gym in Northern Virginia to receive this certification, and we are proud to be recognized by the city of Alexandria for our efforts in providing safe gym environment.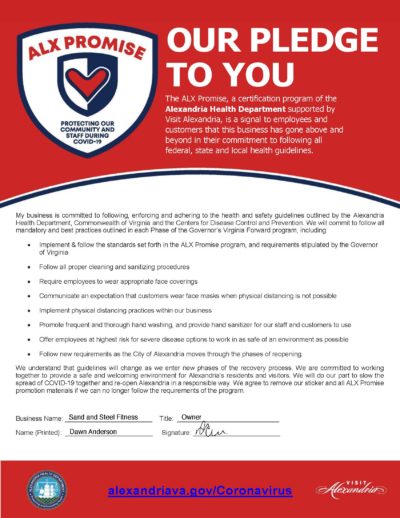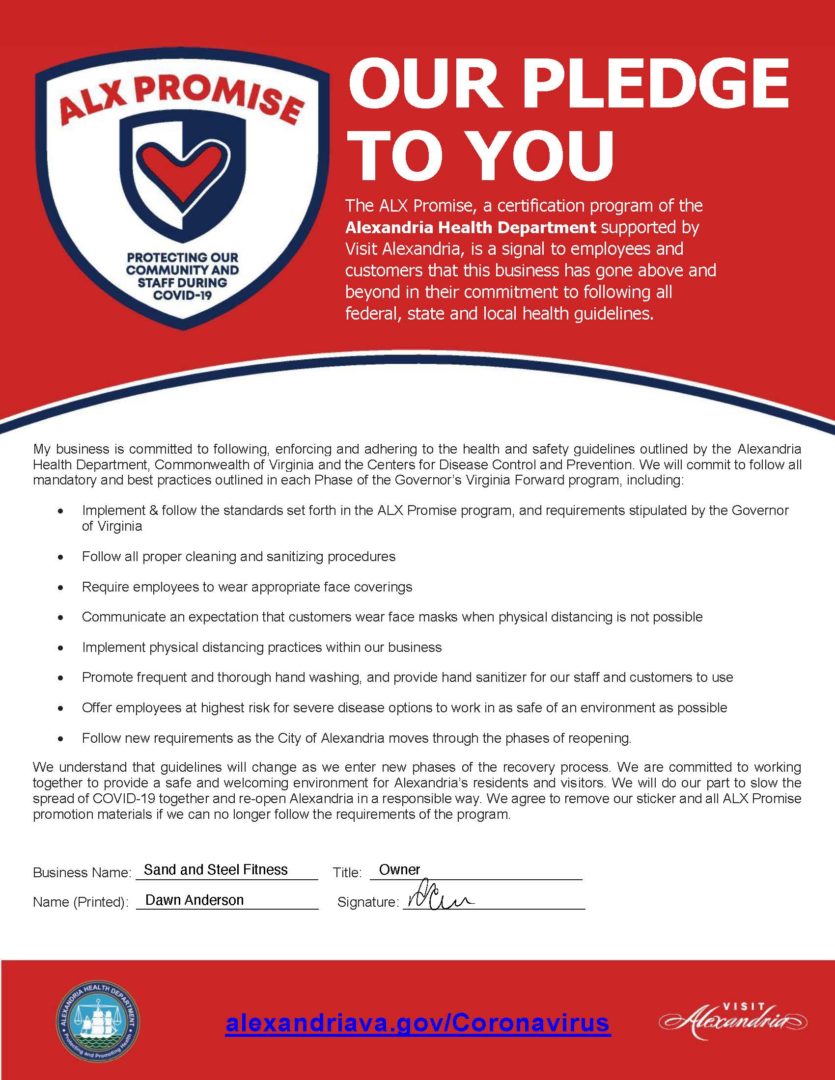 Gym Chalk
We have Block Gym Chalk available in our pro shop.  We do not allow members to use any other kind of chalk such as liquid chalk, loose chalk, or chalk balls.   Our brand new HVAC system helps keep the gym air clean, so we don't want it get clogged with loose chalk particles.
Your block chalk comes with a one gallon zip lock bag.  We have two empty blocks professional gym chalk bags.  Please use those bag with your block chalk.  If you choose to use block chalk, make sure you have wiped down any surfaces you touch.  Leave no trace.